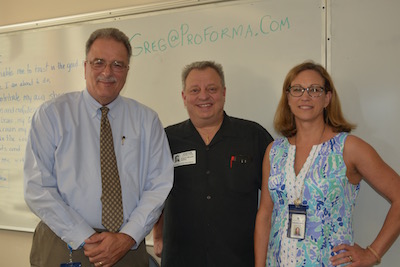 Photo Credit: Haiqa Mian/ Achona Online
The Entrepreneurship Club is a new club at Academy that was launched this year. Technology specialist, Deborah Collins is the moderator of the club. The Entrepreneurship Club is a white club and meets every first and third Thursday of the month after school in room S201. The purpose of the club is to provide information and motivation to the Academy students regarding the career path of entrepreneurship. This is accomplished by inviting guests to speak to the students about a career in entrepreneurship.
Freshman Josslyn Payne comments "I have always thought of entrepreneurship as a career option and it's a good career to go into right now."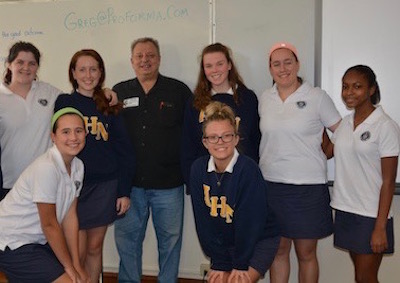 Greg Muzzillo, the founder of Proforma, initially brought the idea of an entrepreneurship club to Arthur Raimo, the president of AHN. Proforma is a company whose franchise owners are distributors of printing and promotional products.
Raimo claims, "Mr. Muzzillo has a daughter in the elementary school. He came up with the idea and asked us if we had a club, and I am glad to see interest from the girls in the club."
Collins was also included in the decision of making an entrepreneurship club because she minored in entrepreneurship.
On the formation of the club, Collins remarks, "It was Mr. Muzzillo who met with us and asked if we had a club here. My masters degree minor was entrepreneurship so Mr. Raimo put me in charge of this club. We included the question during club registrations to see how many people would be interested and we got a good response so we launched the club."
On October 20, 2016, Muzzillo came to talk to the girls in the Entrepreneurship Club. He talked about how to start your own business and the advantages and disadvantages  of having your own business.
The student asked him questions such as: What is the secret to having a successful business? What was the turning point in your career? What do you enjoy about business?
To answer the question of why he enjoyed his job, he replied,"I love what I do because it's fun, I help other people become successful, and we make very good money doing it.
Muzzillo answered every question completely and the students all left with new knowledge about business.