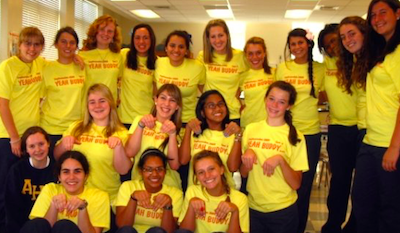 Photo Credit: Paige Mangan (used with permission)
To the normal individual the term "Mole Day" instigates thoughts of a small, furry mammal that lives in the ground. However, if the conversation involves an Academy chemistry student, their response will be completely different. "Mole Day" is celebrated on October 23, and it recognizes the importance of Avogadro's number. This number represents the value of the mole, or mol, which is the SI base unit used to measure the amount of a substance.   
Celebrating Mole Day to foster interest in chemistry – World Of C #Science https://t.co/Gdg1Tg8X8g #PlasmaVocab pic.twitter.com/CVVuMXzNxr

— semanticearth.com (@SemanticEarth) May 2, 2016
Every October, the sophomore class celebrates "Mole Day." The day's activities requires preparation from each of the students. It is traditional for each year to have a theme, and this year the AP Chemistry students had the opportunity to choose it. "Academy of the Moley Names," this year's theme, is the basis for each student's individual projects, as well as the shirts the sophomores are designing. Each girl is required to sew their very own mole using a needle and thread or a sewing machine, which is new to several of the students. The girls are required to have at least one mole within their "set," which is to be decorated according to the designated theme.
Sophomore Lindsay Ayers expresses, "I am excited to see all of the different ideas that my classmates came up with for their "Mole Day" displays. Mole King and Queen is also exciting."
Although fun, "Mole Day" presents some challenges for chemistry students. These tips can help prepare the sophomores for next Friday so that they can get the most out of their experiences.
Do not wait until the last minute to start working on the mole display.
Junior Christina Alarcon states, "Don't start working on your mole and its display right before the due date. I started my project the night before it was due and it caused me a lot of stress."
Be careful cutting out the pattern.
Academy alumni and current teacher Paige Mangan remembers, "Be careful about your measurements on the pattern for your mole. When I made one of the moles too quickly, it turned out to be too sloppy and messy, so I had to redo it."
Go big or go home.
Junior Julia Barreto states, "Go big or go home. When you are doing your mole project, try as hard as you can. Do not try to slack off."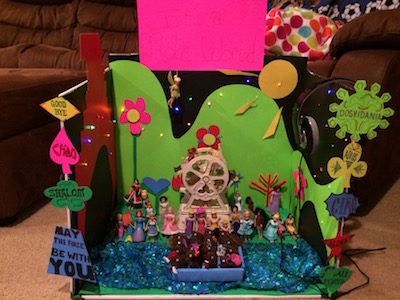 Be creative.
Senior Meredith Butler explains, "Creativity is key to a good 'Mole Day' project. Coming up with a good idea is part of the fun. The project is not something you should be doing at four in the morning."
Have fun.
Junior Mia Torres exclaims, "Be enthusiastic. Live, love, and breathe 'Mole Day.'  It is a chance for you to bond with your fellow classmates through chemistry."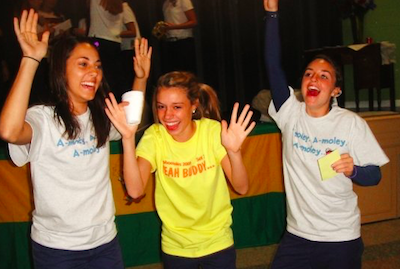 The students that have already had the opportunity to experience "Mole Day" agree that the it is enjoyable for everyone involved. Although preparation for the day is vital, the sophomores can already tell that the end result will be worth all of their hard work.