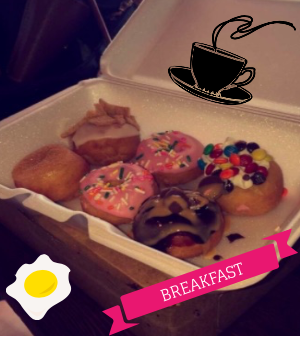 The fact that breakfast is the most important meal of the day is sometimes ignored during a busy morning, but according to Consumer Reports, breakfast truly is vital because it can prevent spikes in glucose which cause overeating at later meals. 
For many Academy students, the morning can be a hectic period of getting ready, packing a bag for practice, and completing homework, while hurrying to arrive at school before the 8 A.M. bell. Breakfast may become an afterthought when it should be an easy way to prepare for the day.
Here are five energizing breakfast ideas, all possible in under 10 minutes:
Strawberry Banana Protein Smoothie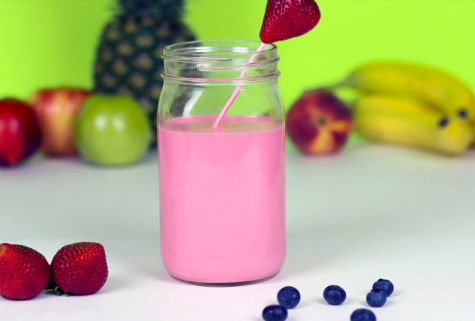 A protein smoothie from Smoothie King could cost anywhere from 5 to 7 dollars, while preparing one at home is much cheaper.
Blend the following ingredients for a smoothie containing a whopping 55 grams of protein and 11 grams of fiber.
12 oz water, milk, or yogurt
2 scoops vanilla or strawberry flavored protein powder
1 banana
1 cup of frozen strawberries
1 cup of spinach
2 tbsp of ground flax
2. Peach Cobbler Oatmeal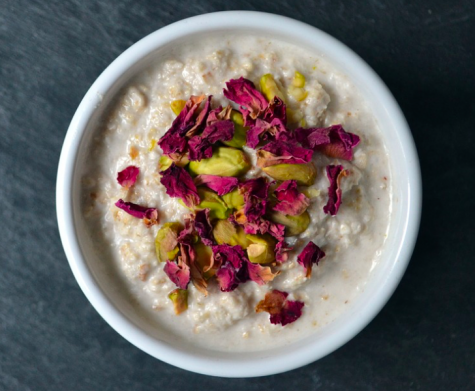 This recipe from Spoonful of Flavor calls for:
3 1/2 cups water, a pinch of salt, 2 1/2 cups rolled oats, 2 1/4 tsp. cinnamon, a pinch of nutmeg, 2 large peaches, chopped, 3-4 tablespoons light brown sugar, and 1/4 cup chopped pecans for garnish; if desired. Boil water and salt, then add oats, cinnamon, and nutmeg. Cook for four minutes before adding peaches peaches and brown sugar. 
Oatmeal can lower cholesterol levels, and peaches promote skin health!
3. Avocado Toast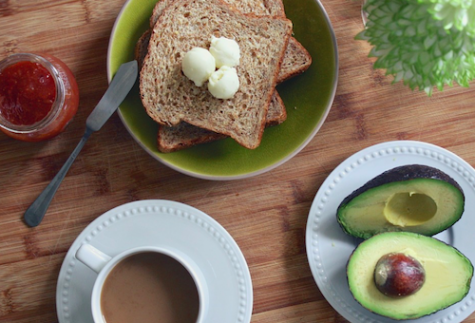 A popular breakfast item at many Tampa restaurants is the super-simple plate of avocado toast. Prepare it at home by combining an avocado, cilantro, lime, salt, and pepper in a small bowl before spreading it on pieces of toasted whole grain bread. Surprisingly, avocado is higher in potassium that bananas, a key nutrient in lowering blood pressure.
Junior, Jackie Beltram, adds a unique ingredient to her toast: "I like avocado toast with coconut oil!"
4. Morning Pizza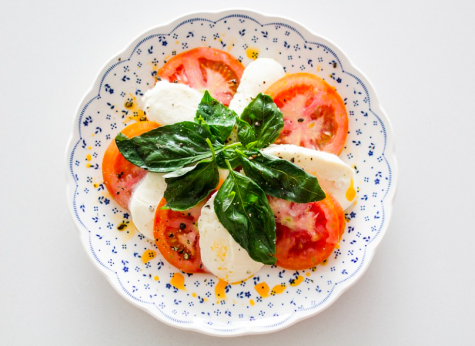 Most would agree that pizza is delicious at all hours of the day, so why not have a healthy version for breakfast? Spread 3 tablespoons of low-fat ricotta on a slice of crusty bread, such as the Publix Italian Five-Grain, add chopped tomatoes, and drizzle with olive oil.
Many shoppers are unware of the fact that the most commonly sold olive oils actually contain very low amounts of real olive oil, so try California Olive Ranch, whose oils are ceritified Extra Virgin by the California Olive Oil Council.
5. Toasted Waffles
If your morning is especially hectic, toast-and-go waffles are a must. Try Van's Power Grains Waffles for a healthier option, which contain 10 grams of protein per serving.
Junior, McKenna Weathers, claims that "peanut butter and nutella on two chocolate chip waffles" is her signature breakfast dish.
Eating a healthy, energizing breakfast is the key to a great day. The American Dietetic Association states that eating breakfast leads to better concentration in the classroom and improved hand-eye coordination.
Academy Juniors enjoy a variety of breakfast meals, such as Jules Lavoy's preferred toasted english muffin with smoked salmon or Lauren Pieper's toasted bagel with cream cheese, cucumbers, and tomatoes. Others keep breakfast simple, such as Gabi Jordan, who enjoys cereal. Whatever your favorite breakfast option may be, try to eat something before starting another day full of opportunity at Academy!