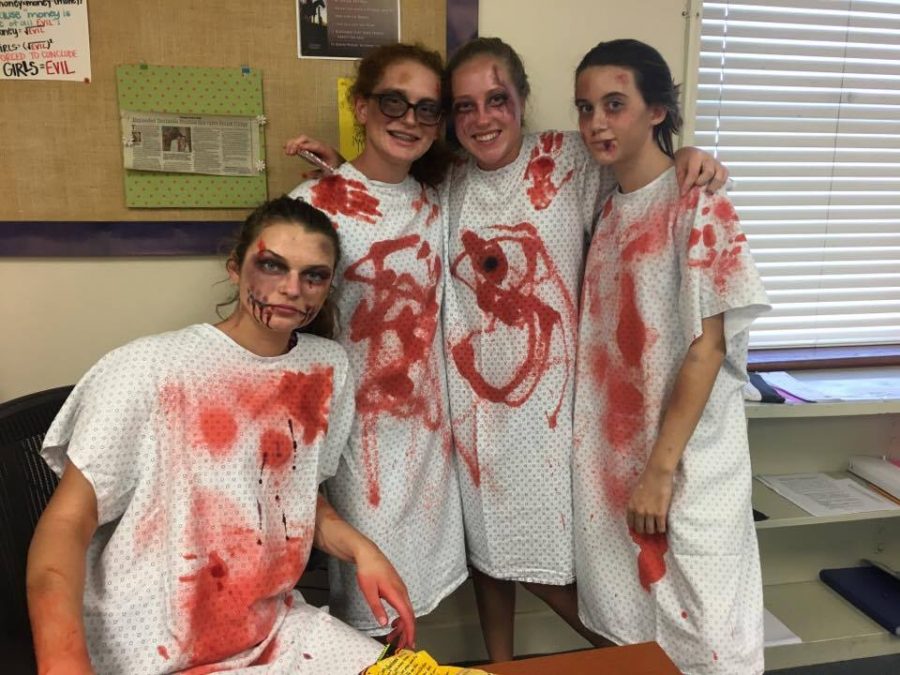 Trunk-or-Treat has been a legendary event at the Academy for many years. Families in the lower school come together and battle it out for prizes rewarding the best themed displays in the trunks of cars. It is a wonderful way to bring students and their families together in a fun way to celebrate everyone's favorite spooky holiday.
Each year, the high school's Student Council girls plan an elaborate haunted house in Academy's very own basement. The themes change by the year, but it is very important to the council members to decorate, dress up, and execute the legendary Haunted Basement perfectly according to theme.
Last year, the Haunted Basement committee head was Alejandra Lozano ('16), and the basement theme was zombies.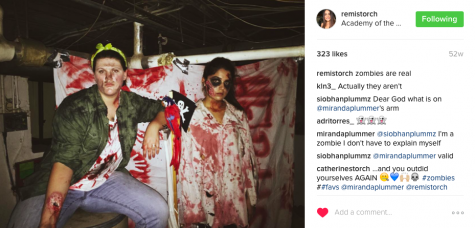 This year, senior Ciara Chappell headed the committee, and the theme of a Haunted Hospital, or Mad Doctor, was adopted. Senior council members donned terrifying doctor getups, the juniors posed as evil nurses, and the sophomore reps were terrifying hospital patients.
Junior Olivia Truad, special-effects makeup extraordinaire, assisted council for the second year in a row with makeup, fake wounds, and everything to help the Haunted Basement be as spine-chilling as possible.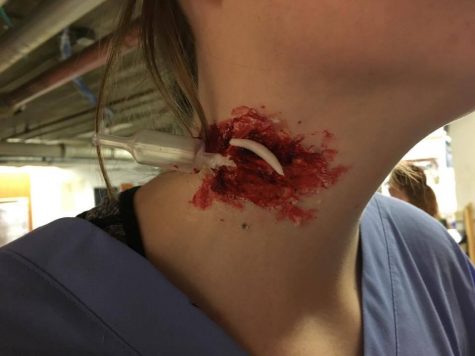 Freshman, Tress Jacobs, one of Traud's assistants, was elated to be a part of this year's spooky event.
Jacobs exclaims, "I was nervous at first, but got hyped on the way here. The basement has surprised me the most, it's not at all how I imagined it. I was expecting a small, quaint storage space but it's actually really creepy."
Although most high school students do not know this, Haunted Basement is more than just an excuse to spook the lower school. In order to enter the basement, students must bring in two canned goods. These cans go toward the high school Thanksgiving Takeover food drive for local homeless shelters.
This year, the day began for council at 2:30 pm. It was very important to allot enough time for full makeup and setup. From severed arms, chilling prescription bottles and bloody sheets, a lot of hard work was needed to transform the secret AHN floor into a terrifying, abandoned hospital.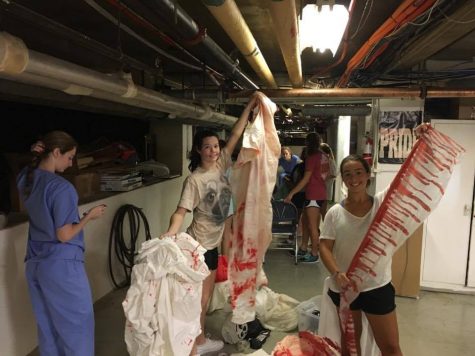 The expert makeup ranged from vampire bites, veiny eyes, and syringes in necks, to open wounds, and bloody mouths. When paired with bloody scrubs, the council girls were ready to pry shrieks out of the elementary school students.
Senior Ciara Chappell, Haunted Basement committee head, explains, "Halloween is one of my favorite holidays, which is why I chose to run Haunted Basement. I was so excited when we chose the theme "Mad Doctor" because I thought it was so unique. My only worry was that it wasn't going to run smoothly or that there would be issues with kids not bringing cans to get in. There were a few mishaps throughout the night, but overall, I am incredibly happy with how it turned out!"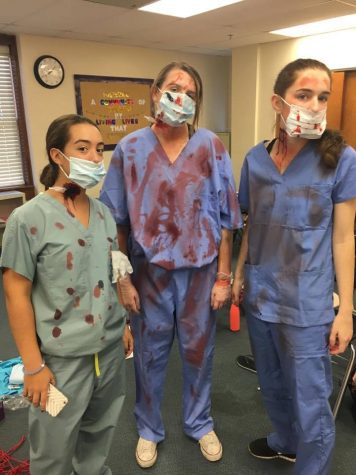 In addition to the screams, council was able to raise three full boxes of canned goods. Haunted Basement has will continue to attract daring students for years to come, especially after the 2016-2017 outdid themselves this year.