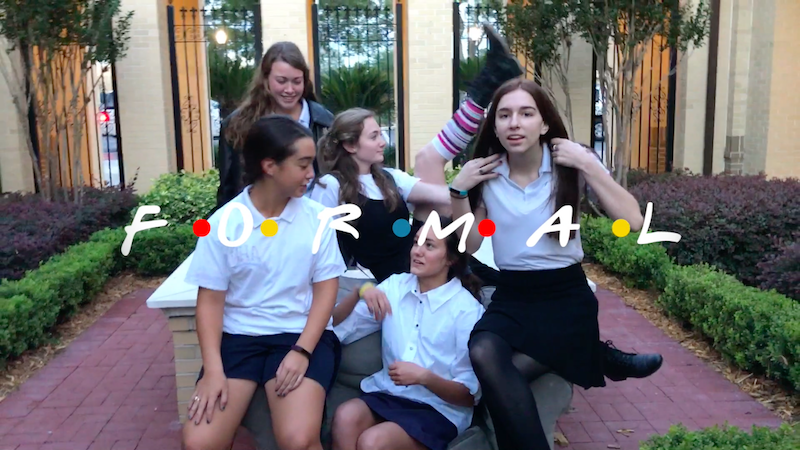 Credit: Grace Neal/Achona Online
Every year Academy girls anxiously await the release of the Christmas Formal video. The video contains valuable information about formal, including the location and the theme. This year, the video also contained a little surprise, girls no longer need a date to attend formal.
In past years the videos have been themed, previous themes include Frozen and High School Musical. This year's theme was the iconic TV show Friends. The council chose Friends because the show takes place in New York City, this relates to the Bright Lights Big City theme. The senior council members portrayed the main characters and even shot the classic Friends scene in front of the courtyard fountain with the couch. The theme of this year's formal is Bright Lights Big City. The Student Council voted on a number of themes including Night In Paris, Under the Sea, and Masquerade. Bright Lights Big City was the winner hands down.
This year the dance will be held at The Glazer's Children's Museum. The theme will be very easy to incorporate since the venue overlooks downtown Tampa.
Committee Head, Ciara Chappell, explains, "Once you get inside the venue and look out of either the big window of Curtis Hixon or are standing out on the terrace looking out at Downtown Tampa, you will all understand why we chose Bright Lights Big City as the theme."
The venue is right next to Curtis Hixon which is a very popular location for Formal pictures since it overlooks the Hillsborough River.
Evelyn Martinez exclaims, "I have heard so many good things about formal this year, I have been to the room that it's in and it is so nice, you can see all of downtown."
Arguably the largest reveal in the video is the fact that students no longer need dates to attend formal. Members of Student Council have spent years working to get the requirement lifted, however, it wasn't until this year that it went under consideration. This year Chappell made it a priority to ensure that all of Academy would have to opportunity to go to formal.
After the news that students can go stag surfaced she shared, "Honestly it is one of the best feelings I have ever had. Hearing people's reactions in other rooms were awesome. I didn't fight for this rule to be lifted for myself…I did it for anyone who has ever gone to formal and been uncomfortable all night with some guy they barely know or for anyone who has ever not been able to go because they couldn't find a date."
Now for the first time in Academy history, all students will be included in one of Academy's favorite traditions.
As a result of the no-date policy, senior Katie Hale can finally enjoy formal for the first time.  She exclaims, "I am so excited that we can just go with our friends this year because it's so much less pressure and you don't have to be stressing out during exam week."
This year's formal is sure to go down in history. The student council is anticipating more girls to attend formal because of the new policy.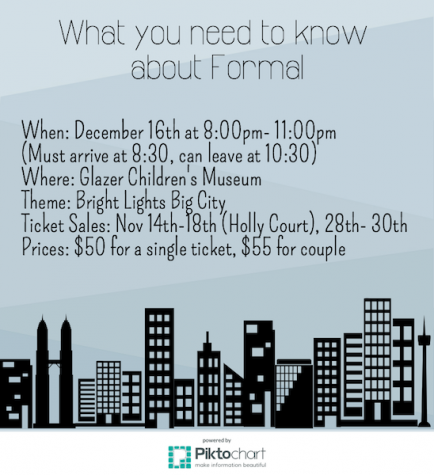 Sophomore and new student Madison Chandler explains, "I am so excited to meet a bunch of new people and be in a relaxed atmosphere away from school. Everyone who went last year said it was really fun and that I should go."
Tickets are on sale on November 14 until November 3o. Happy Formal!