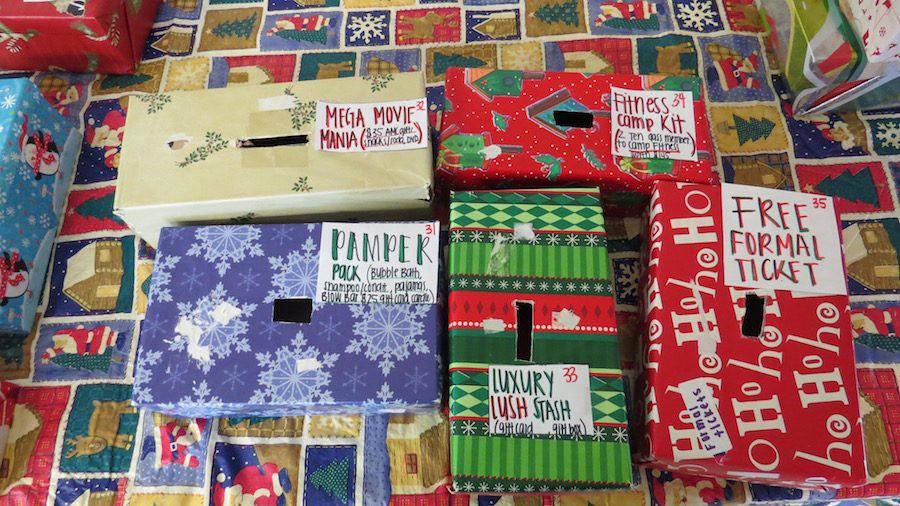 Photo creds: Me
Every time the Christmas season comes around, AHN's student council puts together the annual Reindeer Raffle. The items consist of Academy girls' favorite stores, food, and gift cards. All the money gained from the reindeer raffle ticket sales goes to the Christmas Formal.
Every student council member has to bring in two items to be included in the raffle. They could be either bought are donated. These items could be included in a package or shown individually. Many of the items also come from the businesses themselves. In the beginning of November the student council members hand out letters to the big companies willing to donate. Normally the bigger packages, like this years fitness membership, are donated.
This years Reindeer raffle list includes the following items:
Experience Packages
These gifts are highly coveted by Academy girls for their high-end appeal.
Mega Movie Mania has a $35 AMC Westshore gift card
A free one hour massage at Massage Envy
$25 gift card for any of the following restaurants, Olive Garden, Longhorns, Bahama Breeze, Seasons 52, and Red Lobster
Gift Card Crazy
$20 Visa gift card
$30 panera gift card
$10 Chipotle gift card
$30 Chick fil a gift card
$35 Starbucks gift card
$25 Nordstroms gift card
$10 Sprinkles Gift card
$30 Lululemon gift card
$50 Shell Gas card
$40 Dunkin Donuts gift card
$50 and $40 itunes gift card
$25 Sephora gift card
$10 Dairy Queen gift card
Holiday Fun
The Mrs. Claus kit: mirror, a beauty blender, shower gel, and fuzzy socks.
The Christmas hot cocoa set: a recipe and the ingredients to hot chocolate.
The Cookie Kit: cookie cutters and a list of ingredients to make christmas themed sugar or chocolate chip cookies.
Beauty Splurges
A Luxury lush stash: $20 gift card and gift box of bath bombs. 
The Pamper pack: bubble bath, shampoo/conditioner, pajamas, blow bar $25 gift card, and a christmas scented candle. 
A Sephora $20 gift card
$25 gift card at Sheer Art Hair Salon
The Reindeer raffle is Thursday December 8 at lunch. Girls can buy tickets from any student council representative during homeroom. The tickets cost $1 for five tickets or 25 cents for one ticket.