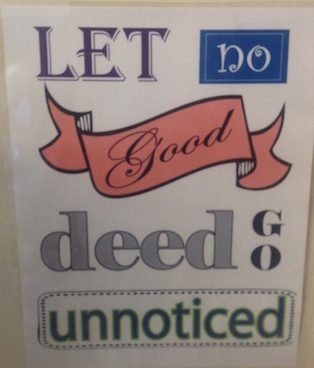 Photo Credit: Haiqa Mian/ Achona Online
The Good Deed Tree is a new addition to the AHN high school this year where students can share the kind things others have done for them.
"The tree is meant to be a place to share random acts of kindness anonymously," says Principal Stephanie Nitchals.
The Good Deed Tree is posted outside of the high school iLab on the second floor. It was the idea of math teacher Jessica Lamm.
"It kind of spawned off from the Thanksgiving tree idea of turning a negative into a positive. With the initiative of Convocation and the drive to bring light to how much good is going on the tree seemed like a great place to recognize the small things people do for us in a 'safe' venue," says Lamm.
Students have to get a leaf from a religion teacher and write down the good deed to share. There are extra leafs posted by the tree. The student then has to write the name of the person who did something nice for them and it is optional to write their name on the back.
Students can write any act of kindness, big or small and put it on the tree. This will strengthen the sisterhood if we continue to do kind things for each other.
One example of a student who has utilized the Good Deed Tree is junior Emma Sewell. Sewell says, "Jesse Newton and I put a leaf up on the tree because Cristina Suarez and Elena Schillinger helped us with a math problem."
The Good Deed Tree has proven itself to be a good addition to the high school, and the hope is that it will continue to fill up with more leaves as the year goes on.
[ngg_images source="galleries" container_ids="412″ display_type="photocrati-nextgen_basic_thumbnails" override_thumbnail_settings="0″ thumbnail_width="100″ thumbnail_height="75″ thumbnail_crop="1″ images_per_page="20″ number_of_columns="0″ ajax_pagination="0″ show_all_in_lightbox="0″ use_imagebrowser_effect="0″ show_slideshow_link="1″ slideshow_link_text="[Show as slideshow]" order_by="sortorder" order_direction="ASC" returns="included" maximum_entity_count="500″]