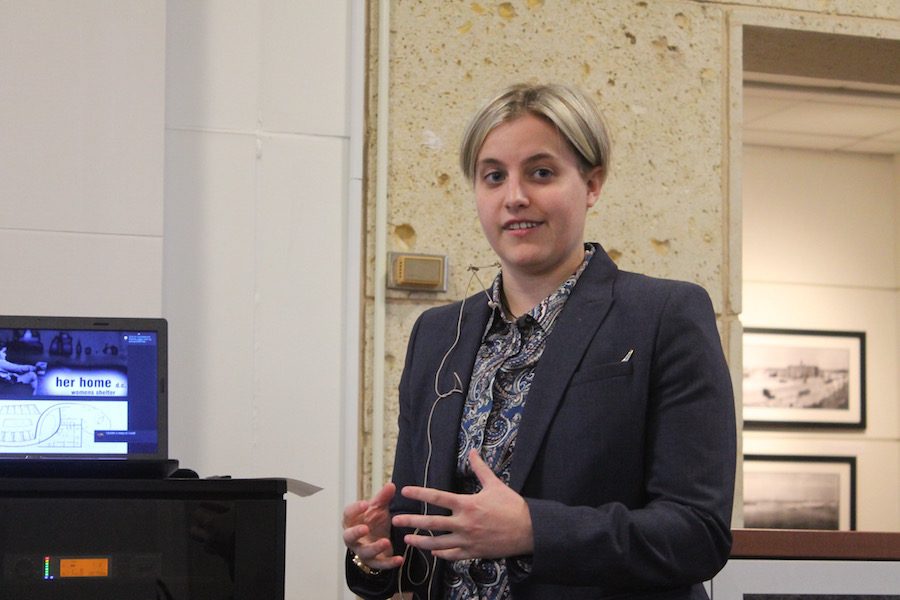 On Thursday, February 9, the fine arts department hosted Academy's annual Visiting Artist showcase, held this year at the Florida Museum of Photographic Arts. The event featured Emily O'Loughlin, an academy alumna from the class of 2009 who attended Catholic University of America and studied sacred spaces and gender through architecture.
O'Loughlin earned a graduate degree and now works for a firm in the field on Costco and Target wholesale projects all along the east coast.
She designed a women's center and got the chance to work on a collaborative project in Ireland called the Spirit of Place Project where the group designed a stone alter that originated from a poem the group wrote based on the famine.
O'Loughlin says that the majority of entry level architects work to execute other people's designs by making construction documents and facilitating communication between the many actors in the construction process, but she also says that creative license in architecture comes with time and experience.
"As you work up through the field, you can become the principal or partner of a firm, and you can make other people do your designs," she says.
O'Loughlin's biggest influence is Zaha Hadid, who was the first female architect to win the Pritzker Architecture Prize, which is the highest honor in the field.
O'Loughlin studied gendered spaces and female representation in architecture in her last year of graduate school, and is inspired by Hadid's work because of its infusion of classic feminine shapes and lines.
"Architecture is a male dominated field…she broke into a guys group," O'Loughlin says.
Former Academy art teacher Sharon West who taught O'Loughlin AP Art Studio and AP Art History was in attendance on Thursday and says she is not surprised by O'Loughlin's success.
"She's just talented," West says. "So creative and generous of spirit."
Senior Lara Lontoc says, "It was really cool to see how she took what she learned in high school and how that catapulted her into what she's doing now…it seems to have really helped to figure out what she wanted to do with her life."
Senior Gabbie Ragano is an aspiring architect and was admitted to the University of Virginia architecture program. She says she gained a new perspective on what life as a young architect is like from O'Loughlin's presentation.
Ragano says, "You really have to work your way up and it is a bit more grueling than I thought. However, everything she said about architecture got me even more excited to start learning about it next year."
Throughout her presentation, O'Loughlin emphasized that architecture is more than just pure design; there are copious business skills required..
"It [architecture] is a very collaborative process that involves the designer, the clients, the contractors, local building departments, as well as the community," O'Loughlin says. "It is never just our own building, but one that is given through us to others."