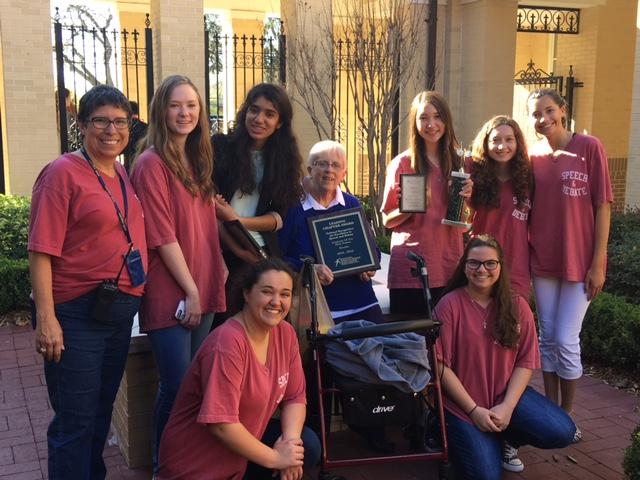 Photo Credit: Jamie Meyer (used with permission)
This year, Academy's Speech and Debate Team has experienced success on many levels. Members of the team have been able to place at various tournaments and oratorical contests in the Tampa area. With each new experience, members are able to take something new with them, and from there apply it to future tournaments.
On February 25, 2017, Academy held the Qualifier for the National Speech & Debate Association Nationals. The tournament was open to all high school students who had obtained the required 25 points. These points had been collected from previous tournaments. The tournament included speech events, such as Original Oratory and Humorous Interpretation.
Hope districts are going well!! Can't wait to see who is headed to #nats17! pic.twitter.com/iPOhIVmtwz

— Speech & Debate (@speechanddebate) March 4, 2017
The tournament's success was a combined effort of both the work of teacher and debate coach Jamie Meyer, as well as Mr. Ralph, who is in charge of school maintenance. He and Meyer both worked together to determine which rooms could be accessed for the competition. They worked to not only accommodate those who attended the tournament to compete, but also the judges who took time out of their day to be there.
Academy students were asked to arrive at 7:00 A.M. in order to help Meyer with set up. Around 9:30 A.M., the first round began. Girls on Academy's Debate Team who did not have the required amount of points to compete acted as volunteers. Some of their responsibilities included showing competitors to the various rooms being used and helping to serve food at lunch.
Because the tournament was a National Qualifier, students could be eliminated before competing in all four rounds. If a competitor was ranked in the bottom two in two different rounds, the student would be eliminated. If the student was not in the bottom two for either of the first two rounds or was only in the bottom two once, the student would "break" to the next round, which is a debate term for moving on to the afternoon rounds.
Both Hira Khan, who competed in extemporaneous speaking, and Mei Lamison, who competed in informative speaking, were able to "break" to the next round.
Khan said, "I thought competing in extemporaneous speaking was extremely enlightening. It helped me with thinking on my feet, and it also encouraged me to pay attention to world events and the news. In this category, confidence is everything. "
During the awards, it was announced that Lamison had qualified for nationals in her category. Lamison wrote her speech on the United States's education system.
Lamison said, "My speech was about how standardized testing harms students."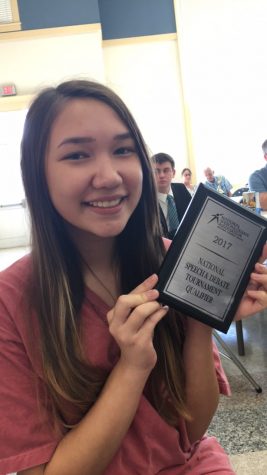 This was Lamison's first time competing in informative speaking. Informative speaking is a new category that has been added recently. Informative speeches educate the audience about an interesting topic, and it is written by the competitor. Lamison competed against four other students within this category.
When asked about Nationals, Lamison said, "I am terrified to go to Nationals, but I am excited to see what the experience will bring."
In addition to Lamison's success, Academy won the Leading Chapter Award, which was given to the debate team for "National Recognition for Excellence in Speech and Debate."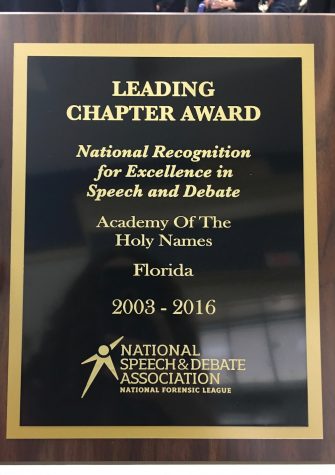 Debate coach and theology teacher Jamie Meyer said, "I feel like we did a terrific job at the tournament. Everyone was so impressed with our team."
The Speech and Debate Team will compete again on March 24 and March 25 in the FGCCFL Grand Finals at Dixie Hollins High School.