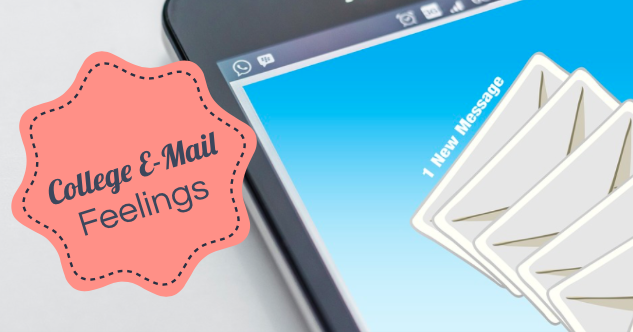 Usually beginning Sophomore year, and sometimes as early as Freshman year, students begin receiving the infamous tidal wave of college e-mails. If you supply an e-mail address on the PSAT, SAT, ACT, or any other CollegeBoard program, the organization will send your e-mail to colleges around the country.
Each student's response to this influx is different. Some delete the majority of the communications, some read each one, and many selectively read based on colleges they are interested in. The AHN guidance department encourages students to read e-mails from colleges they don't recognize – you may discover a perfect campus for you.
A college e-mail can lead to a rollercoaster of emotions:
Excitement
The first feeling when a college e-mail pops up is a reminder to students that colleges are interested in them, and deciding on a place to spend four or more years after high school is exploratory and interesting.
Confusion if you don't recognize the school
After the first spark of excitement, a student may skim the e-mail and realize they have never heard of the school before. Keep reading – it may be exactly what you're looking for.
Pretty campus photos
Almost every college e-mail will include pictures of a beautiful campus, such as modern buildings, gothic architecture, a lakefront view, or sprawling, tree lined grounds. It is all designed to catch your eye.
Junior, Emily Anderson, says, "I like college towns and older traditional college campuses with a modern feel on the inside. I love when there are courtyards."
Junior, Jules Lavoy, says, "I like rooms that evoke a creative atmosphere."
Descriptions of interesting majors
Many college e-mails will include information about their unique programs to prompt interest.
Florida Southern College offers a course on Citrus while Duke University has a Canadian Studies program.
Seeing admittance rates on Naviance
After reading through the email and deciding to learn more about the College or University, a student may log onto Naviance to compare scores. Sometimes, the average SAT or ACT score is not in their range, or the admittance rate is less than 20%. This can squash the familiar spark of excitement.
"I was really interested in the University of Texas, so I checked their admittance rates and they only accept seven percent of out-of-state applicants. I may have cried a little," Junior, Kayla Eckermann, said with a laugh.