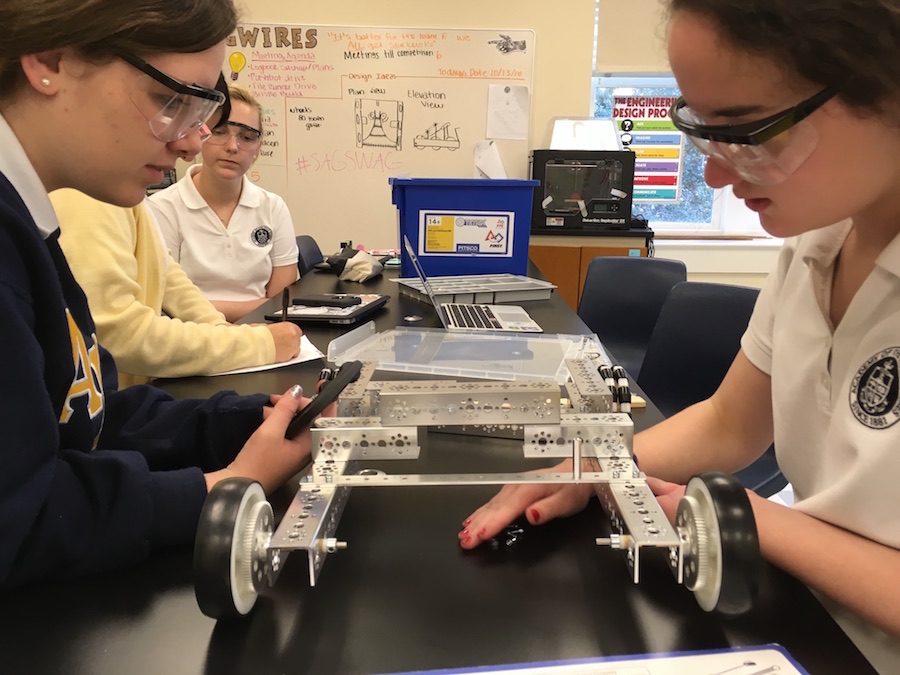 Photo Credit: Keri Kelly / ACHONA Online
The varsity robotics team is coed with members from Academy and Jesuit. Each season they receive a "game" which is essentially a problem the team has to solve; the function their robot is built to complete.
This year, the game was to prepare an airship for flight by being able to collect and launch tennis balls, pick up gears, and mount an elevated platform.
The competition consists of a 15 second autonomous period in which the robot must function on its own, and a two minute and 15 second tele-operated period where the robot functions via a remote control. Lastly there is another 30 seconds of play called end-game, where an additional task is added that is worth a considerable amount of points. This year, the end-game was climbing a rope up to a platform. The Academy-Jesuit FRC team was able to achieve that goal at their regional competition in Orlando. The team had six weeks to build one large robot that could complete the tasks outlined in the game.

There are many parts to creating a robot. There is mechanical, which is designing and building the robot, electrical, which brings power to the robot, and coding, which allows the robot to function independently.
Sophomore Maria Hurtado says that code is essentially programming the robot to do what it needs to do. " A laptop uses a USB connection to the roboRIO (a device on the actual robot which acts as the "brain") and downloads the code onto the roboRIO, which then processes it." she says.
Senior Meredith Butler says "For the six weeks of build, we meet four days after school for three hours, and all day Saturday. It's a big commitment, but it's a ton of fun."
Senior Cris Renner says her favorite thing about robotics is the team environment.
"I not such a math and science person, so having people to bounce ideas off of is nice." she says.