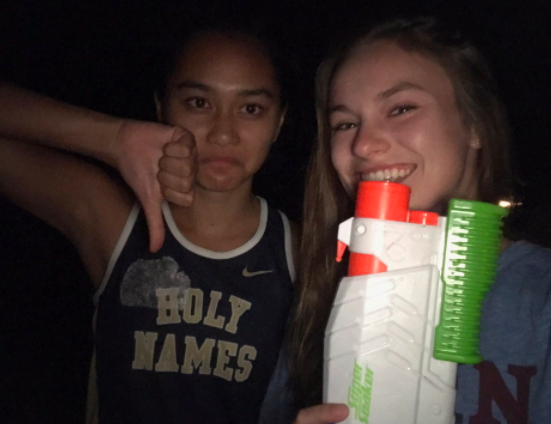 As the senior year is coming to a close, the class of 2017 begins their last few weeks as students of the Academy of the Holy Names. Throughout these last few weeks, they finally get to experience certain events that they have been looking forward to since freshman year, one being the student-run event, Water Wars. Teams will be made, the trust will be lost, and friendships will be broken in this intense war for victory.
Water Wars is a senior-created and senior-only event. The event involves running around and shooting other teams' members with water guns.
Rather than going along with the traditional setup of teams with a chosen maximum of five people per team that all other schools have, the seniors decided to group up based on homeroom. Both allowing the teams to be larger and more diverse.
The five teams that participated in the 2017 Water Wars were
Mrs. Chase – We Don't Chase Shots
Mrs. Mikos – Don't MIKOS Pull The Trigger
Mrs. Pendelton – Soaked to the MAX
Mrs. Nazaratian – Hydro Kids, Hydro Wife
Mrs. Van Pelt – VanPELT'em
At the beginning of the war, all teams targeted the celebrities who have left the Academy throughout the four years the Class of 2017 have been in session. Students and teachers from all four years, as well as teachers in the Middle school department, have been used as a celebrity shot.
This year, rather than all of the teams ganging up on each other for bragging rights at the end of the week, We Don't Chase Shots, Don't MIKOS Pull The Trigger, Soaked to the MAX, and VanPELT'em all teamed up together to attempt to beat Hydro Kids, Hydro Wife. No one was safe.
Review the events that happened on the Water Wars Class of 2017 Twitter page @AHNwaterwars17.