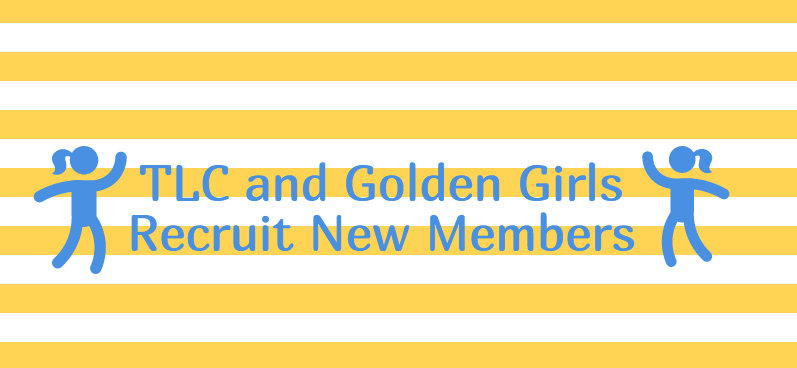 Photo Credit: Lauren Pieper/Achona Online
 Teen Leadership Council and Golden Girls have just wrapped up their recruitment for the 2017-2018 school year. TLC accepted a total of fourteen girls, and Golden Girls accepted six. Both recruitment teams worked long and hard to establish the new members for their club. The admissions teams read essays, conducted interviews, and made sure deadlines were being met.
  TLC's Recruitment team consisted of Gabi Jordan (18'), Lauren Dingle (19'), Katie Taulbee (19'), Noelle Choueifati (20'), Tara Gray (20'), and Nicole Stephan (20'), with Lauren Pieper (18') as the Head of Recruitment, and Macy McConnie (18') and Mckenna Weathers (18') as presidents of the club. The application went out Aug. 31, 2017 and was due back on Sept. 6, 2017. TLC received 38 applications from both freshmen and, for the first time, sophomore transfer students. The club responded favorably to the new policy that Pieper and Emily Pantelis, the club's moderator, created that allows sophomore transfers to apply.
Weathers said, "I was in favor of the new policy, it's unfair to them (the Sophomores) since they weren't here as freshmen. A sophomore is still like a "baby" they have room to grow, and junior year is when we start putting them in real leadership roles, so they still have time."
After two days of interviewing twenty-nine girls who exhibited incredible confidence and poise, 14 girls were chosen to partake in the club. The final 14 received texts saying they needed to come back on Monday morning for another interview, but TLC members had a surprise breakfast in store to welcome their new members. When the group walked in they were greeted by current club members cheering and giving them posters and yellow roses to officially welcome them into TLC.
New member Lillian Tracy (20') said, " It was so awesome. I was so happy, and was very surprised. It was so positive. I felt really loved."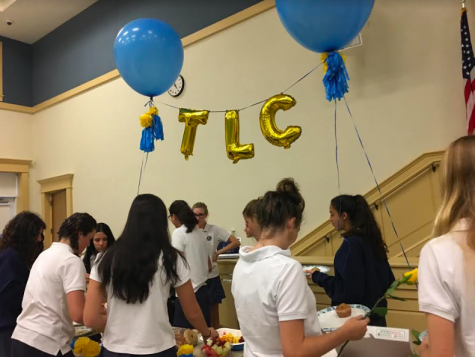 This group of young women have proven in their first weeks of high school that they are great leaders and are going to make a positive impact on Academy through their actions.
Pantelis said, "We have a very strong group of new girls that we just submitted. I really think they will not only become leaders of their class, but leaders of the school. We see their potential, and that's why we picked them for TLC. As a whole they seem like a very connected group. I see the potential for them to spread the connectedness and community to the entire AHN family."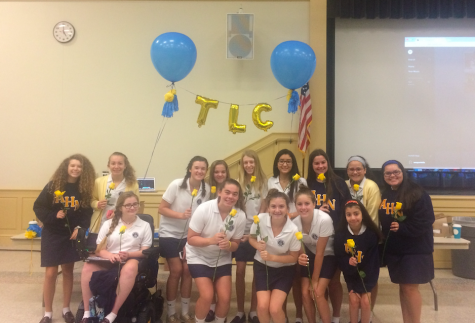 The Golden Girls recruitment process began on Aug. 31, 2017 when the application went live on Haiku. The applicants had four days to fill it out and submit it to the Golden Girls executive board consisting of Erica Dierks (18'), Alexandra Fonseca (18'), Evelyn Martinez (18'), Emma Sewell (18'), Annmarie Collins (18'), Emily Anderson (18'), Lauren Curtis (19'), and moderators Deborah Collins, the IT specialist, and English teacher Melissa LeBlanc.
The recruitment team conducted personalized interviews based on their application. They answered questions like, "What would be a good way to promote school spirit?" and "Give examples of how you are spirited."
Golden Girls decided to only recruit freshmen this year so each grade would have an even amount of club members to represent their class.
Dierks (18'), one of the co-presidents of the club, enjoyed the recruitment process and getting to know the new freshmen saying,"I enjoyed reading all of the applicants thoughts on how we should change the club, and will probably will use their new ideas."
After the executive board and moderators discussed all the answers from their applicants over a shared google document and in meetings, six freshmen were chosen to join the club.
Martinez (18') already impressed by the new club members said,"These girls will excite the student body especially in their own grade."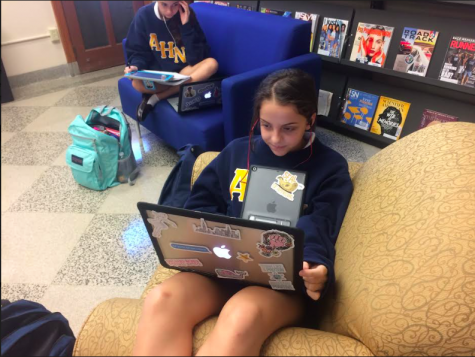 Teen Leadership Council welcomes:
Audrey Barnes (21′)
Bella Ferrie (21′)
Clare Gammig (21′)
Alexa Groteke (21′)
Maria Kynkor (21′)
Olivia Martinez (21′)
Cassidy Neely (21′)
Alissa Pardera (21′)
Ellie Rinker (21′)
Cece Rodriguez (21′)
Olivia Scarpo (21′)
Riley Schlinder (20′)
Rhyan Tappan (21′)
Lillian Tracy (20′)
Golden Girls welcomes:
Adrianna Vargas (21′)
Caroline Corcoran (21′)
Zoe Wolff (21′)
Madison MacDiarmid (21′)
Isabella Duarte (21′)
Anne Snyder (21′)