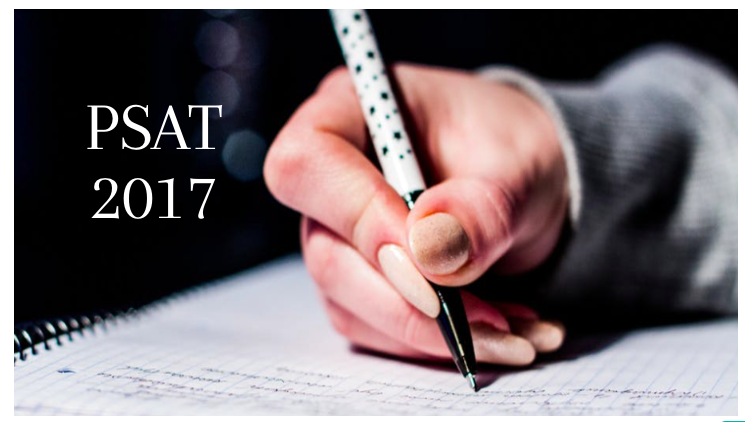 The PSAT/NMSQT® (National Merit Scholarship Qualifying Test), better known as the PSAT, is one of the first steps towards college for many sophomores and juniors. The two hour and 45 minute long test measures skills in reading, writing and language, and math. The highest possible score on the Preliminary SAT is a 1520, compared to the SAT whose highest score is a 1600.
Juniors who score especially well on the PSAT are eligible for National Merit Scholarships. Three levels of distinction are awarded: National Merit Commended Scholar, National Merit Semi-Finalist, and National Merit Finalist. Of the 1.5 million students who take the PSAT, about 50,000 receive Commended distinction. Sixteen thousand of the 50,000 move on to Semi-Finalist, and nearly all of the Semi-Finalists move on to Finalist distinction.  
Congrats to our National Merit Semifinalist, Commended Scholars and National Hispanic Scholars! @CollegeBoard @pfisd pic.twitter.com/2laFJAu8rE

— Pflugerville HS (@PflugervilleHS) October 5, 2017
Even with the substantial possibilities the test could hold, many juniors were not too stressed about the Oct. 11 test.
Katie Jones ('19) said, "I wasn't stressed out about it. Overall, I thought it was pretty easy, except for the last two reading passages which I didn't finish."
Sophomores took the PSAT as an introduction to high-school level standardized testing.
Dorothy Pickard ('20) said, "I didn't like the math section where we had to write in our own answers. That was tricky."
In recent years, Twitter memes have become a popular thing to post after the PSAT, and this year was no exception.
i am a:
⚪️ fish
⚪️ squid
🔘 clam

looking for my:
⚪️ plant
⚪️ tree
🔘 seagrass #PSAT #PSAT2017

— pumpkn spice paige🍁 (@awkwardhotdog) October 11, 2017
DO NOT SHARE TEST CONTENT ONLINE. #PSAT/NMSQT pic.twitter.com/VMSoxDxEWn

— The College Board (@CollegeBoard) October 11, 2017
The senior class had the day off and was offered the opportunity to come to school and have members of the English department review their college application essays.
Maddy Ruppel ('18) said, "I came in and Mrs. LeBlanc read my essay and told me things I should change – basically if it [the essay] was good."
AP Literature teacher, Virginia Pendleton, tried to increase conciseness while still preserving the student's voice.
Pendleton said, "I don't like to rewrite their words or take away their voice. I sit down, look at their writing, and try to give them suggestions about where to clarify something, or where to remove something. One student was almost 300 words over, so I just tried to give suggestions about what to cut out so [the essay] could be more clear for the reader."
Some seniors took a much-needed day of relaxation instead.
Nina Alberdi ('18) said, "I had a very productive day off. I got my eyebrows waxed, I had lunch at Kodo's, and [my boyfriend] Jacob asked me to to homecoming by buying me a fish."