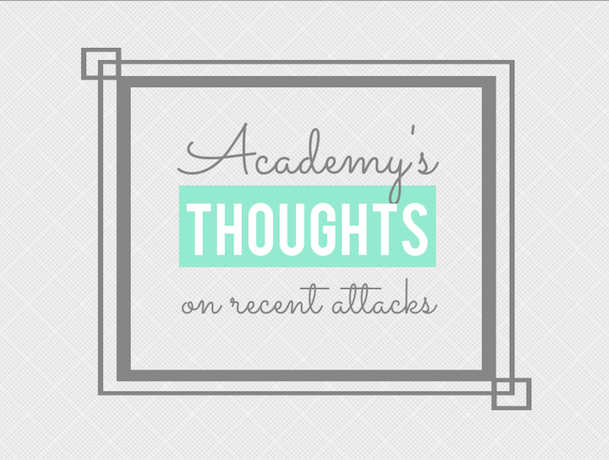 Photo Credit: Gretchen Swenson/ Achona Online
Recently in the U.S., the country has been faced with terrible mass shootings and terrorist attacks. The Las Vegas shooting, Sutherland Springs shooting , and New York car attack all happened in about a month's time span. These events have made the country question safety and personal faith. Theology teachers Jamie Meyer, Felix Kalinowski, and Brian Butterly, along with some Academy students, discussed recent tragic events that have occurred.
Hope Joffray ('20) said, "Although these events were tragic, talking about them in religion makes you more aware of the possibility of it becoming a reality."
Pastor speaks after youngest daughter was killed in church shooting: "I don't understand, but I know my God does." https://t.co/anQScaIJ45 pic.twitter.com/jDChjpoyIC

— ABC News (@ABC) November 6, 2017
When thinking about the recent tragedy in Texas, Kalinowski, said, "The reality is that this guy chose to do something that God says not to do. We all know what he did is wrong, but God is not going to give you free will just to take it away."
Never forget. #PrayForVegas #CMAs 💔 pic.twitter.com/ghY8Tmn1zB

— Taste of Country (@TasteOfCountry) November 9, 2017
They discussed why people always wonder why God lets these things happen, especially to innocent people who have to suffer from the bad choices made by the shooter.
Meyer said, "There are innocent people who suffer from the consequences, and it's hard to wonder why innocent people suffer. Our hearts break for them and their families."
Since we were given free will, it means we are able to do whatever we please. Kalinowski said that just because laws are in place does not mean that citizens will follow them.
Kalinowski also said, "Murder is against the law and these people have broken the law. You can have every kind of law you want, but that doesn't mean they're not going to stop people."
Kalinowski, Butterly, and Meyer agree that media rarely shows good things happening in the world. Though it is not seen publicly, a lot of good happens in the world.
Lindsey Ulbritch ('18) said, "I think that the good in the world isn't publicized as much as the bad."