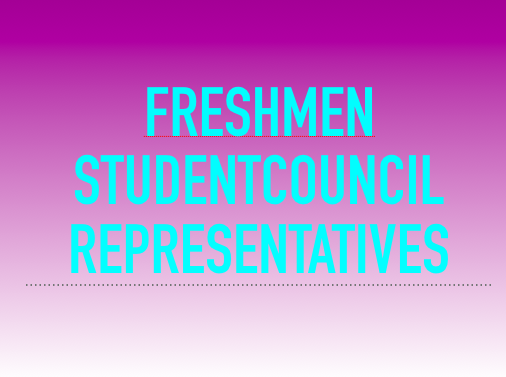 On Thursday October 26 the freshman class voted for their student council representatives, and Julianne Bland, Kate Cohen, Chandler McKnight Sarah Devaney, Stephanie Oehler, and Casey Buckley were chosen to represent their respective homerooms. 
Academy's freshmen vote after school starts to give them time to get acclimated to the high school environment and get to know their classmates.
In order to run, all the freshmen have to do is turn in two forms. One with a signature from their parents that says that the parent and student acknowledge the responsibility of being a part of student council. The other form requires a signature from all of their teachers saying that each student is in good academic standing.
Then each student has to introduce themselves to their homeroom and give a short speech on why they are running.
Freshman Stephanie Oehler ('21) went above and beyond and created a video instead of a speech. 
"I created a video to play along with a speech to read because I thought it would be a fun creative way to show people my personality and stand out," said Oehler. 
Each homeroom votes by writing names on a piece of paper and then student council collects and counts the votes.
The responsibilities of the freshman student council members are to provide information the their homerooms about student council events such as formal, father daughter, and powderpuff. They are also required to attend both in and out of school events and to help the committees that they are placed in.
Casey Buckley ('21) says,"I am looking forward to meeting new people and organizing fun events for the school."