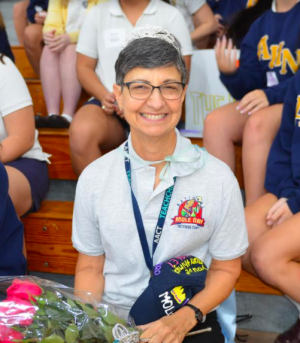 Photo Credit: Katherine Kelly (used with permission)
Every year on October 23 the Academy of the Holy Names celebrates Mole Day in its chemistry classes. Some of the traditional celebratory activities include eating lots of sweets and singing the Mole Day song, along with the highly anticipated Mole Queen crowning.
The queen typically is a sophomore taking chemistry, but this year the sophomore class decided to crown chemistry teacher, Rebeca Zambrano, as the 2017 Mole Queen.
Evelyn Martinez ('18) says,"Mrs. Zambrano is the most deserving Mole Queen in Academy history because she is the queen of chemistry. She was an amazing chemistry teacher for me. Chemistry was my favorite class sophomore year because of her."
Zambrano was crowned by former queens Alex Smith ('18) and Brielle Gentile ('19) with the help of two sophomores, Mei Lamison ('20) and Sophia Tweed ('20). A brand new crown was bought and a new cape was made by Emma Eaton ('20) for this event.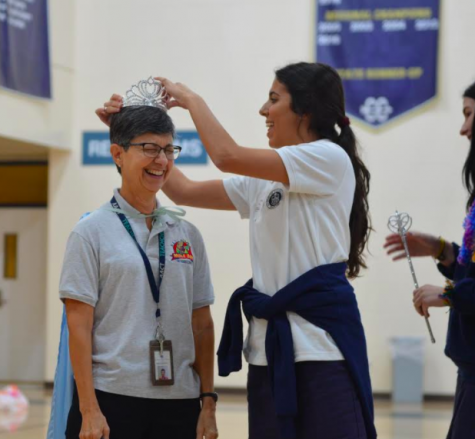 Tweed said, "Since we could not sneak into the chemistry lab to get the crown, we still wanted to make the crowning personal, so I asked Emma Eaton to sew a cape."
Tweed had the honor of being on the court crowning Zambrano.
"Mrs. Zambrano was speechless. All she could say was, "Thank you". It was heartwarming to see the whole school cheering Mrs. Zambrano on since she started this tradition," said Tweed.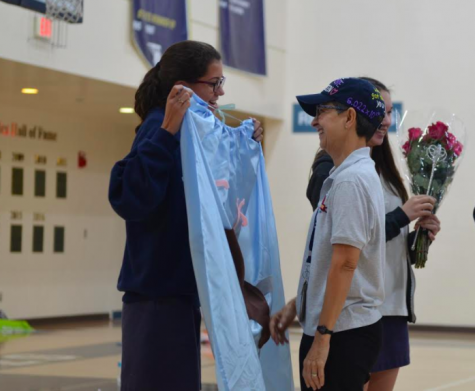 The crowning was a surprise to Zambrano, but she happily received her cape and crown with pride.
Zambrano said, "I was surprised because I didn't expect that at all."                              
She was happy to see that students of all grade levels were expressing their enthusiasm during the crowning and other Mole Day festivities.
"Mole Day has made students very happy and very excited about Chemistry, so I know that they will always be excited and supportive of that," she said.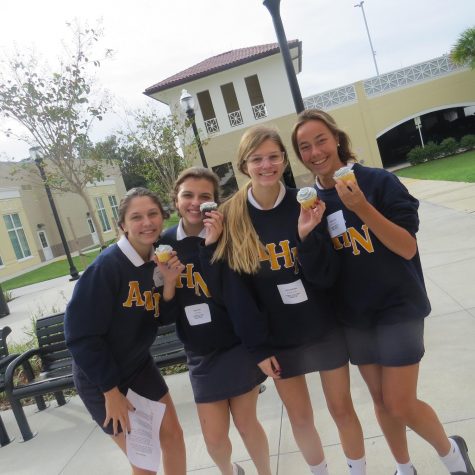 Even though the celebration was different this year, the Mole Queen still had a great time with her current and former students, and said that the "What is a Mole?" videos were terrific, it put on display the students' creativity and understanding of the moles- the SI unit.
Following the crowning was the traditional singing of the Mole Day Song. This year's singing was different due to it happening during convocation in the gym.
"I think celebrating with the 'sophomoles' makes it more special and meaningful to them, but I was especially happy to see the seniors and juniors joining in and singing our Mole Day song, 'Molemorial'," she said.
The sophomores stood in front of the whole school and lead everyone in singing and dancing. The school then enjoyed cupcakes to commemorate Mole Day, and the sophomores had their party after school.
Video Credit: Melissa LeBlanc/Achona Online