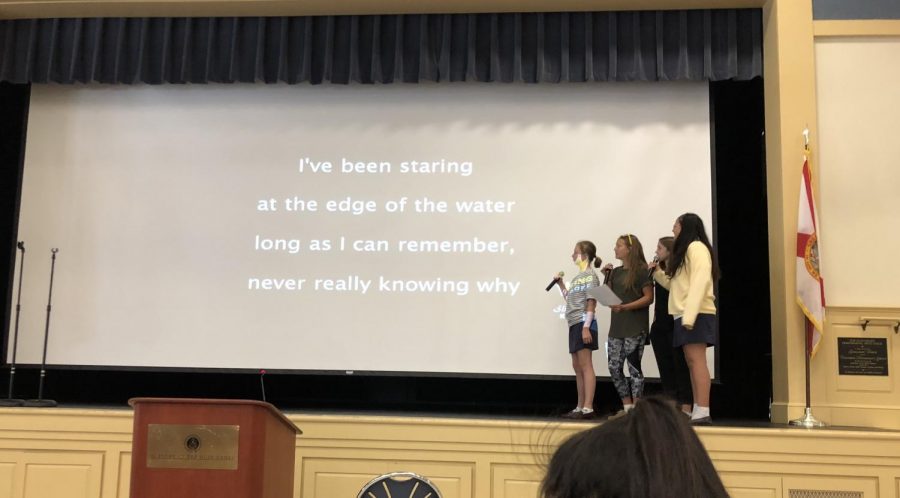 Throughout spirit week, the week of April 16 to April 20, students could compete in daily activities during lunch in order to gain spirit points for their grade.
On Monday students signed up to perform a dance with other students in their grade. Both the Sophomores and Seniors submitted a group to perform. The performances were judged by volume of cheering which put the Sophomores in first place.
On Tuesday, each grade performed a Disney karaoke song and was again judged by volume of cheering. The Seniors won with the most cheers after their performance of "Amigas Cheetahs" by the Cheetah Girls.
During the remainder of the week the appearance of students at the spirit challenges began to fizzle out thus leaving the few remaining students to gain major points for their grade.
Katherine Fernandez ('19) said, "I didn't come to the challenges for most of the week because the challenges didn't sound as exciting as the dancing and karaoke on Monday and Tuesday."
On Wednesday, Beach volleyball on the four square courts consisted of three Seniors and three Juniors playing against each other. The seniors won against the Juniors 10-9 and gained another 200 points for their grade. Thursday only two seniors showed up for the challenge of putting together puzzles of teachers faced and again gained 200 points for their grade. On Friday a few Freshman and Sophmores came out to participate in foursquare. Instead of making it a competition they just played for fun.
Mia Lopez ('18) said "I heard about the challenges from a facebook post on our class page and I decided to go to everything because I knew other Seniors wouldn't show up because they eat lunch on the fourth floor in the senior lounge."