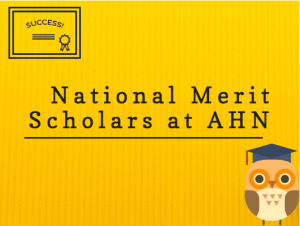 Photo Credit: Gelmi Pasquier/Achona Online/Piktochart
Seniors Lauren Dingle and Sydney Lowman have been recognized as National Merit Scholars based on their PSAT test scores from last school year.
In order to be acknowledged as a National Merit Scholar, students must first receive one of the top 50,000 scores out of the overall 1.6 million students taking the PSAT. From the top 50,000 scores, only around 15,000 are recognized as National Merit scholars. These scholars are semifinalists for the competition of receiving a National Merit Scholarship, which can be used towards the four years of their undergraduate study.
Lowman says, "I didn't do much to prepare for the PSAT in the days immediately leading up to it, but my father pushed me to start answering a few SAT style questions every few months starting sometime around 8th grade. I had also participated in the standardized tests that AHN had made us take before senior year, so the format of the test wasn't entirely new to me. I had honestly felt terrible about my performance both during and after the test since I actually took it just after having been rather sick. Although I hadn't felt that I did well, I didn't think about it much after. I try not to worry about things that I can't change."
Lowman received a score of 1380 on the test, putting her in the top 1% of the students in her state. To get this score, Lowman went with her instincts and tried not to second guess herself during the exam.
"Standardized tests are really like any other assessments in that you can prepare as much as you want leading up to them (and should), but, for the few days before and morning of, there's nothing you can really do but try to remain calm and approach it logically. When at a loss, go with your gut," said Lowman.
Similar to Lowman, Dingle was surprised when she heard she had received National Merit Scholar.
It is rare to have one National Merit scholar, let alone two scholars.
College counselor Darcy Dwyer said, "I think 2014 was the last class we had multiple National Merit commended scholars. That year we had three National Merit Scholars, and four Hispanic National Merit Scholars."