(Photo Credit: Regan O'Leary/ achona online/ piktochart)
Catholic Schools Week is a week in January sponsored by the National Catholic Educational Association in which Catholic schools across the nation celebrate the catholic faith by participating in, Masses, fun activities for students and families, and serving the community. Every year during Catholic Schools Week AHN high school students volunteer at many different organizations around Tampa Bay.
On Tues., Jan. 29, AHN students spilt up into small groups and traveled to the destinations around Tampa Bay in which they were volunteering. The day started with mass for the students to be reminded why serving others is an important part of attending catholic school.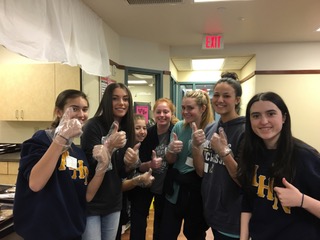 A new role for students was created this year in which they were able to be liaisons and coordinate with the organizations about what they wanted the students to bring and wear. This is the first year that this role was available to students in attempt to allow them to be more involved in the day. "I really enjoyed being a liaison because I felt like I was more involved in community service day, I also enjoyed being able to be a representative of AHN in the community," said Ella Castellano ('20)
The tasks that students completed included playing with special needs children, serving food to the less fortunate, sorting cans, and spending time with the elderly. Students were able to interact with girls from all grade levels and step outside their comfort zones to serve others in the community.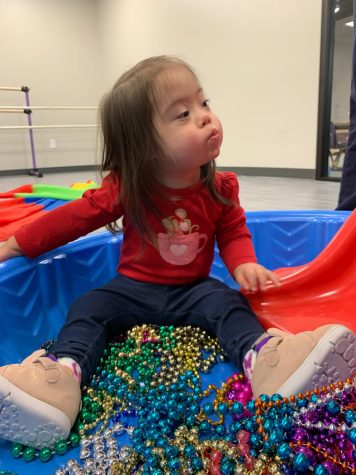 The 2019 service day locations this year included 4 new locations including Gigis Playhouse of Tampa, Sweet Water Organic Farms,  Busansky Senior Center, and Santa Maria Mission. Along with 20 other locations which were….
Feeding Tampa Bay
St. Johns Learning Center
Trinity Café Busch
Religious Community Services Food Bank
A Brighter Community 
Habitat for Humanity 
RCMA
Dover
Nativity Food Pantry 
Horses for Handicapped 
Trinity Café Nebraska 
The Spring 
Village Community Food Pantry
St. Peter Claver 
Keep Tampa Bay Beautiful 
Metropolitan Ministries 
Pyramid 
Oaks at Riverview 
Mary Help Of Christians 
The Children's Home