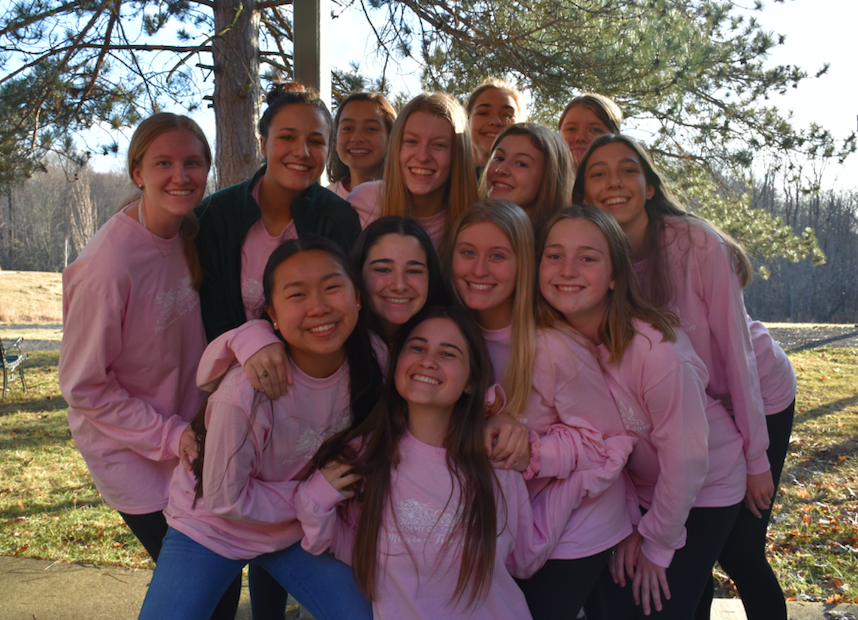 (Photo Credit: Lisa Perkowski/Used with Permission)
From Mar. 10 through Mar. 16, 17 AHN students and three chaperones flew to Scranton, Pennsylvania, during the annual Mini-Course week. The Heart of Mary, Scranton Mission Trip is one of eight total trips.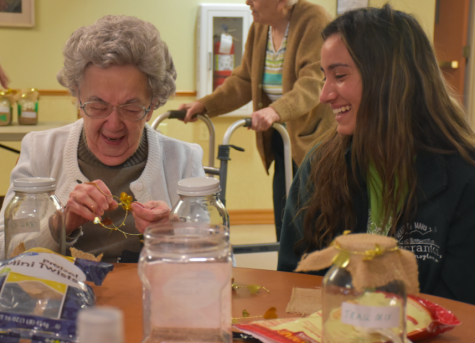 There were 10 sophomores—Zeta Bennett ('21), Caroline Caranante ('21), Abbey Crowther ('21), Amelia Cuttle ('21), Danielle Fonsing ('21), Adriana James-Rodil ('21), Faith Joaquin ('21), Meredith Nitchals ('21), Elizabeth Rinker ('21), and Alexa Rios ('21)—four juniors—Katelyn Chau ('20), Emma Eaton ('20), Reagan Finch ('20), and Emily Nash ('20)—and three seniors—Katie Jones ('19), Delaney Lambert ('19), and Theresa Tulsiak ('19)—who attended.
Bennett said, "This was my first mission trip. I was kind of nervous at first, but then when I finally got there and got to see all the sisters, they were really welcoming, so it was an easy experience, and I really enjoyed it. I met this one sister, and her name was Sister Dolores, and she was like my grandma. Just hearing everyone else and their experience on their mission trip, I think ours was probably the best because we got to bond with a lot of people. I prefer more interacting [with others] than manual labor. I'm definitely signing up next year."
The chaperones were Fine Arts Teacher Sister Lisa Perkowski, Communications Associate Kathryn Kelly, and High School Administrative Assistant Lynn Hathaway.
Scranton has been offered as a mission trip for five years, in which Perkowski has been a chaperone since the start and Kelly has been for three years. Perkowski attended Marywood University and became an IHM (Immaculate Heart of Mary) sister there. 
Both chaperones have history in Scranton, whereas this was Hathaway's first mission trip to the area.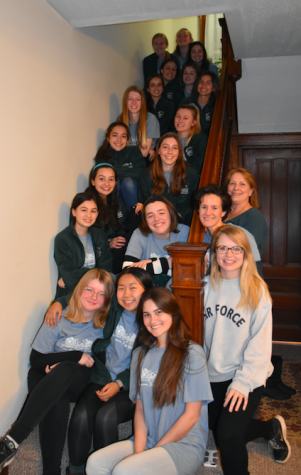 Hathaway said, "I've been on North Carolina [a mission trip which was removed this year] five times. I think that in Scranton we had more opportunity to venture out and do more things in the community. I think that in Scranton, we touched the lives of people more than we fixed problems or fixed issues. I think that the lives of individual people are touched by the work that we do there. I, definitely, always come out as a better person, but I also gain a lot of perspective from the students that I'm with, and I think that's huge. The girls are not as timid when you're in a mission trip environment as they are in the school. You get to interact with them on a close knit relationship, as opposed to scattered and somebody passes by your office door and says 'hi' or waves on a normal basis."
Chau, Eaton, Nash, Jones, Lambert, and Tulsiak all served as leaders because they returned for either their second or third time to Scranton.
Jones said, "I was just really honored to go back [to Scranton] for the third time and actually be a leader because I was able to make all the underclassmen have the same experience I had when I was their age, and I just wanted everyone to be as excited about it as I was as a leader. This year, it didn't snow as much. We weren't snowed in, so I think we got to do a lot of more work than we did in the past. I do come out as a better person because of this mission trip. It just makes me want to give back more to the community in Tampa [Florida]."
On Mar. 10, they arrived in Newark and rode a bus for about two and a half hours to Scranton in which they stayed at the IHM Center on the Marywood University Campus with the several IHM sisters.
At 4:00 p.m., everyone gathered in the community room where a Meet 'n' Greet was held with the IHM sisters. After, they had dinner with the sisters and had Trivia Night, which featured questions about Blessed Marie Rose and the SNJM sisters.
Each night ended with reflections and prayer, discussions in small groups, and journal writing.
Nash said, "The sophomores on the trip were good. They were really hard working, and they were just all really nice, so I just feel like it was a good experience, and I got to know them all better because I haven't had a lot of interaction with that class. [Also] The people in Scranton make me want to go back every year. They're all very nice, and it's always such a humbling experience to get to spend a week with like the homeless and those that are in poverty in the Scranton area."
Each morning, there was Mass at 8:00 a.m. before each group split up for the day—volunteering at different service sites. There were three groups, divided amongst the chaperones, which changed daily.
The following was the schedule for each day: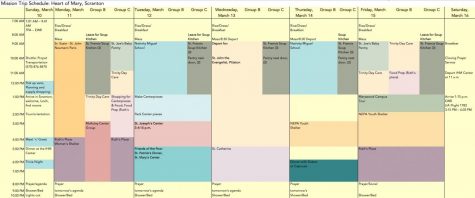 The projects such as NativityMiguel Scranton (school) and the Friends of the Poor dinner took time and planning before the mission trip itself.
Last year, those who went to NativityMiguel, such as Chau, Eaton, and Nash, designed and created the school crest, which represents the school's core values of Faith and Honor, Integrity and Respect, and Leadership and Perseverance.
Nash said, "So, last year, we went to NativityMiguel, and they didn't have any kind of school crest, so they asked us to make one for them. So, what we did was we got all their school values together, and then we allowed each kid to design their own crest, and then we put all the ideas together, and they voted on it."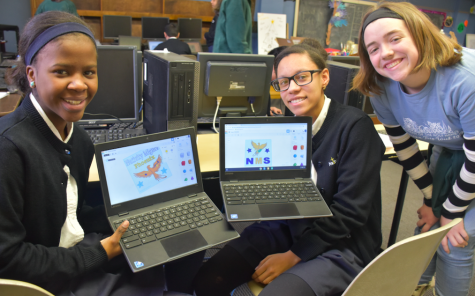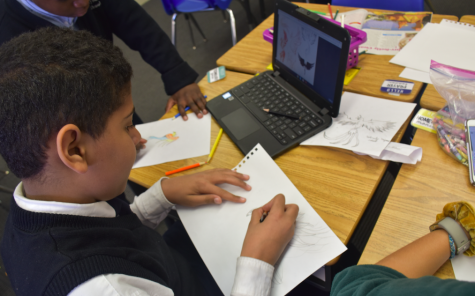 This year, however, the missionaries assisted in choosing NativityMiguel's school mascot—the phoenix—by holding class votes to narrow down the options and, ultimately, a school-wide vote.
Nash said, "I feel like we all knew them a little better this year, so we knew their school values already going into it. We basically, once again, just looked into their school values and allowed the students to think about, also, what they value themselves in their school and put that together [to] create a phoenix. Then, they were able to 3D print it. I think they were excited about it because their 3D printer is new, so I don't think they had a lot of experience with it before, so it allowed them to just have a hands on experience using it too."
Prior to the visit, NativityMiguel did not harbor a mascot, and by use of their newly implemented MakerBot Replicator Mini Compact 3D Printer, the students were able to print their designs.
Before the Friends of the Poor dinner (a dinner celebrating St. Patrick's Day for the less fortunate), the AHN girls and chaperones gathered together, with the help of IHM sisters, to make the centerpieces for the event.
After serving the meals, the missionaries sat at different tables, engaging in conversations.
Jones said, "It was nice to actually to get to know them and talk to them after serving them because they usually don't get to have that experience, and I enjoyed speaking with them because not only could I serve them their dinner, but I could have a conversation with them."
The centerpieces consisted of trail mix, hot cocoa mix, and marshmallows, or rice and beans as the people seated at the tables were able to take the centerpieces with them. It added to one of their few good meals for the week.
However, Jones also comments on how the spirit of giving back to others fades after mission trips and how to evert this.
Jones said, "I think we should just try and get a group of missionaries together and kind of have the same experience that we did in Scranton, so organize more community service activities together. I think that would help to do more back in Tampa."