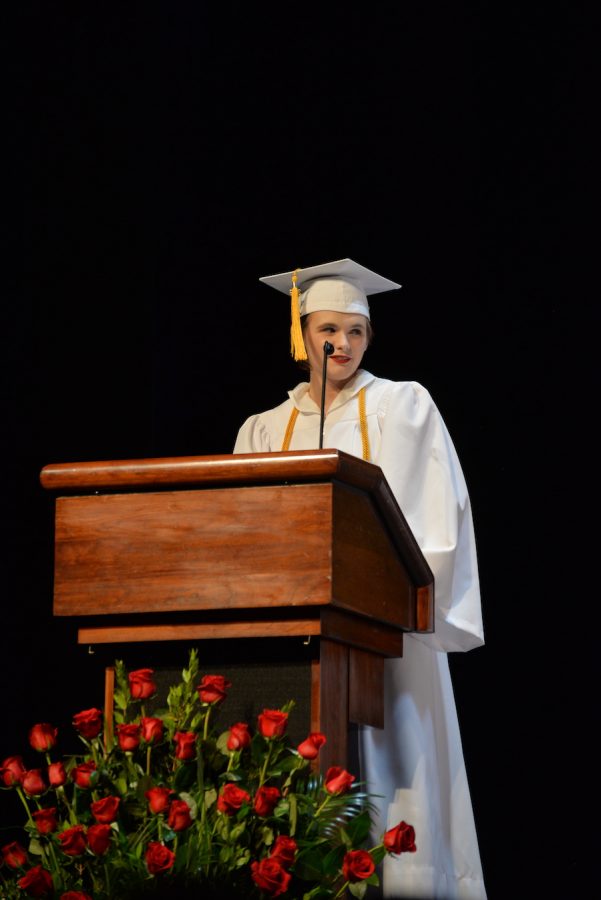 Photo Credit: Emily Wise/Used with permission
How do you measure a year in life? Much less four? Well, I suppose you start…
In daylights:
early morning arrivals to classes, bleary eyed
a rumpled uniform which may or may not actually include a uniform shirt
the second floor lobby full of chatter
or senior lounge with music too loud
discussions on  characterization of books to movies to why in the world is this problem solved in this manner
to hours in the math office, talking about everything from mathematical linguistics  to what changes do you think should be made, and knowing that they care
to spending an entire chem class explaining the intricacies of hamlet
to freshman year physics where you helped a girl organize her plans for world domination
to tangents that somehow always come back around
to hugs in the hallway, smiles towards the end of the day
In sunsets:
those days when we stay late and get to watch the sun go down from the second floor
hanging out the windows a little too much
And spinning in chairs far too fast
being lucky enough to get out of rehearsal or practice before the sun went down
and you come out of this grueling session you just stop, and take in the view
in midnights:
conversations on FaceTime or the phone
from one too many assignments that we left till the last minute
falling asleep still on the line: one still working, the other lost in dreamland
desperate bids to get that college essay in just before 1159pm
Emails at 2am of, "Hey, can you edit this?"
to picking up or making a panicked call in the middle of the night, because something's not right
They calm you down and stay on the phone
when you wake up, they had your back the whole time, because the calls still going the next morning
or those days when you don't get out of rehearsal until midnight and you stumble to your cars and nobody's in a good mood but you still stop to make sure, "Hey, text me when you get home: please drive safe"
In cups of coffee:
watching my best friend come in every morning on her eighth cup
going down to sage because somebody hadn't had any yet that morning and they really need to be awake for their test
to senior lounge mornings when everyone goes in and out of that kitchen for a drink and a bit of brielle's baking (it goes fast)
to the night your annotated bibliography is due and you physically cant drink coffee, but you're desperate enough to try and fail to consume it as your friend laughs at you on the computer
In inches:
those solved in that frq question which took the entire class an hour to figure out
in that baby step taken to learning something new
reaching out a hand
making a connection
That first step towards loving yourself
In miles:
those run in greta's cross out cancer
those final days of the school year
The last frantic stretch of that 2k
driving miles to meet up with a friend at 8 or 9
bridging the seemingly impossible gap between people
In laughter:
in hearing izbahr come down the hall, knowing its her, cause her laugh makes you smile
When the class dissolves into giggles because someone projected their snapchat instead of  presentation
Hearing a chuckle from the audience when your girls hit their cue just right
Crazy dancing in the senior lounge
Being able to reminisce over the worm instead of cry
When your junior year teacher makes it her mission in life to make you laugh so hard you cry as often as possible
Because seeing them happy and carefree is all you ever want for them
In strife:
in coming together only for the important things:
helping advertise your classmate's fundraiser
Surrounding someone in a rough time wanting only to lift her up
stopping to sit by someone breaking down in the hall and
"are you okay, can I do anything"
to "hey. Are you okay"
touches on the back and hugs you never asked for but treasure all the same
to a bag of chocolate in your backpack cause someone's gonna have a bad day today and sugar at least won't make it worse for them
Realizing you won't have all this next year, because facing the world back to back is a lot harder from so far away.
And I don't have 525,600 minutes to stand here and tell you all the ways you have changed each other's lives but, I don't need them because, I can tell you how I've measured it:
from "Do you want my notes?"
to "That college didn't deserve you anyway."
to "Take a deep breath, knock em dead."
to "I'm so proud of you"
to knowing they've got your back, come what may.
It's all the little things we don't think about in the moment that make us who we are. So, no, I can't tell you why I love this class, except to say that, in every little kindness, Class of 2019, your four years have already set you up for a meaningful life. Because we, we've measured it in love. If we spend the rest of our lives doing that, the brokenness in this world doesn't stand a chance against the most powerful women I know. Thank you for letting me be a part of it.