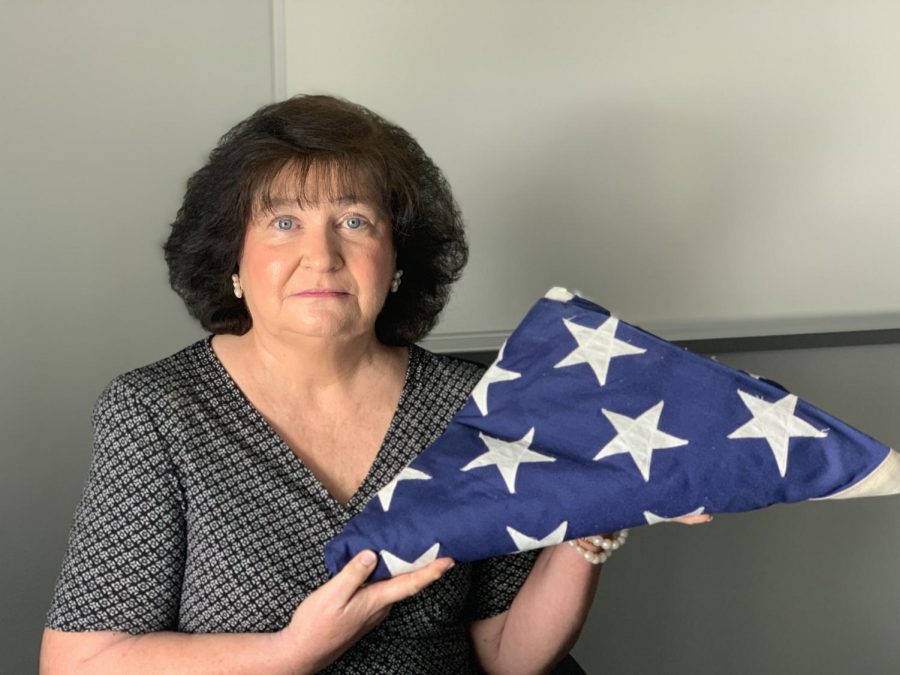 Photo Credit: Georgia Ruffolo/Achona Online
Everyone shows pride in their country in ways personal to them. Academy's US History and Economics teacher, Beth Chase, is known for her patriotic character and makes everyone aware of her love for America. 
A staple in Chase's teaching environment is her personal American flag, proudly presented next to her at her desk during every one of her classes. Most of her students have no knowledge of the flags importance, but Chase says that she is always pleased to talk about her flag when questioned by her students. 
"This is my own personal American flag. I keep and present my flag as a symbol of my patriotism. I love being an American and want everyone to know it," Chase says. 
Chase also celebrates her birthday, June 14, which just so happens to by Flag Day. Flag Day is an American holiday that commemorates the adoption of the Stars and Stripes as the official flag of the United States as of 1777. Growing up in the northeast, Chase explained how Flag Day was a very special and celebrated holiday. Similar to the Fourth of July, towns and their people would be draped in everything red, white, and blue. Moreover, it was accustomed for people to own their own American flag. Since then, Chase has decided to bring a piece of Northeastern tradition with her to Tampa to share with her students and fellow teachers. 
Chase said, "Being able to share a birthday with America's flag is an honor and something I hold very near to my heart."
Happy Flag Day! On June 14, 1777, Congress adopted the American flag, which is a symbol of freedom & liberty. Many have fought & died for that flag since the revolution, so it's fitting that it shares a bday w/ the @USArmy, created on this date in 1775. #FlagDay2019 #ArmyBDay pic.twitter.com/Q6jxFrrRTm

— Rep. Mike Kelly (@MikeKellyPA) June 14, 2019
Her students also found her role as a history teacher to be extremely fitting, as they, too, went on to describe her as someone who has a great affection towards their country. 
Mary Kelly Cardillo ('20) said, "The care and love Mrs. Chase has for this country is unlike anyone I've seen before. She really is this country's number one fan. The way Mrs. Chase taught U.S. History was with genuine excitement, which is not something you find a lot in teachers. It was very easy to see that she had a liking for the subject." 
Along with her flag, Chase also brings a stuffed George Washington doll with her to class. Chase says her students tend to gravitate more to the doll given its playful nature and uniqueness as opposed to her flag, something the students see displayed multiple times throughout their day. Although this doesn't necessarily bother Chase, she says that she wished her students looked more into the symbolism and meaning behind her flag, claiming it to be "the essence of American culture" instead of just looking at the flag itself.
"My students, of course, are more apt to visit my George Washington doll over my flag. Of course, I have no problem with it, as I want my girls to know his importance and legacy. However, I do wish some of my students would treat my flag with the same enamored attention, as it is the trademark of their home."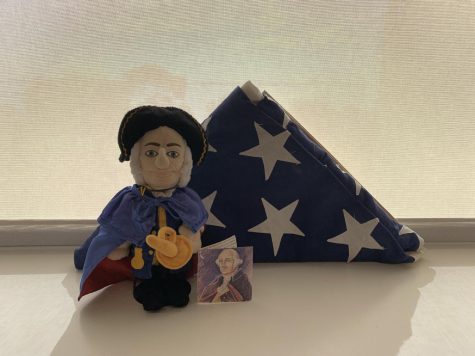 Chase, whose grandparents were immigrants from Ireland, explained that being of immigrant descent serves as a further reason for her patriotism. That their choice to leave their homeland in hopes of a better future is what led to their own success and the success of those who came after them. Chase also made it a point to mention how we are all, in some way, descendants of immigrants who came to this country to seek out opportunities not found anywhere else in the world. Chase's grandparents's story is just one of many successful tales of immigrant families coming from across the globe to live out their very own "American Dream". 
"I am very proud of my Irish heritage. I do not denounce it at all. However, I am also very proud of being an American, as it was a self driven choice made by my grandparents to become one. Most American's aren't born, they're made."