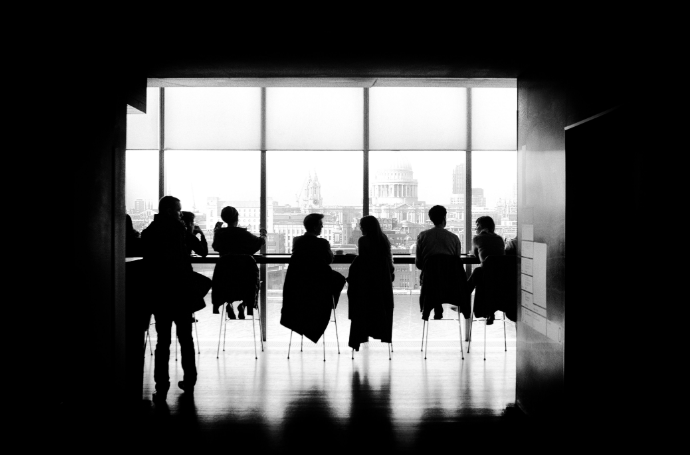 (Photo Credit: Adriana James-Rodil/Achona Online/Piktochart)
On September 10, 2019, clubs officially began meeting during advisory. So common, however, clubs plan to "make changes" and organize events for the coming year, yet these goals seem to dissipate before the year ends which stems from the negative effects of student-led clubs and lack of wanting to "make changes" to begin with.
Sophia Garcia ('22) feels strongly about the issue of unproductive student-led clubs. Garcia said, "I joined SADD [Students Against Destructive Decisions] last year. What were were supposed to do in SADD was charity work for people that are addicted to drugs and alcohol. The first day we had a presentation. The next day we didn't do anything [and] the day after that we didn't do anything, until the club ended."
The Issues. 
There is no organization within the club. In order to use the forty-five minutes of advisory efficiently, the meeting must have an orderly structure. This job may fall on the moderator or officers, whether that is the president, vice president, or secretary. Failure to assign roles to the leaders of a club may result in lack of structure which causes mayhem.
Isabella Pearson ('23) said, "I feel that if everyone has their own job they can really make a club work. It can be successful. I've been a part of some things that don't always go as planned because there is no structure, so everything does not work out."
Irresponsible people are elected to leadership positions. At times, officer elections are merely a popularity contest rather than the most qualified or suitable person being chosen. Club members may feel inclined to vote for his or her friend as opposed to another candidate because if not, he or she will "feel bad."
Pearson states how her middle school class president election was indeed a popularity contest, "In middle school, we had the class president type thing, and lots of people just voted for their friends instead of who should have really been the president."
why are student council elections even a thing?? ppl just vote for friends, and connections etc. it's slowly devolving into a popularity contest, instead of voting for ACTUALLY good ppl who ACTUALLY wanna make a difference???

— jonas • 35 days • stream DCMA! (@chicceddia) July 9, 2019
Or, a candidate might swoon members to vote for them with promises to make great changes to the club. He or she may say this, however, but when they are elected, he or she does not follow through because their goal of becoming president or vice president was motivated by it benefiting their college resume, not to further enhance the club.
Garcia explains why she believes clubs can be unproductive: "No one is really directing it. It's supposed to be student-led, but I feel like because it is students, they don't really want to be in it; they can just put it on their college [resume]. I want people to realize why that's wrong before they start making changes. They can make whatever changes they want, but they won't care about it."
AHN clubs are student-led, yet if irresponsible leaders are elected, no progress will be made. The work will be placed on people who do not want to dedicate time to executing the club's plans. It is easy to talk about making "big changes," but the challenge is following through.
There is a lack of interest amongst members. Too often, student participation within a club is few if non-existent due to a lack of interest. Signs of disinterest may be skipping meetings or failure to attend events. This can be caused by pressure to join a specific club because it looks "good" on college applications which prohibits the said student to pursue an alternative club that he or she is passionate about.
Alternatively, a club may bore members because they do not feel included, and failure to follow through with plans leaves members thinking they made a mistake in choosing a club. 
Garcia said, "I got to points where I didn't even show up at the club. I just didn't go to it, and no one noticed [because] we did absolutely nothing. They were like, 'Let's make a shirt.' We didn't get a shirt. The most that we did was one thing — a bake sale, and I don't even know where the money even went. This has happened to a lot of other people. Medical Explorers [another club] doesn't do anything either. One time, I went into a club, and no one noticed I was there. I just talked to my friend the entire time."
Although student-led clubs can produce negative results, if these issues are addressed, they can be effective — showing that students can make an impact on the community and encourage others to take on active leadership roles.
The Solutions.
An agenda for each meeting should be prepared beforehand. This will result in on-topic discussions and ensuring all members are informed of events or a bake sale, for example. Students should work with the moderator to create the agenda for each meeting.
Moderators should take an active role in choosing the officers. Because it is a student-led club, members should vote for their elected officers. However, in order to avoid the election of irresponsible leaders, moderators should review who was elected and assess the situation from an unbiased standpoint and ensure the right people are chosen.
High School Personal Counselor Emily Pantelis is the moderator for Teen Leadership Council (TLC). She chooses the student leaders and hears input from previous position holders.
TLC club member Maria Kynkor ('21) said, "I think Ms. Pantelis truly chooses who she'll think is going to be the best person and represent our club despite of the person's friends or social status."
To ensure progress is being made within a club, the moderator should observe that the meeting is productive and the leaders are following through with his or her "big plans."
Members should constantly feel involved. Club leaders should ask the opinions of members, so they feel included and can contribute. Also, follow through with goals and plans because a productive, serious club will result in shared student interest and participation.
High School English Teacher Alison Jussaume is the moderator of Our Earth club. This is Our Earth's second year as an AHN club, and she and the members plan to have more of an environmental focus by researching environmental careers this year, while still having a structure for meetings. Jussaume said, "We decided to have more of a structure where we are going to have a leadership board [with] leadership officers, and then the people within the club are going to present mini presentations on subjects of their choice. For each semester, each student in the club needs to attend three events per semester. For me, personally, as a moderator, I want to provide the structure, and the structure needs to be year-long, and I think it's very important to articulate the expectations that you and the leaders of the club have at the beginning of the year. It's expected for you to attend these particular meetings. For me, the best way to keep a club going, interesting, is to also make sure people are accountable for being a part of that club as moderators and as students. So, what can we do to keep people excited and engaged because then they are going to want to do things. That's what we're working on this year."