(Photo Credit: Kasey Brennan/Achona Online/Picktochart)
Music has an impact on almost everyone's life, especially on those at the Academy. Students of AHN incorporate music in various ways such as listening, making playlists, or even playing their own instruments. 
For example, senior Caroline Lamoureux has been playing piano since she was six years old. While she stopped taking lessons "religiously" as life got busy, she still tries to find time on her own to play. 
"I have been able to grow as a pianist with the help of the internet. Some of my favorite songs to play are by Coldplay, Tyler The Creator, and Mac Demarco. I play every single day and it is one of my favorite things to do. It calms me down and excites me," says Lamoureux.
Another example is junior Kylee Achilles, who's favorite hobby is playing the electric guitar. She has been playing for many years.
"My favorite kinds of music to play are rock and heavy metal, and I feel like I can really express myself through my music," says Achilles.
Students also say that Academy has played a role in their passion for music. 
"I have played at a couple of events at Academy, such as the silver coffee ceremony and a scholarship luncheon last year. I even played the piano for former Academy students Victoria Huerta ('21) and Robin Zander ('19) in the talent show last year and we ended up winning! I loved getting to share one of my passions with people I love," says Lamoureux.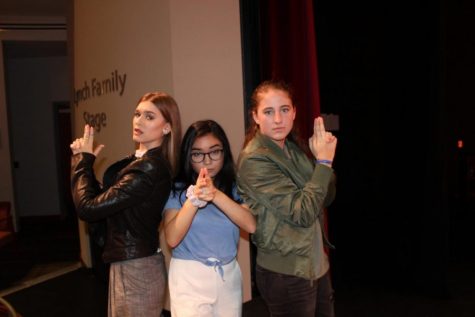 Students have also participated in music clubs that Academy has had in the past.
"I was in Academy's music club called Camerata my freshman year of high school. Each week we got together in the chapel and played songs together. The students in the club played a variety of instruments, from guitar to flutes to ukeleles," says Achilles.
Quarter Notes at Academy, for example, is a way for students who are passionate about singing to let their voices be heard.
"I actually do not play an instrument, but I love singing and it has always been a passion of mine. This is my second year in quarter notes as a sophomore and I love it and have formed a strong bond with the girls in it," says Maeve Miller '22. 
Tremendous job today by @holynamestpa "Quarternotes" performing for @WestHonor veterans heading to Washington DC! #HonorFlight pic.twitter.com/gPRopQBSHp

— Seth Miller (@sdmiller3) September 8, 2018
Nancy Mizzell's new all-female drum line at Academy recently started up as well, which is in fact the first all-female high school drumline in Tampa. Her inspiration for starting the drumline happened when the students in her percussion class last year made their debut performing at the winter Spirit Night, during half time of a lacrosse match. 
"This year, my percussion class is extremely small, so small, that I don't have enough students to give the energy that a half time performance deserves for a spirit night this year, so I decided to make an all call to the high school for support and now I've got just enough! This semester, the drumline will perform at Spirit Night on December 6," says Mizzell.
Mizzell sees the drumline becoming a more prominent, competitive part of Academy in the future.
"I hope for the drumline to become a much larger, dedicated group that can rise to the occasion of playing at school pep rallies, all home athletic events, and even compete against other school drumlines in the county," says Mizzell.
[playbuzz-item item="4a89802e-8c45-463b-ade3-a6e191e304b5″ shares="false" info="false" wp-pb-id="359252″]