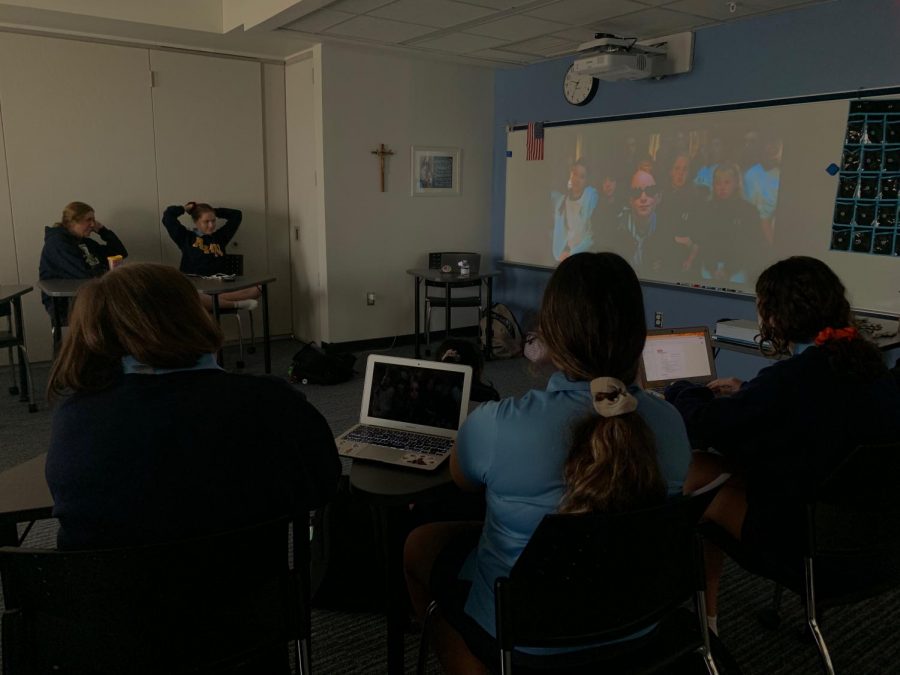 Photo Credit: Ella Castellano/Achona Online
Recently, Samantha Cuttle ('20) and Victoria Fuentes ('20) decided to begin the "Women in Movies" club at the Academy. "Our club's purpose is to celebrate women in the film industry, through aspects such as cinematography, directing, screenwriting, and editing. We really want to bring light to important parts of the film industry, people often forget about and how much women can influence it!" said Cuttle ('20). Film is something both Cuttle and Fuentes are really into and we wanted to have the opportunity to express and talk about the movies they love while simultaneously celebrating women. 
Cuttle and Fuentes paired up with History teacher Lori Kearney in order to establish this club at Academy. During club days, the members watch movies with female screenwriters, editors, and directors. This week in the club they watched  "The Parent Trap." They chose this movie because a female, Nancy Meyers, wrote, produced, and directed. After watching the movie, the members participate in questions regarding the specific decisions the director chose in making the movie. Each of the members appeared to be very involved in the club, each of the watching the movie closely to find specific details that stuck out to them. 
https://www.instagram.com/p/BuBNDa4HWpT/?utm_source=ig_web_copy_link
"I really enjoy film and I thought it was interesting that they decided to make a club with only women directors because thats an industry that they're not usually involved in," said Megan Smolarick ('20).
Along with their usual meeting activities, there are many objectives that the presidents of this club want to follow through with. For example, in the future they plan to have days where members can practice screenwriting, editing, or anything else they want to try out. Something specifically that the new club is planning to take action with is funding donation drives and getting collections of feminine products for the migrant and homeless women here in Tampa. 
The two seniors were inspired to partake in this service project by the documentary, "Period. End of Sentence.", directed by Rayka Zehtabchi. The 26 minute documentary short film follows local Indian women, Arunachalam Muruganantham, Shabana Khan, Gouri Choudari, Ajeya, and Anita, in the village of Hapur as they lead a revolution in fighting the stigma surrounding menstruation. This is so important because so often this results in girls having to drop out of school. These women install and learn to operate a machine which easily supplies feminine hygiene products. In the 2019 Oscars, "Period. End of Sentence." was a Documentary (short subject) nominee and ultimately won. Cuttle and Fuentes both agreed the club could celebrate film while also having a reason to complete this service project.