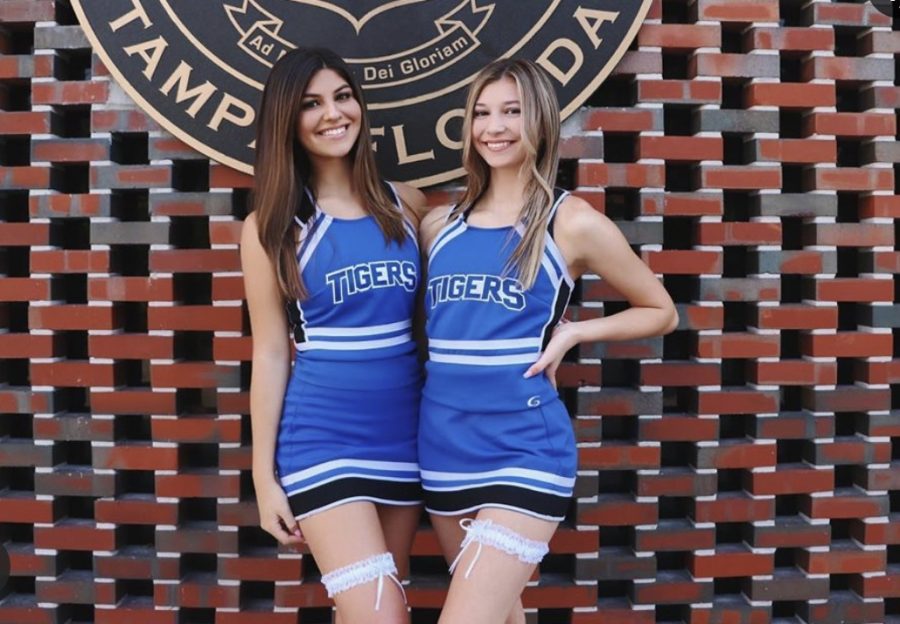 Photo Credit: Cecilia Williams/ Used with permission
On Oct. 16, Jesuit High School had its annual senior night celebration to honor the senior football players, band members, and cheerleaders. However, due to COVID-19, the celebration looked slightly different than previous years. 
For the Academy girls, or Jesuit Cheerleaders, each senior's family got two tickets. Usually, senior night is a celebration where your whole family attends, including cousins, aunts, and grandparents. Unfortunately for this year's seniors, that had to change as there was a limit on attendance. 
Starting at 6:45PM, the Jesuit Cheerleading seniors walked down the field with their parents. The girls were introduced with their names, activities they are involved in, and prospective college choices and major. They had to wear a mask until they got to the center of the field, where each senior's family photo was taken. 
Cheerleaders still got their fatheads, and large portraits hung on the sidelines. They had to take their pictures right after school during practice, instead of having Studio Artistry take them. To walk, every cheer mom was given a pin, and dad was given a necklace with their daughter's portrait on it. 
The girls were given sashes, and cheer senior masks made by the coaches Brittney and Brooke Patterson. The Varsity captains, Emmie Valdez ('21), Niliyah Coney ('21), Elizabeth Newcom ('21), and Grace Lahart ('21) wore their captain bands. All senior cheerleaders also ordered garters for themselves, a Jesuit Cheerleading tradition. 
Lizzie Newcom ('21) said "Senior night was a really great experience for me to be recognized and appreciated for all my hard work and attention that has gone into the activity during my past four years. While it may not have been what I was envisioning my freshmen year, I thought it was done well and was a great night."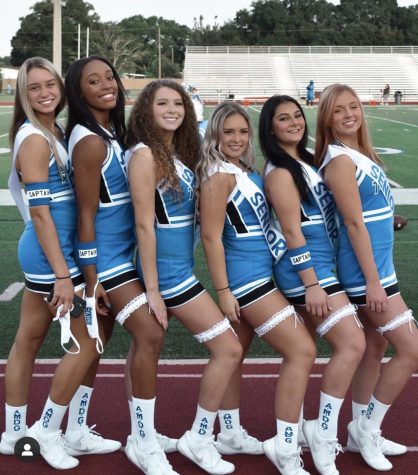 Taking pictures for senior night was very difficult, due to the fact that the girls were not supposed to take their masks off. During the game, at timeouts every senior was allowed to fly, based by junior cheerleaders.
Every year, the cheerleading team becomes very close. The team practices twice a week for two hours and usually has a game every Friday which could last four plus hours with warmups. Most cheerleaders get ready for the games together and sit in each other's cars before the games. This makes senior night especially meaningful, as most of the girls on this team have cheered together for the past four years. 
Carolina Housel ('22) says, "I will miss cheering with the seniors because I've grown so close with them over the past few years and I have had so much fun with them."
Oct. 16 was also not just senior night but also the homecoming game celebration. During halftime, five Academy seniors and two Academy Juniors, Zeta Bennett ('21), Samantha D'onofrio ('21), Elizabeth Gold ('21), Elizabeth Newcom ('21),  Cecilia Williams ('21), Bella Besece ('22), and Ava Polasek ('22), walked the football field with escorts from Jesuit. 
All girls and escorts had to wear a mask while in line but were able to take it off once walking down the 50 yard line. The girls were announced with their name, as the daughter of their parents, all of their activities, and who they were escorted by.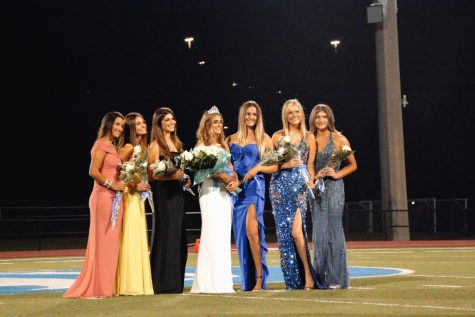 The Jesuit boys voted for one of the five Academy seniors to win queen. Samantha D'Onofrio won and was crowned the 2020 Jesuit Homecoming Queen. 
Samantha D'onofrio ('21) said, "I was shocked when he announced my name ands my mouth literally dropped. I was happy to have won queen but I was more happy to be on the field with my best friends."
Despite all the challenges due to COVID-19, the senior ceremony and homecoming queen crowning was still able to occur. The seniors were so grateful for the opportunity to be recognized and will cherish this day.