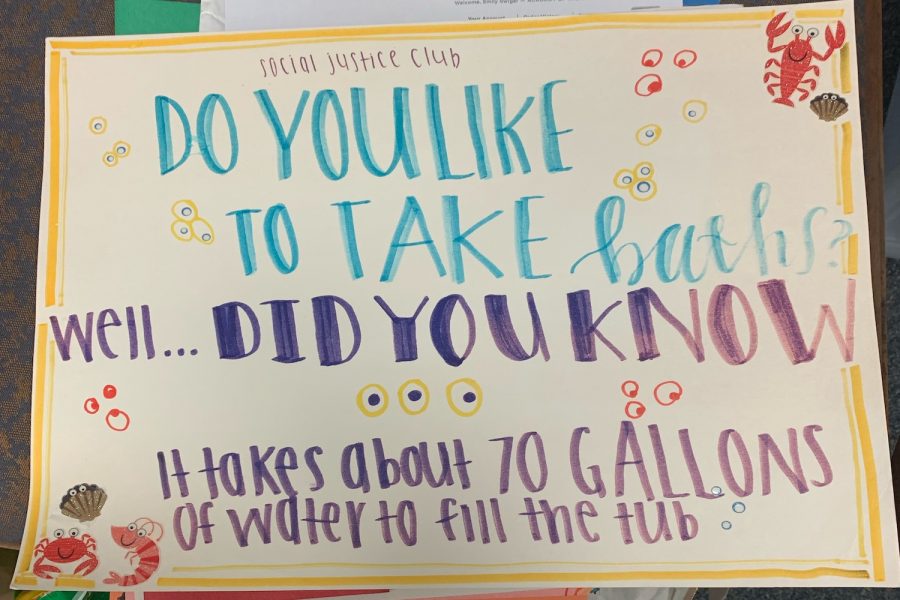 Photo Credit: Amelia Cuttle/Used with Permission
On Friday, Nov. 6, Academy's Social Justice Club presented a video in each advisory class about the water crisis and what to do to help. Clean water is one of the Sisters of the Holy Names's Core Values. Social Justice Club works to help one of these values every year, but since Covid-19 put a damper on being able to help the water crisis, the focus this year continues to be on advocating for clean water.  
The video highlighted the water crisis in Flint, Michigan. Initially, the video was meant to be a presentation done last year, but because of the pandemic, it was postponed to be able to conduct it virtually. 
In Michigan specifically, tests in 2015 by the Environmental Protection Agency indicated dangerous amounts of lead in the water, leading to numerous lawsuits, trials, convictions, and at least a dozen deaths. 
View this post on Instagram
A memorable aspect of the video was a ringing bell every ninety seconds. The bell was another statistic: "Every ninety seconds, someone in the world dies from a water-related disease," said sophomore Crista Guevara. 
President of Social Justice Club Amelia Cuttle ('21) said, "Creating this video was actually an extremely long process. We've wanted to do it since my sophomore year but we kept losing track of time and getting sidetracked until, when we were two weeks away from doing it as a convocation, school was cancelled because of Covid-19. I'm really glad we changed it to a video format, though. I think it turned out a million times better than I could have imagined. Getting all the girls together and writing the script for this was hard but it was a team effort. I'm so proud of us."
Social Justice Club is continuing to work on helping those who are having water problems right now. They are utilizing Instagram to post more statistics about this issue, and the club plans to write to local officials to help make Tampa's water system even better.
View this post on Instagram