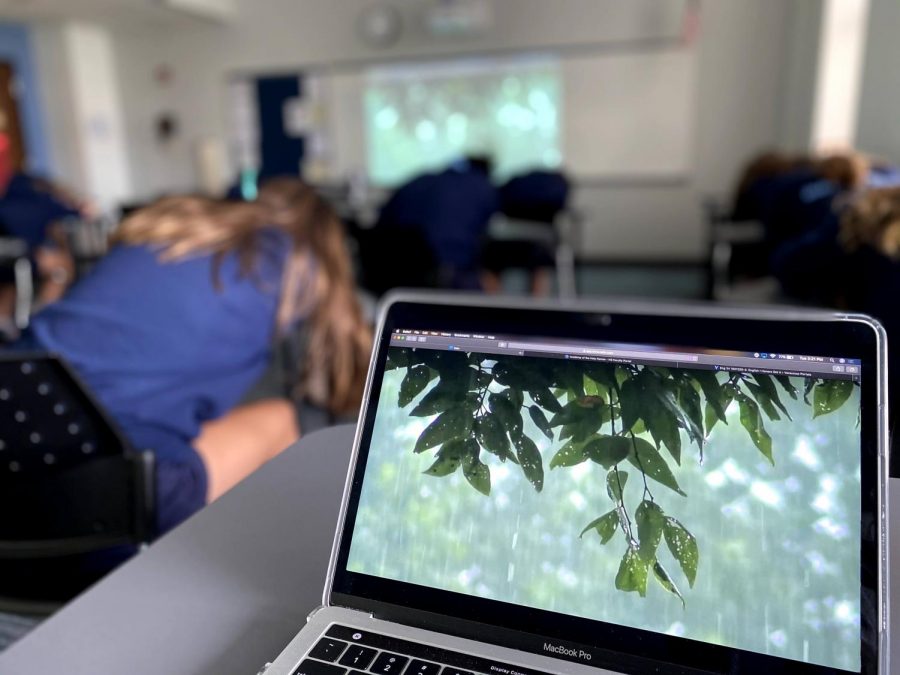 (Photo Credit: Melissa Cox/Used with Permission)
The struggles of living through a pandemic and political turmoil has brought mental health to the forefront of many students' minds. The combination of these circumstances and the typical trials of adolescence has left many students wanting a resource to reach out and connect with their fellow students on complicated issues. This is the need the AHN Wellness Committee seeks to address.
Formed in the fall of 2020, the group is a student lead organization dedicated to bringing awareness to the struggles of maintaining wellness during adolescence. They also seek to provide information about healthy practices to maintain wellness and provide a safe space for students to have discussions surrounding mental health.
View this post on Instagram
"Our main message and goal for the Wellness Committee is to bring awareness to the struggles of wellness in the teenage years and connect students to wellness information and healthy practices. We have a lot in store for the rest of the school year and next year, such as speakers and hopefully more," said Alana Lopez ('22).
The committee consists of a board made up of representatives from each grade level to lead the group and additional members from each grade level. The current board consists of Junior Alana Lopez, Sophomores Evie Matthews and Lauren Wehling, and Freshmen Claire Acosta and Josie Chapuis. Chosen by application, the board organizes events for the committee and student body as a whole. Events from this school year have included two presentations from guest speakers which were available to the entire high school student body. 
The first speaker was Dr. Monica Lake, a licensed psychologist who currently works at Dr. Lake and Associates in Tampa. She has extensive experience working with children and adolescents, especially in gifted programs. The second was Stacey Henson, a licensed clinical social worker who specializes in trauma, post-traumatic stress disorder, and eating disorders
The committee is uniquely designed to address the needs of students  as it is run by students. Committee members are able to bring attention to issues that they have experienced and know affect them and their peers. They are able to bring in experthat can speak about topics that they want to learn about and use the information provided by those experts to better their lives.
"Some of the main goals and events are where we host guest speakers, specialized in specific professions, to provide specific answers, and content that corresponds for their career," said Josie Chapuis ('24).
This breaks my heart man. Society and social media play a big part time this. I've spoke to so many teens who feel like they can't open up because they're scared to what their friends will think. We need to normalise the fact that not every day someone's mental health is great https://t.co/bFeODzdLLS

— Callum G (@callum_g04) February 12, 2021
Mental illness is a highly stigmatized topic, looked down upon by institutions and individuals alike. Many have negative views of people who struggle with their mental health or mental illness. This has negative consequences among the population, with more than half of people with mental illness avoiding treatment, partially out of fear or shame. They also feel uncomfortable talking about mental health in the workplace, which can translate to teens being afraid to speak about it at school.
Despite the stigma surrounding it, mental health is a serious issue among teens. A study done by the Pew Research Center found that 70% of teens identified as anxiety and depression as major issues among their age group. Teens also said they face intense pressure in their lives, especially in academics, looks, and fitting in socially. By opening up the discussion about these issues at Academy and providing resources for students, the Wellness Committee hopes to work towards creating a happier and healthier AHN community.
"I joined the wellness committee because spreading awareness about mental health is really important to me and I think that this club does a good job of educating the school on those matters," said Adele Politz ('23).
In the future, the committee plans to bring more guest speakers to AHN to speak about issues pertinent to the school and its students. They are also working on gaining status as a club for the 2021-2022 school year, as they were unable to be officially recognized as one this year due to their formation later in the semester. The club will be open for students from all grade levels to join. The committee is also working to organize fundraisers and donations to organizations surrounding mental health and the importance of wellness.
View this post on Instagram