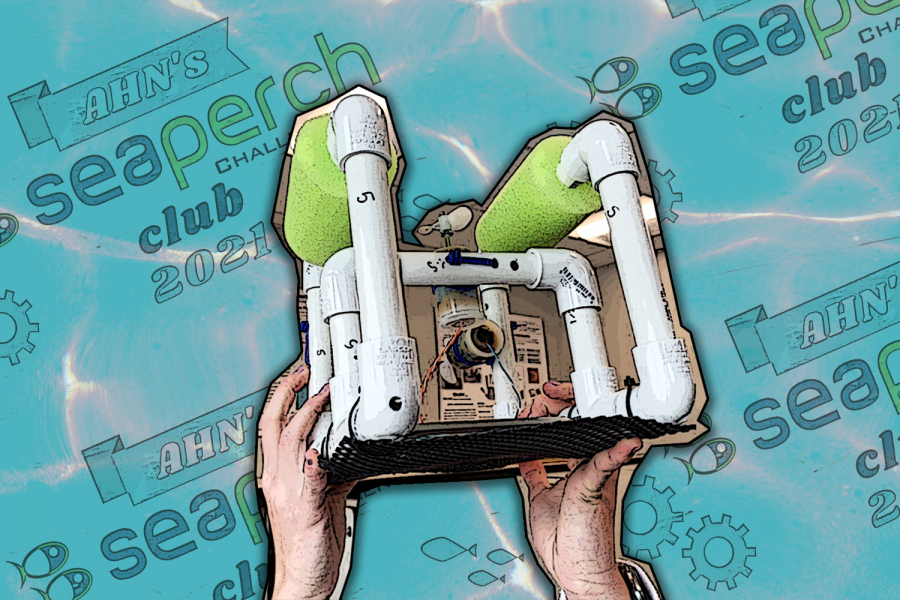 (Photo Credit: Maddie Glaum/Adobe Photoshop/Achona Online)
When it comes to engineering, innovation and discovery are always on the Academy's radar — especially when finding ways to incorporate women in STEM. One year after pandemic lockdowns canceled the season, the SeaPerch Underwater Robotics Club has officially begun its first season at the Academy with a new focus on learning rather than competing. 
Originally started in late January 2020 by Engineering Department Chair Anne Wynn, Academy's SeaPerch Robotics Club allows students to build robots equipped to swim in the water and perform underwater tasks that range from picking items off a pool floor to going through underwater hoops. Alongside Wynn, the SeaPerch club is currently run by seniors Olivia Scarpo and Maddie Glaum with help from High School Science Teacher Carson Dobrin.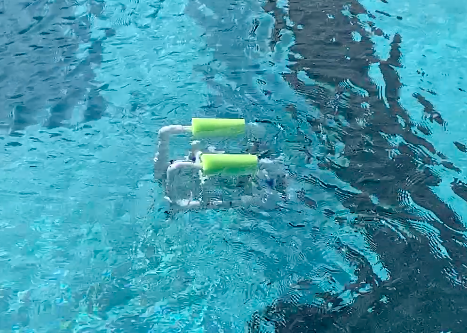 As an accessible engineering project that requires no prior knowledge or robotics experience, the club was incorporated at Academy as an initiative to introduce girls to STEM. 
"Engaging girls in robotics is so important, which is why I think SeaPerch is so needed at Academy. So often these clubs and organizations are dominated by boys, and I want everyone to see just how capable and amazing Academy girls are," says Dobrin. 
The club at Academy is an extension of the SeaPerch program by RoboNation, which equips students with the resources needed to build an underwater robot from scratch. Students who participate in the SeaPerch program are invited to participate in the SeaPerch Challenge, a competitive event where teams go head-to-head in driving their robots through a series of obstacles and real-world inspired tasks. 
However, the SeaPerch Challenge for the 2020 and 2021 seasons has been canceled due to COVID-19 concerns. With the competitive aspect gone, captains Scarpo and Glaum have adjusted the goal of the club, making SeaPerch an educational experience where girls can learn about robotics, STEM, and engineering hands-on and at their own pace in a non-competitive environment.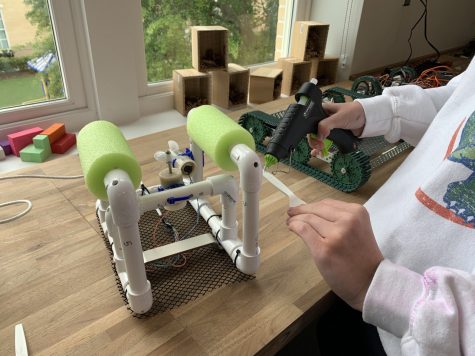 Since the SeaPerch robots themselves are small and straightforward to build, multiple robots are planned to be built as opposed to one team robot. After choosing a team of two to four people, girls in the club will construct a SeaPerch robot using a SeaPerch kit issued from RoboNation.
"I joined SeaPerch because I wanted to branch out in my engineering experiences — I've done team robotics before, but never anything this small and personal, so I wanted to try something new. The SeaPerch schedule is also convenient for me since my other sports seasons are coming to an end, and I can choose to meet whenever I want," says club member Laura Caroline Jung ('22).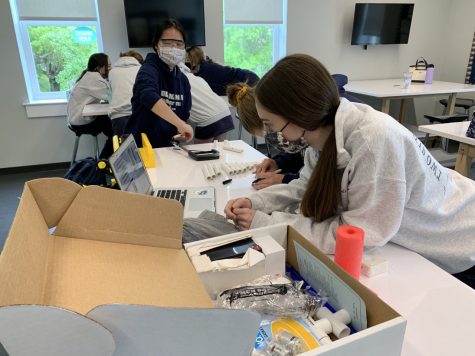 To create a non-competitive and low-commitment environment, teams meet during the club's "office hours," which are designated times throughout the week when teams can choose to build. Each session is monitored by either a team captain or club supervisors Wynn and Dobrin, who can answer questions or help with the process. 
"I think the office hours approach to SeaPerch allows us to attract more interest for our club in a low stress, low stakes environment. Honestly, in my head I'm thinking, who wouldn't want to build a robot during their free time?" says Dobrin. 
The club was advertised around the school through flyers, emails, and a promotional video shown to advisories on Feb. 16 that gave a rundown of the club's updates. The girls who signed up for the club also attended the first official SeaPerch meeting on Mar. 9, where they created their teams and established which times would be best for the office hours.
Since the competitions have been canceled, girls in the club have been called to find other uses for their robots by setting a personal goal. Captains Glaum and Scarpo are designing ways to use their robot to clean trash out of the Tampa Bay. Some members of the club have an interest in attaching a camera to their robot to study the sea life in the bay, while others simply want the experience of building a robot from scratch. 
"Besides heading this club in the middle of a pandemic, we are so proud of how the girls took a COVID-setback and jumped at the opportunity to help the community," said Wynn. 
As of this week, there are four teams of students from all grade levels working on a SeaPerch robot. One team of four Junior girls, including Jung, consistently works on their robot during advisory periods throughout the week. 
"So far, I really like SeaPerch. I'm just excited to see where our little robot goes," says Jung.