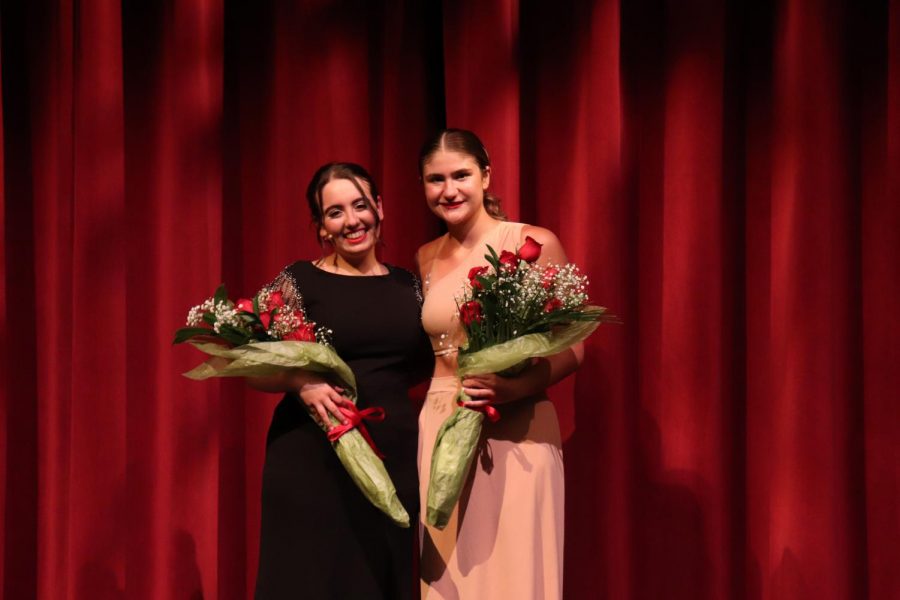 Photo Credit: Kara Manelli/ Used with permission
On Thursday, May 13, I got the opportunity to film my student showcase along with Bethany Masiello ('22). Bethany was chosen to be the featured singer and I was chosen the featured dancer. 
This event usually takes place in the Bailey Center Theatre in March, however, due to Covid-19 the showcase had to be recorded. 
Bethany picked eight different genres of songs to sing. She chose to sing "Green Finch and Linnet Bird" (Sweeney Todd), "Times Are Hard for Dreamers" (Amelie), "Shall I Tell You What I Think of You" (King and I), "You Raise Me Up" (In the Style of Celtic Women), "I'll Be Here" (Ordinary Days), "The Beauty Is" (A Light in the Piazza), "The Writing on the Wall" (Mystery of Edwin Drood) and "Defying Gravity" (Wicked). 
Masiello ('22) says, "I was so glad and honored to be able to participate in the student showcase this year. I had a lot of fun performing and working on my musical skills. I feel as if this experience is really helping me prepare to take on college auditions, and is also helping me grow so much as a performer. Especially with COVID-19, there's been a lot less performances, so this was truly an amazing outlet for me to perform and show what I can do."
I chose eight songs to choreograph dances to for myself: two contemporary pieces, "Bruises" by Lewis Capaldi and "Slow Up" by Jacob Banks. I performed three jazz pieces, "Hello" by Martin Solveig, "Momma's Place" by Roisin Murphy, and "Saturday Nights" by Khalid. I also performed two lyrical pieces, "SuperMarket Flowers" by Ed Sheeran and "We Don't Have to Take Our Clothes Off" by Ella Fyre and an acro piece, "Everybody Wants to Rule the World" by Lorde. 
We then had to agree on a duet song for the finale of the show where Bethany sang and I danced. We chose the song "Bridge over Troubled Water", which is about friendship. I choreographed this number for myself in pointe shoes. 
For our duet, we actually only practiced it one time together before recording it which was very stressful because neither of us have had to work with someone else who was not in own own area of the arts. We also had to focus on our connection and telling a story to the audience. 
As a competitive dancer, choreographers usually make up my dances for me, or I make them up for other people. I have never had to choreograph for myself—let alone 8 dances. It took many tries to figure out what looked right on myself but in the end it was a very good learning experience and will help me in the future. 
The work that went into producing this show was a lot and we had many disruptions. We were originally supposed to film in February, but I tore my meniscus so that set us back a while.  
On filming day, we both left our last period to get ready because the taping would begin at 3 p.m. 
"I was very lucky to have so many people help me throughout the showcase. Backstage, I had Mrs. Weekes help me with my hair and makeup. She's really amazing at what she does, and I definitely needed her help with all the quick changes I did. I also had two instrumentalists help me with my performance. I was lucky enough to perform "You Raise Me Up" alongside the wonderful violinist Mrs. Belloso, and Mr. Hernandez accompanied me with my individual songs in the showcase. They were all so talented and I was so happy to have them helping me," says Masiello.
For me, my mom Dina helped me with my quick changes, the same as at any other competition or show. I did my own hair in a low ponytail flat ironed so it would not get in my way. I also did my own makeup which was light stage makeup. I did not have anyone accompany me or assist me other than Bethany and those who have influenced or helped my dance training since I was three.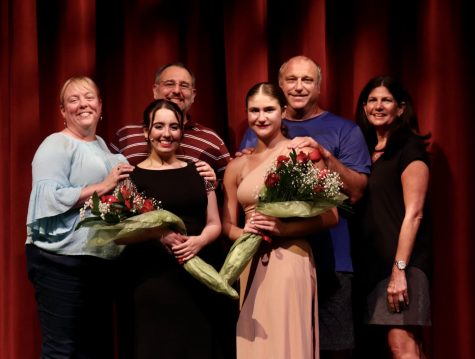 Bethany and I would like to thank Mrs. Kimbler for giving us this opportunity which allowed the Academy community and colleges that we are interested in to watch us do what we love. 
We hope you check your email and watch the live recording!