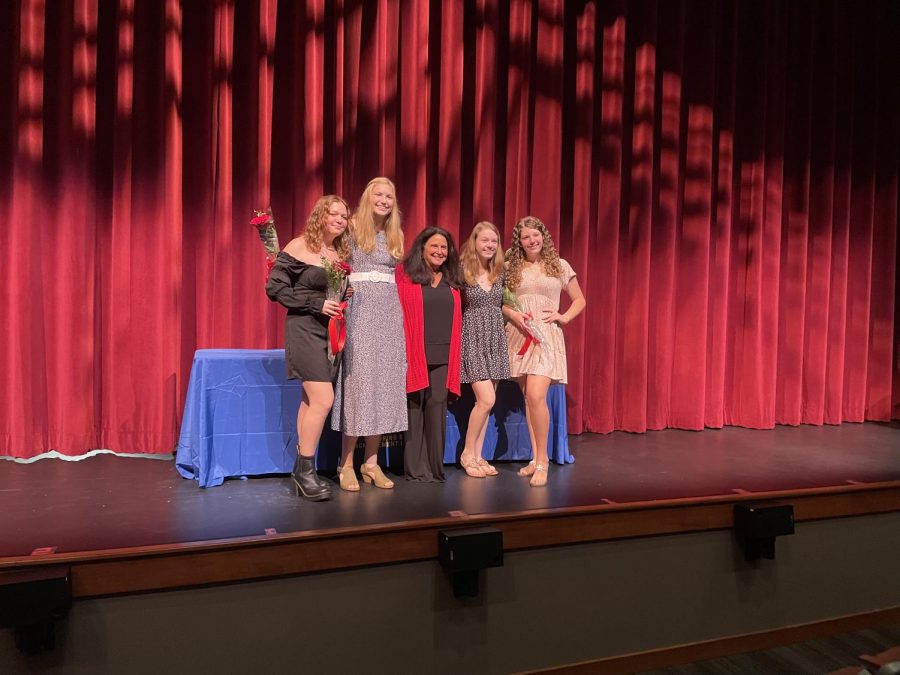 Photo Credit: Delaney Ross (Used with Permission)
On Thursday, Sep 16, the AHN Thespian Honor society held it's induction ceremony for Troupe #0846. Sophomores Katelyn Micko, Reagan Miller, Rowan Miller, and Aydan Sullivan were all invited to join the society for their excellence in the theatrical arts. The event was hosted in the Bailey Center by Theatre teacher and Thespians moderator Vivian Kimbler.
The ceremony was a welcome change from last year, which was restricted due to Covid-19. The last ceremony was informal and pre-recorded to be edited together in a video sent to the new members. This year was a much more formal occasion, with several members of Theatre Club and family members in attendance.
The honor society acts as an extension of the Theatre Club. While the club itself has varying levels of membership, the highest level is to become an official Thespian.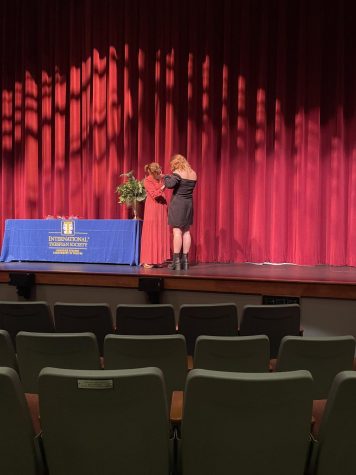 The opportunity to join Thespians came after countless hours of hard work from the new members. To be a member one must earn 10 Thespian points, which are earned from participating in theatre in any form, on both the performing and technical sides. Students are able to earn these points from various productions throughout the year, including the fall play, spring musical, and student-directed series.
"Earning points at Academy, for me, was and is actually quite simple. Our school offers so many amazing opportunities in the arts, like: performing in musicals, directing and writing plays, and singing or performing at masses, homes for the elderly, and much more. The best thing about thespians is that all of these opportunities count as not only points, but amazing experiences to learn and grow as a person," said Sullivan.
The ceremony itself began with speeches from Kimbler and Thespian President Georgia Head ('22) on the importance of theatre. Then, previously-induced Thespians were honored with applause, as they could not be last year. The inductees were then called onto the stage, where their number of points were announced. They were then officially inducted, signified by receiving a pin and rose from Head. Finally, all officers in attendance, including Head, President-Elect Delaney Ross ('23), and Social Events Coordinator Mikayla Croissant ('22) were honored on stage. After the official ceremony, a small reception was held for all attendees.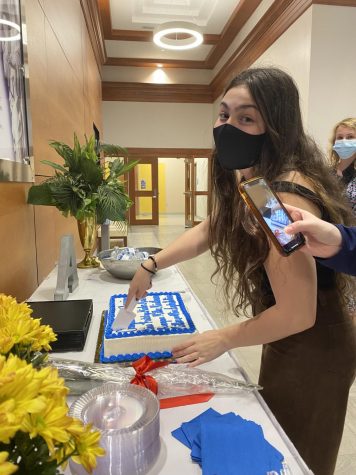 Now that the new members have officially been inducted, they are able to participate in a wide range of activities, including the ability to compete against other members of the National Thespian Honor Society. Their first opportunity to do so will come in the form of the District competition this upcoming month. AHN is a part of District 9, and will compete on Oct. 23.
However, Thespians is not the only way to be involved in Academy's theatre program. Students can audition for productions without joining this club, including the fall play, spring musical, and the student-directed series. Currently, Unplugged is still allowing new students to sign up. Additionally students can earn service hours by volunteering to usher for all AHN productions. And even if students do not want to participate in the productions themselves, they are always welcome to join in as audience members. Tickets are currently on sale on Veracross for the fall play, Alice in Wonderland.
"Even if you aren't a member of theatre club, there is still so much you can do to participate in the arts and I promise it is so worth it. You are always welcome to audition for performances, and we encourage you to come see some of our shows," said Ross.