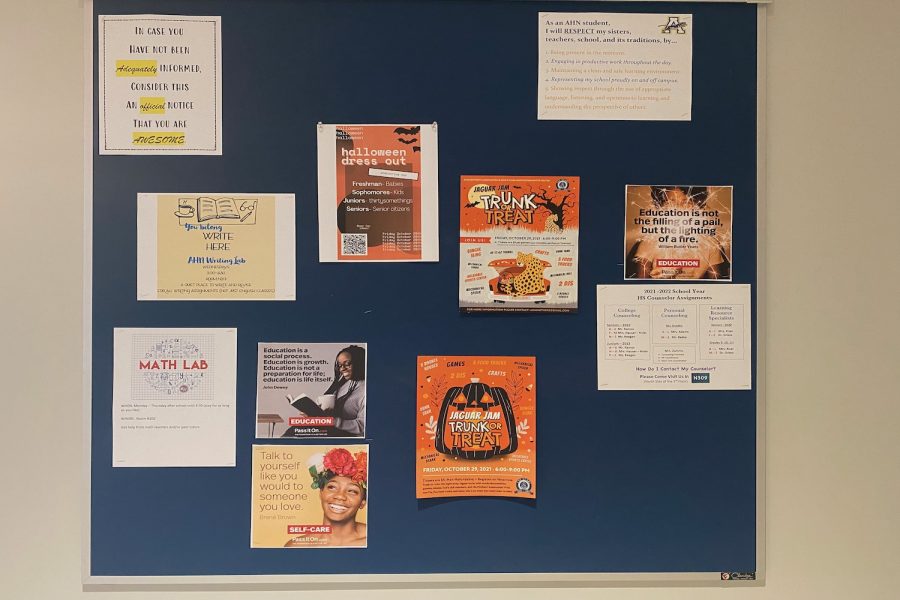 Photo Credit: Olivia Payne/Achona Online
During the 2020-2021 school year, many events were canceled due to COVID-19 restrictions. This school year, many events were approved to return. AHN fall events have made a comeback and make for a fun-filled holiday season. 
Jaguar Jam Trunk-or-Treat is an event all grade levels can attend for some Halloween fun. It will be held on Friday, October 29. Families register trunks and decorate them with Halloween decor and candy. Jaguar Jam will feature a DJ, food trucks, and a performance by AHN's high school dance team, the Jaguarettes. Some of the food includes tacos, burgers, melts, wraps, and specialty donuts. This event was planned by the Mother's Association and Dad's Club. Tickets for Jaguar Jam are sold at five dollars per person. Tickets and food preorders are sold online. 
Thanksgiving Takeover will occur throughout the month of November, starting on November 1 and ending before Thanksgiving Break. During Thanksgiving Takeover, students bring in canned food items. The food will "take over" an office or room in the Academy building as students place all their donations in that room. Student Council is excited to be holding this event again, as it was not held last school year. Students can bring in any non-perishable food items to be given to Metropolitan Ministries for Thanksgiving.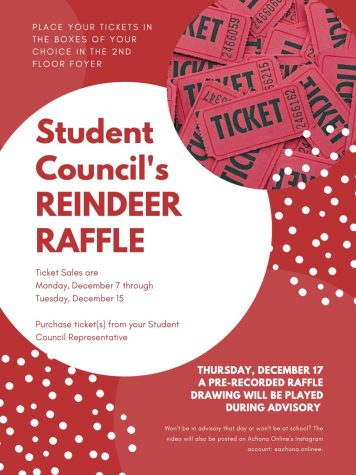 Get your tickets ready —Reindeer Raffle will be occurring during the month of December. Reindeer Raffle is an event where students and faculty can buy tickets from Student Council members to place in boxes, representing various prizes, set out in the 2nd floor commons. At the end of the month, a winner will be picked from the tickets in each box. Prizes include Starbucks or Dunkin' Donuts gift cards, gift bundles, and many more treats. The proceeds from Reindeer Raffle go towards Winter Formal.
"I am most looking forward to Reindeer Raffle because it is something anyone can participate in at any time convenient for them. Also, I like the suspension built while waiting to find out the results and seeing if I won anything," said Meagan Vericker ('24).
The annual Movie on the Lawn will return this year after its absence last year due to COVID-19. It will be held on December 4 after the Christmas Tree Lighting. The proceeds from Movie on the Lawn go towards the senior endowment. The Christmas Tree Lighting is hosted by the Dad's Club. A large Christmas tree will be lit on Academy's lawn.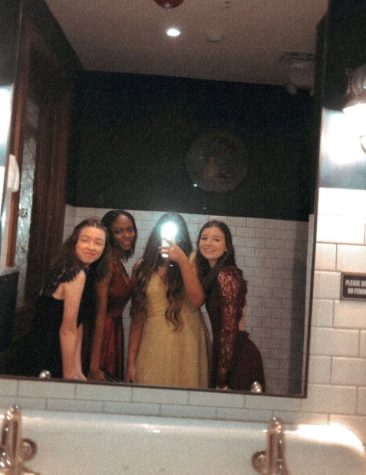 Winter Formal is officially returning this school year. The dance will be on December 17. Student Council will reveal this year's special theme and venue in November. Students do not need a date to attend the dance but can still bring one if they would like. Brynn Wilary's ('23) favorite event is Winter Formal.
"It was so much fun freshman year, and I am so glad we are bringing it back!" said Wilary.
Another important event to return is midterms. They will occur at the end of the semester. Teachers can decide whether to assign a project or an exam. Midterms will occur during regular class times, and therefore there will not be an exam schedule.