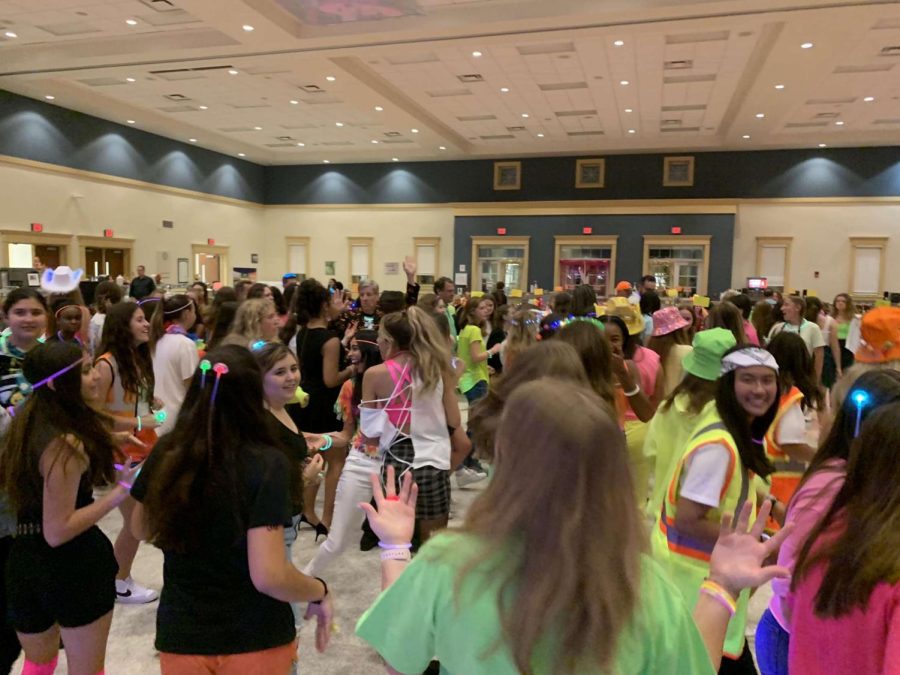 Photo Credits: Eleanor Amoriello/Achona Online
On Wednesday Nov. 28, 2021, Academy hosted the annual Father Daughter event. The theme was Glow and it was held in the Brady Center. It was a night filled with food, dancing and all around fun.
The night began at 6:30. Between then and dinner, students enjoyed chatting with their friends and dads while listening to music from a live band. Studio Artistry was also taking pictures and printing them at the event which allowed students and their dads to take their pictures home with them that night. This was the time when glow sticks, sunglasses, and rings were available for students to really deck themselves out with the "Glow" theme, and even Sister Mary Glavin had glow gear on.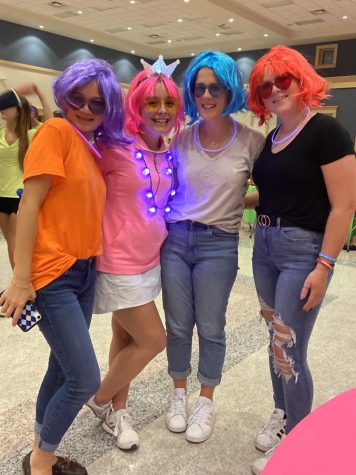 Around 7:00, dinner was served. There were salads and drinks on the tables when students arrived and we were given pasta and garlic bread after everyone sat down. For dessert, there were brownies and cookies.
Jane Ruppel ('22) said while we were at the dance, "These cookies are actually really good! The food was delicious and I liked that there was a lot to choose from on the plate." 
After dinner concluded, Lucy Dyer, who was the Student Council representative in charge of the event, made some announcements. First, she announced that Mr. Fogarty, father of Angélica Fogarty ('22), was the winner of this year's Foxy Father competition. This is a long lasting tradition of Father Daughter in which seniors send in old pictures of their dads and the student body votes for whomever they believe is the foxiest.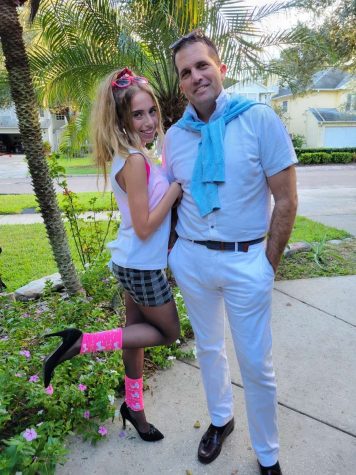 Next, Dyer had three dads come on stage to have the audience vote on who was Best Dressed. The contestants were the fathers of Elizabeth Mcree ('22) in a gold sequined jacket, Genevieve Chiellini ('23) in a neon purple suit and cowboy hat, and Emmy Growcock ('23) in a neon green suit. Lucy called each father's name and voting was done by clapping and cheering after each person was identified. It was then determined that Mr. Growcock was Best Dressed at the 2021 Father Daughter dinner.
Next on the agenda was dancing. The band played oldies for the dads and students. They also danced with their fathers along to songs such as the Cupid Shuffle. There was a conga line that included almost every single daughter in attendance and spanned along the entire Brady Center. After the line dispersed, the daughters went back to their dancing and enjoyed the rest of this fun and memorable night. 
Dyer said, "My favorite part was half way through the dance party, when all of the lights were turned off! Everyone was glowing, dancing to the band, and having a great time! It was a fantastic party!"