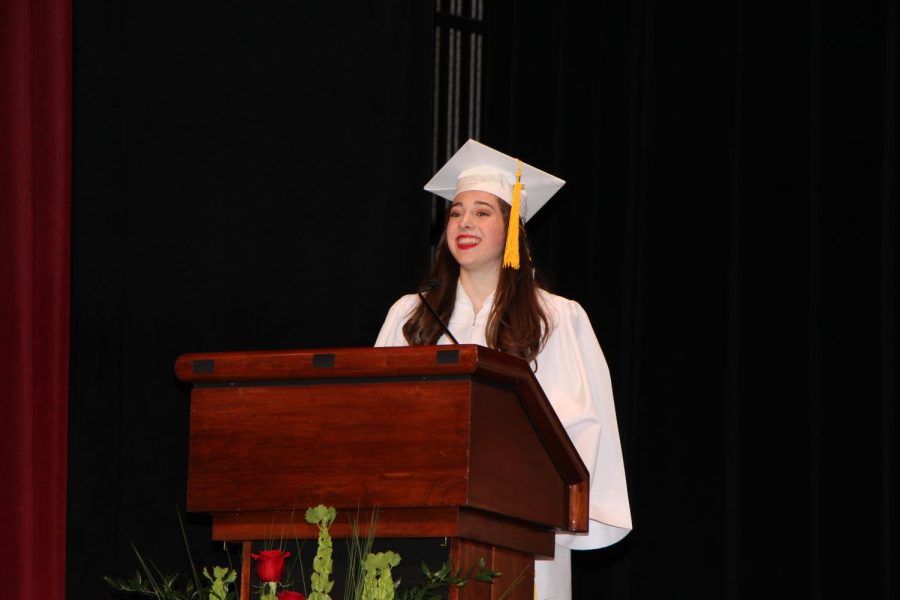 Photo Credit: Kara Minelli
Thank you, Mrs. Krukar. Good evening, parents, family, friends, faculty, and staff of the Academy community.
Here we are: four years later. After thousands of stairs climbed, hundreds of Sage cookies devoured, and 108 pairs of penny loafers worn to threads: we've come a long way from our freshman selves. Although 2018 feels miles away, I will always remember the moments we made together. Like belting out our class song, "Eye of the Storm", in Mrs. Meyer's room.
Or in sophomore year when VSCO girl was THE Halloween costume, and the iLab was the backdrop to all the newest TikTok trends. That year many of us went on our first mission trips right as the world shut down in March 2020.
Junior year, we played Among Us across the socially-distanced cafeteria. We celebrated winter informal and virtual mass. With our rings, we triumphantly matched not only each other, but the Bucs and the Lightning players who made us Champa Bay.
Although senior year came with the stress of college applications, it also gave us bittersweet senior nights with our sports teams, the senior lounge (lovingly known as the slounge), our first prom, and of course the savagery of water wars. I am so grateful for all these memories. They would have been impossible without the people who have made our four years on Bayshore so special.
So thank you again to Mrs. Krukar, Sister Lisa, Mr. Whitney, and all of administration for all you do, from organizing our events to supporting our daily learning. Thank you to each and every one of my Academy teachers, from kindergarten through senior year, for teaching me how to express myself creatively, speak my mind, and unite my love for learning with a dedication to service.
Mom, Dad, thank you for investing in my education and for rooting me in faith, hugs, and homecooked meals. To my brothers: thanks for the loving reminders to not take myself so seriously. Mummum and Grandfather, thank you for being my constant cheerleaders and so much more. I love you all.
And last but certainly not least, thanks to you all. By sharing your beautiful selves with me in small ways, you have taught me a love for your artwork, your laughter, your thoughtful opinions, your dance moves in the slounge, and even your poetry. You all taught this STEM girl that numbers can only go so far.
So, I bring you a poem and thank you for supporting me in everything I try.
While white robes and hanging tassels adorn you,
Class of 2022, I implore you, remember:
I believe to be human is to change and be changed by the
relationships we form,
so I abhor every negative whisper saying anything more than:
your kindness matters,
Your smile lights up the room, this stage
Your words shine on every page you write
So tonight and tomorrow and every day after,
Be unafraid to show your genuine excitement, your worries, your
laughter.
I can't promise a happily ever after.
All I know is that those yellow brick walls
Have taught us to stand tall in our beliefs,
Fight for faith and action and progress,
As we progress towards tomorrow.
And inspire change
And aspire for unity.
Those halls are where we met each other.
It's where we bet on each other from day 1,
And now that we're done, all I can think is…
Gosh I love this community!
Your passion on the field and on the stage,
It shows the power of women who are unafraid.
Unafraid of hoping for the future
In spite of the unknown
I know your strength,
I've seen it when you own
Every challenging moment.
But, sister, you are not alone,
your support is rooted in this home.
While white robes and hanging tassels adorn you,
Class of 2022, I implore you, remember:
You only have one life to live. And if you think high school went by
quickly, college is 120 days shorter. So do the things you love, take
care of yourself, invent elaborate excuses to bring people
together, and embrace the kaleidoscope of stories and hopes and
talents that lie inside every person. Your light shines. I see it. Now
go show it to the world.
I love y'all!