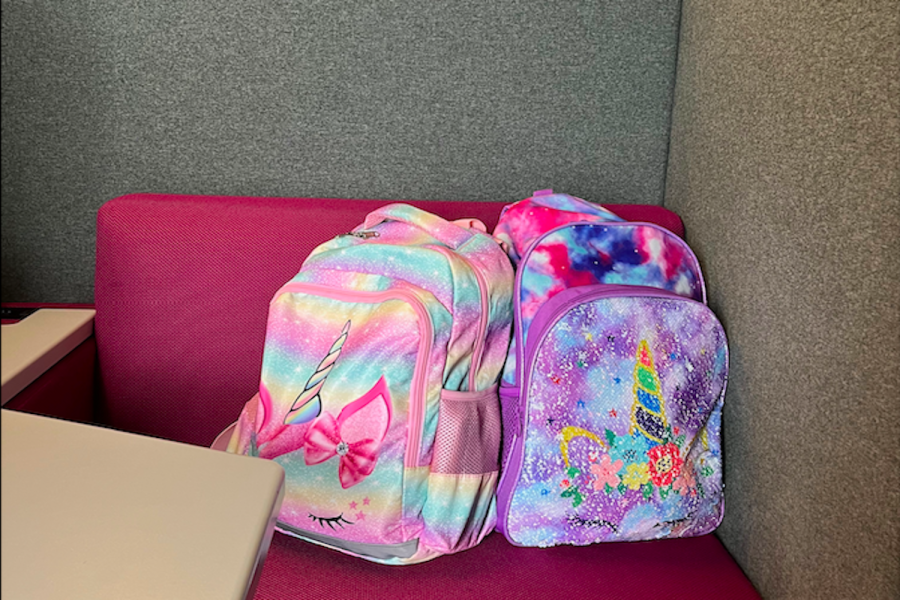 Both teachers and students have acknowledged the resurgence of glittery, child-like backpacks in the Academy of the Holy Names halls, but why have the seniors been drawn to this juvenile style of backpacks? The senior class was inspired by a Tik-Tok trend to buy kiddie backpacks to say goodbye to their childhood ways before moving on to college.
The idea of buying childhood backpacks for one's senior year originated from a Tik-Tok trend that began during the summer of 2021 and has been passed down since then. The trend quickly made its way to the Academy's class of 2022 last year, and some members of the class of 2023 have decided to carry on the trend. Around ten Academy Seniors can be seen walking through the hallways with backpacks featuring, glitter, unicorns, and other child-like imagery. These seniors are not afraid to stand apart from the crowd and use these backpacks to mark themselves as seniors. 
Olivia Lucas ('23) says, "Growing up, I loved unicorns. Their bright fun colors and imaginative aspect fascinated me. For senior year I decided to get a unicorn backpack to dive back into my childhood. Being at the Academy for 14 years I thought it would be a fun idea to leave Academy just how I started." 
@celestemoreno12345 🎒#fyp #senioryear ♬ always remember you – awoww
Although the backpacks may seem like just a fun trend at first, there is a much deeper reason for the seniors' urge to reminisce on their childhood. The transition from high school to college is a relatively monumental change. Many students go from the comfort of living with their parents or guardians, living in their hometown, and being surrounded by those they know to be put into a completely new environment. In light of this massive change, 52% of high school seniors report they feel pressured to make these important life decisions too soon. 
Recent years of high school have been very different for the class of 2023 than they have been from their parent's high school experience and Academy's other recent graduating classes. The impacts of Covid-19 stopped the class of 2023 from having an entirely "normal" high school experience. Since they were quarantined during March of their freshman year, the seniors have not had a completely normal year of high school. This only advances the pressure these students feel to grow up. They did not get their childhood experience of high school. Now time has passed and these students feel pressure to grow up even faster than in the previous Senior classes. This stress and the impending life changes have inspired some students to "relive" their childhood for one last year before they are forced to grow up and mature.
Once they had acknowledged the major changes approaching, many seniors rushed to get these backpacks in remembrance of their younger days. Ella Fernandez ('23) says, "I choose my Peppa Pig backpack because the mixture of vibrant colors and sequins reminds me of my childhood that I will be leaving for the next stage of my life. Many of my friends and teachers have told me that they love my backpack and appreciate the dedication I have to the show."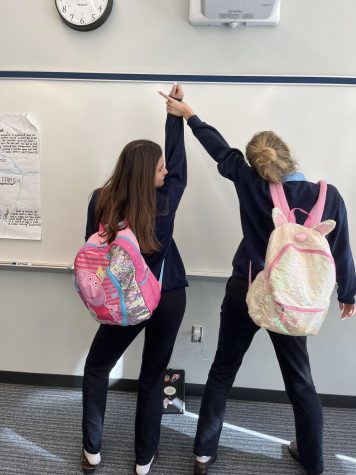 Although a backpack will not truly make this change go away, it comforts seniors to know their childhood is still a part of them. Despite the move away from one's family to college, students acknowledge that the lessons and memories they made when they were younger will help them deal with this change and manage it in the best possible way. Still, it is nice to look back on their past and see how far they have come. These backpacks help students to mitigate the stress of change. Other ways students tend to dilute this stress are to engage in childhood activities, such as going to a playground for fun, or surrounding themselves with young children, such as babysitting, to remind themselves of when they were that age. Even things as simple as listening to childhood throwbacks can bring some level of comfort to high school seniors during these stressful times.
Mary Chase Germain ('23) says, "Being a senior is fun and exciting, but seeing all the littles at school pass me in the halls makes me remember when I was that small and would look at the older kids, thinking it would be a million years until I would be like them. It makes me nostalgic. I think having the fun kiddie backpack is like remembering my inner kid and the things that brought me here."