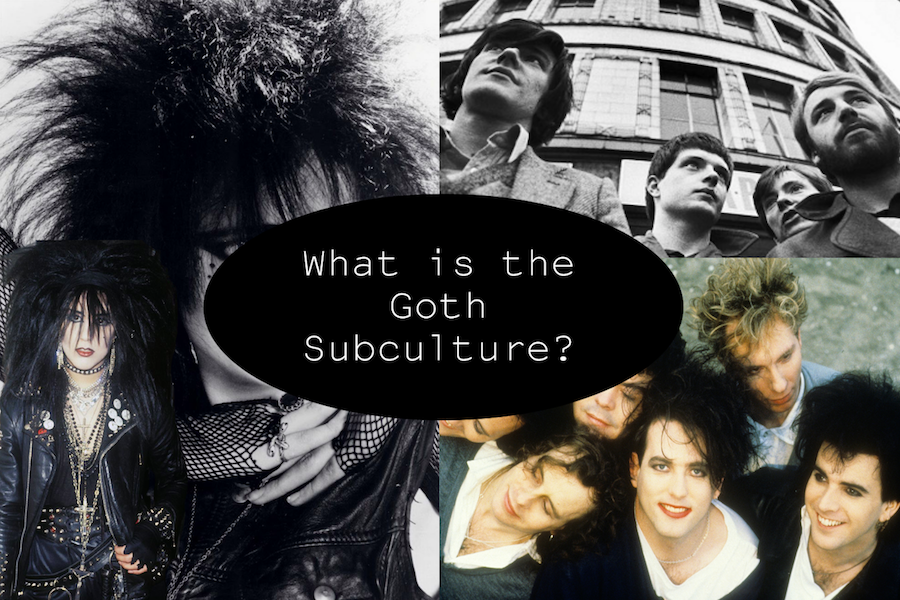 (Photo Credit: Sophia Garcia/Piktochart/Achona Online)
The 1980's can be a nostalgic age for those who weren't even born in it, with the larger than life hairspray to Tears for Fears. The 80's also cultivated the popular subculture known as Goth, which has experienced many alterations and phases from its inception.
In the UK during the late 70's, post-punk bands had bred a new form of rock, labeled Gothic Rock. The frontman or poster-childs of this new genre include Joy Division, The Cure, Siouxsie and the Banshees and Bauhaus. A distinct difference between Gothic rock and post-punk was the more bleak and dark sounds, reverbs, expressive yet desolate dramatic vocals, lyrics surrounding tragedy, morbidity and existentialism. 
Kira Cardillo ('22) says, "I've alway known about The Cure but it wasn't until I just decided to give them a full listen that I started to get into their music. My mom also loves The Cure so it gives her and I something to bond over and talk about which I love."
Punk Rock, littered with gritty distortion, aggressive vocals, simple guitar progressions and lyrics surrounding far-left political commentary with the working-class and bourgeoisie, became the pavement for Goth-Rock's evolution. The Punk Rock movement was stapled in the United Kingdom, with the rise of the Ramones, Sex Pistols, Misfits and more who cemented the next wave of Goth: Post-Punk.
Sophia Torres ('22) says, "I don't exactly listen to a lot of post-punk music but I am a fan of Joy Division and Talking Heads. Ian Curtis was a strange person but I really like his songs "Disorder" and "She's Lost Control". They're without a doubt very sad and depressing songs, but good ones all together."
Towards the late 70's, punk rock had brought an offspring that simmered down to more social lyrics rather than aggressive politics and more of an experimental take on music known as Post-Punk. The forefathers of this genre took aspects of funk, electronic music, disco and also incorporated critical theory and modernist art into the genre. Well known bands in the genre include The Smiths, Talking Heads, Devo and more.
Abby Neal ('22) says, "The Smiths are one of my all time favorite bands. I don't like Morrissey personally, but he has a great voice and makes creative music for sure."
In 1979 Bauhaus released their single 'Bela Lugosi's Dead,' a nine minute track that shaped the Goth community into what it is mainly known as today. This track is a widely known as the first Goth record due to its simplistic guitar with canned distortions and jarringly deep yet haunted vocals that create an atmosphere of darkness and morbidity. This track paved the way for the movement to take place, hit Gothic records such as 1981's Juju by Siouxise and the Banshees and 1979 Three Imaginary Boys by The Cure had taken the world's attention and became representatives for this new wave of music.
While the Goth subculture is heavily rooted in music, fashion is a major influence on the history of Goth. There are various variants to the Goth style, ranging from romantic Goth to Nu-Goth, but the go-to solution during its origins is now popularly labeled Trad Goth. The style is characterized by black teased hair (usually Siouxsie or Robert Smith inspired) with primarily black clothing, ripped fishnets, leather clothing, rosaries and boots. With ghoulishly pale skin and exaggerated yet dark makeup looks, the style truly pieces together with the hypnotically somber tunes. Siouxsie Sioux is inherently the influence to most Trad Goth makeup, but the style's origins are credited to its predecessors Iggy Pop, the Sex Pistols, The Doors, David Bowie and more. 
While the prime time of the Goth subculture has passed, the fans and baby-bats are still very much alive and hope to welcome in any person who's interested in the genre. Goth stores, music, clothes and more have been adapted and continued to keep the spirit of Gothic-Rock alive.