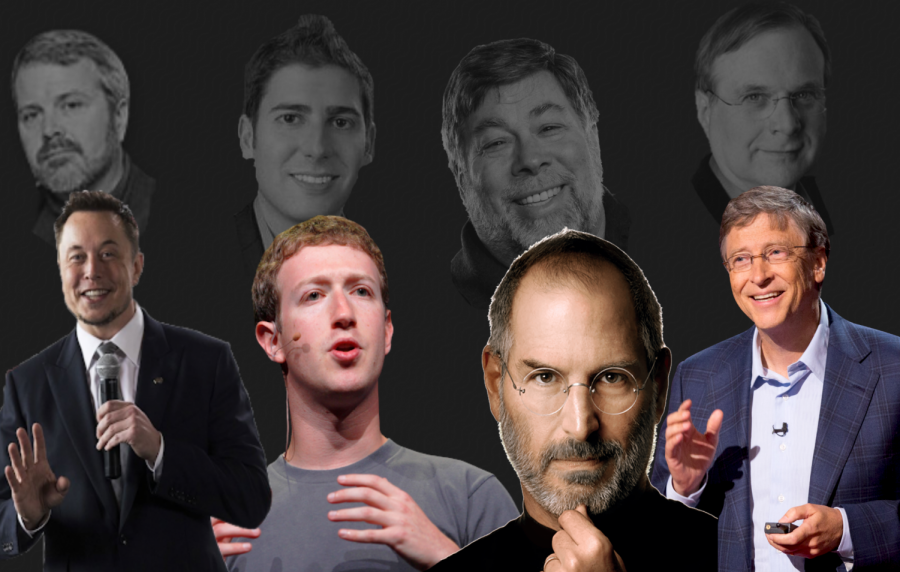 (Photo Credit: Adriana James-Rodil/Achona Online/Piktochart)
Adjusting to life in quarantine, for me at least, has also meant scrolling through Netflix hoping to find a good movie, and while doing so, I stumbled upon the films "Steve Jobs" and "The Social Network."
The first is an account of the inventor, entrepreneur, co-founder, and chairman of Apple Computers, Steve Jobs, and his rise to creating arguably one of the most influential and historically significant companies in history that reached a value of $1 trillion in 2018 (the first U.S. company to do so). However, it also depicts his one-sided, at times toxic relationship with Apple Computers Co-Founder Steve Wozniak whose name does not instantly appear in people's minds, usually, when you mention the company Apple. 
For instance, 100 students, faculty, and staff at the Academy of the Holy Names responded to a survey which asked questions such as "Do you know who Steve Jobs is?" and "Do you know who Steve Wozniak is?" 97% of people knew Jobs compared to 14% who knew Wozniak.
Although Job's widowed wife Laurene Powell Jobs and Apple CEO Tim Cook disagree with how the movie portrays the famed entrepreneur, Wozniak, who also consulted with Director Danny Boyle for the film, told BBC News that "I felt I was seeing the real Steve Jobs in there. Part of the 'reality distortion field' is in there, and his failing to listen to others on occasion and only seeing everything he did as right."
Wozniak goes on to explain that after acquiring large sums of money, Jobs became more power hungry, not caring what others thought of him along the way.
Similarly, "The Social Network" depicts Mark Zuckerberg from Harvard University sophomore to eventual Co-Founder and CEO of Facebook, but also the damage he caused others as he rose to stardom; his former friend and Facebook Co-Founder Eduardo Saverin — whose name is often not associated with the founding of Facebook, save for the few who know its history well — was a victim of this.
Author of "The Facebook Effect: The Inside Story of the Company That Is Connecting the World," David Kirkpatrick, stated, "The film is only 40% true." Nevertheless, the central plot of the movie is Saverin's ousting from the company after Zuckerberg significantly diluted his shares, which is a fact.
Both "Steve Jobs" and "The Social Network" are movies meant for entertainment, so there is fiction and dramatized real-life scenes for this effect, yet it is important to acknowledge certain traits that are similar between the two entrepreneurs and hailed geniuses that extend beyond the movie screens. On their rise to fame and glory, those who contributed just as much to the company are seemingly "in the background." For example, it came as a surprise to learn that there are not only two Facebook founders, but four: including Dustin Moskovitz and Chris Hughes. Their contributions are almost unacknowledged by the general public because they are simply unknown.
The survey results are indicative of this as 91% of people knew Zuckerberg, while solely 17% knew who Saverin, Moskovitz or Hughes were.
Paige Gonzalez ('23) shares her thoughts on how, as a society, we can better acknowledge individuals such as Saverin, Moskovitz and Hughes. She says, "I think it's important that we as a society are able to acknowledge the people who have made great achievements as far as technology goes, and by using the very media they created, it would be easy to spread their message and philosophy. Our current society would not function without the people in the background who are creating these ideas and making them work, so being able to recognize them through their craft might be successful."
This transcends beyond the worlds of Apple and Facebook, but to Microsoft Corporation and Tesla Inc. as well. Bill Gates is almost automatically associated with Microsoft and Elon Musk with Tesla Inc. (although not a founder), but Paul Allen (Co-Founder of Microsoft) and Martin Eberhard and Marc Tarpenning (Co-Founders of Tesla Inc., formerly Tesla Motors) are less likely to be recognized because they are not the current faces of the company.
Following the same trend as the previous survey results, 92% knew Musk and 100% knew Gates, but 93% of people did not recognize Eberhard or Tarpenning and 75% did not know Allen.
Who loves #B.Gates?? Not this guy! In 2011 @60Minutes interviews co-founder of #Microsoft #PaulAllen on his experience with co-founder Bill G.ates #MicrosoftBeginnings Not so pretty side of the #Philanthropic #Gazillionaire https://t.co/QTKik3Iu6N via @YouTube

— SomewhereOutThere (@ShoeShineGal) May 7, 2020
"I think the co-founders go unnoticed because people are so quick to applaud and recognize the person they think did the most work. I believe that they [the geniuses in the background] could have done just as much, if not more, work for the company but I think society believes the first thing they see. If they see a name, like Mark Zuckerberg, listed next to Facebook, we automatically think he did all the work with no help. If we see the title Co-Founder, the thought that they are less important to the company accompanies it," says Abigail Echenique ('21).
These "geniuses in the background" need to be recognized for helping to change our lives forever with the invention of new technologies because, regardless of what people say, it never takes solely one person to build an empire such as Apple or Microsoft; it takes a team of people — a team who at times gets forgotten. We, Achona Online, recognize all the individuals who helped shape our current lives by, for example, transitioning many from using paper to computers and from cars that use fossil fuels to electric vehicles.
Claire Wong ('22) says, "I think what we can do as a society is realize that it's quite rare for big achievements to be done alone.  We can always look more into the stories behind the achievements. It's actually quite simple to find the other geniuses and spread the word to appreciate them also. Being more curious would be a huge factor in learning more about a company and what it is built on."