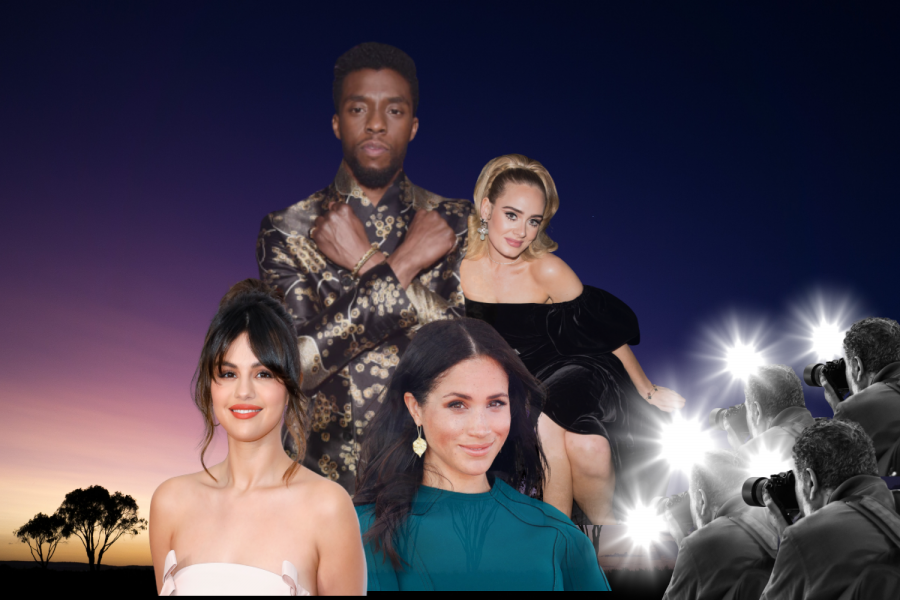 (Photo Credit: Adriana James-Rodil/Piktochart/Achona Online)
On Aug. 28, Actor Chadwick Boseman died from a four-year battle with colon cancer at age 43. Boseman privately endured surgeries and chemotherapy — even his colleagues, including "Black Panther" director Ryan Coogler, were in the dark.
— Chadwick Boseman (@chadwickboseman) August 29, 2020
However, after Boseman posted an IGTV video "speaking about Operation 42, an initiative that aimed to donate medical equipment to the hospitals treating Black communities in the coronavirus-affected areas" what most viewers solely retained was his change in appearance. This gave wave to "Crack Panther" and "Crackanda Forever" insults that circulated the internet, which resulted in Boseman deleting the video, along with other photos, and disabling comments as they were swarmed with questions and remarks regarding his slimmer form. 
Emily Goyanes ('23) said, "People should treat celebrities simply like people because everyone goes through their own stuff and he [Boseman] was trying to help our community and support important causes. I think people should be aware of what they're saying because they don't know what other people are going through — even celebrities."
Following the viral video, paparazzi swarmed his house to capture pictures of him and subsequently plastered these photos across tabloids. For example, The Sun published "SAD CHAD Avengers' Chadwick Boseman looks glum as he runs errands after fans worry over his dramatic weight loss" on April 30. 
Although tabloids and the general public were not aware Boseman's weight loss was as a result of battling stage IV colon cancer, this solely perpetuates the notion that it is never ok to comment on a person's weight, whether that person be a public figure or not because one never knows what someone is going through.
"The conversation about #ChadwickBoseman's body-shaming echoes previous vitriolic debates about celebrities like Adele and Jason Momoa, and is a reminder that sometimes the best policy for commenting on weight loss is to simply mind your own business." https://t.co/RLy1uL3G5u

— Eugene Scott (@Eugene_Scott) September 8, 2020
Everyone, including celebrities, have a right to privacy and respect and should not be subject to media exploitation. However, this seemingly "unwritten" right is violated time and time again. 
Similarly to Boseman, there has been media frenzy surrounding Singer Adele's weight loss. The Daily Mail published "Adele PICTURE EXCLUSIVE: Slimmed-down star engages in a VERY heated phone call as she displays her SEVEN STONE weight-loss while touching down in London."
"I don't think celebrities' bodies are really any of our issues. It's okay to want to know what's going on in celebrities' lives, but I feel like talking about something as personal as their weight loss or weight gain is taking it too far," said Kira Cardillo ('22).
The Duchess of Sussex, Meghan Markle, has also been at the forefront of body shaming, racists remarks, and the violation of her privacy by tabloids for years. In October 2019, for example, Markle sued "The Mail" for leaking private letters she wrote to her father, and NBC News also reports that Britain's structural racism highlighted in tabloid articles may have influenced Markle and Prince Harry's decision to step down as senior royals. 
There seems to be no moral code among paparazzi and tabloids which begs this question: if it is such a demeaning and at times cruel profession, why can't it die out?
Keep seeing headlines like this from daily mail, and I can't stop thinking how gross and toxic this is. Every time I see Adele in the news she's referred to as 'slim' or 'skinny'. To make a news story about someone's weight loss/gain is just so toxic and needs to stop pic.twitter.com/5NmQjipCkz

— Joe Doust (@joedoust_) September 2, 2020
This business is fueled by many's desire to know the private, seemingly perfect lives of celebrities in order to emulate them. Psychology Today describes people's affinity for celebrities: "We love to identify with someone who seems to lead a perfect life and to follow the vicissitudes of this life which, of course, we know, is never perfect."
With the idolization of public figures also comes fandoms where the words "I stan," commonly used by younger generations, emphasize he or she's infatuation. 
However, this often results in a self-proclaimed entitlement to a celebrity's private information and whereabouts as a change in his or her disposition often instigates gossip, as in the examples of Boseman, Adele, and Markle.
And yet, although they may lead, at the surface, glamorous lives that seem out-of-reach, at the end of the day, they are simply people with jobs and what we often forget — a heart. 
"I feel like tabloids will always be around. It's just human to hate on things because it's in our nature. I mean some people could change, but you can't get the whole world to change," said Ava Zaritsky ('21).
Nevertheless, tabloids and the paparazzi profession survive on stirring controversy and exploiting individuals, but we can do our part in halting the spread of hate by not reading tabloid publications such as the Daily Mail, The Sun, TMZ, and US Weekly — however tempting — because readership is what gives them a platform.
When we see hate, don't promote it, but condemn it.