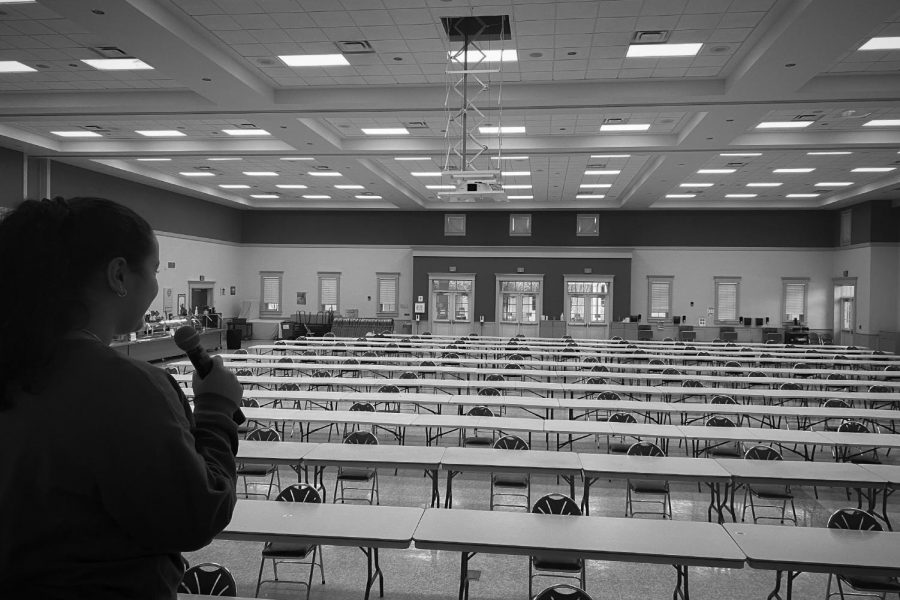 (Photo Credit: Adriana James-Rodil/Photoshop Mix/Achona Online)
As Maddy Bye, one-half of the comedy duo Siblings, was distributing flyers for her show at the Edinburgh Fringe Festival,  one woman expressed interest in attending, yet said her boyfriend believes women are not funny.
This story resonated with me as I ate dinner and discussed comedy with my brother, and the likes of Kevin Hart, Jerry Seinfeld, Dave Chapelle, and more instantly embedded themselves in the conversation while only one female comedian came to mind — Amy Schumer. Thus began my exploration into the topic, and what I found is that the profession of comedy disfavors women, thus explaining the disproportionate amount of well-known comedians between males and females.
Sofia Girgenti ('23) said, "I know maybe two or three female comedians [compared to] five or six male comedians."
On Nov. 17, 2020, Hart released his Netflix comedy special "Kevin hart: Zero F**ks Given," which marked his sixth stand-up on Netflix. Hart's is only one among a lieu of comedy stand-ups on the Netflix streaming site alone. Of Rotten Tomatoes' "58 Best Netflix Best Netflix Stand-Up Comedy Specials," however, solely 13 females starred in their own special — making up about 22% of the list.
My guy 💪🏾 #ZeroFksGiven https://t.co/nKtPC2WzF5

— Kevin Hart (@KevinHart4real) November 28, 2020
And of Rolling Stone's "50 best Stand-up Comedians Of All Time," only nine were female. Chris Rock (number five), Jerry Seinfeld (7), and Robin Williams (12) have undoubtedly earned their place among the greatest comedians of all-time, yet among the 18% of women on the list — including Wanda Sykes, Margaret Cho, Elayne Boosler, Schumer, Moms Mabley, Roseanne Barr, Janeane Garofalo, Sarah Silverman, and Joan Rivers — Rivers was the sole woman to be among the top 20 with the others presiding closer towards the end. This makes one wonder whether this comedic profession is in fact just to women as many struggle to be among the likes of the well-known, well-paid comedians. 
Maria Alvarez ('22) said, "I know two or three female comedians and a lot [more male comedians]. I was surprised by the Rolling Stone article because I think a lot of women are funny. I feel like the stereotype against women not being funny is untrue because, personally, I think I'm funny — but that also may be a little narcissistic to say — and I think a lot of my friends are as well because I like to surround myself with funny people."
In a BBC article titled, "Men are funnier than women, study claims," writes that "Sex differences in humour productivity ability: A meta-analysis" — published in the Journal of Research in Personality — "found that 63% of men were funnier than the average woman" based on 28 studies the researchers analyzed. In several of the studies, participants wrote a caption to a cartoon; then, the judges rated each without knowing the sex of the particpatants on a scale of one to five (participants were not professional comedians, but regular individuals). Head Researcher Dr. Gil Greengross concluded that "to the best of our knowledge, on average, men appear to have higher humour production ability than women."
Am I sexist for thinking (knowing) men are always funnier than women (except Ellen is pretty funny) or am I just being a realist

— samantha (@Broccolibra) December 8, 2020
The question remains, however, why? Greengross states that humour is an important factor in mating as "women tend to look for a sense of humour in a partner as it is 'strongly correlated with intelligence,'" whereas men look for women who laugh at their jokes. As a result, it demonstrates that over the course of history, "men likely had to compete harder with other men to impress women with their sense of humour." 
Girgenti said, "I definitely think people take for granted when a woman is funny, and they want to take that away from them in a way because maybe it's not the most desirable thing for a woman to be funny. It's like the man's nature to be funny."
Relating back to Bye, her solution to this issue is to simply continue doing comedy, yet with the continued disproportionate numbers of male-to-female comedians, it can be inferred there is a dismissal of the stereotype that continues to embed itself in society, discouraging girls and women from "developing and expressing humour" (as Greengross states) and making it more difficult for women to succeed in this profession. However, there is few research surrounding the issue.
Bethany Masiello ('22) said, "I think the funniest teacher at the Academy is Mrs. Nazaretian [Social Studies and Psychology Teacher Dana Nazaretian]. I have heard that people just think women inherently aren't funny, and I don't think that's true; [this stereotype] would probably make it harder for women to make it in comedy."
And articles such as "Why Women Aren't Funny," by Christopher Hitchens for Vanity Fair, perpetuate the belief of this stereotype when he writes, "my argument doesn't say that there are no decent women comedians. There are more terrible female comedians than there are terrible male comedians, but there are some impressive ladies out there." He insinuates that there are few humorous female comedians among a slew of women who aren't funny. 
Take, for example, Marcia Belsky — a writer, actor, and comedian — who revealed in an Op-Ed for The New York Times that she felt the need to desexualize herself by wearing hoodies and jeans when performing so that "a man . . . would see me as a comic and not a potential sexual partner" after instances where male colleagues were "alarmingly flirtatious." As a result of the stereotype that women are not as funny as men, it causes many to change their comedic style or personalities in order to generate success, while also coupling with the reality of harassment in the business. 
In 2021 we are going to stop letting men think they're funnier than they are. Women have been funnier all along. The entire time.

— Jarv Jarv Binks (@JarvJarvBink) December 10, 2020
However, stereotypes in comedy are not exclusive to female vs. male, but also include stereotypes against women of color. Comedian Tracey Ashley, who was one of six diverse comedians chosen by Tiffany Haddish to perform in her Netflix stand-up ("Tiffany Haddish Presents: Thye Ready") has stated that when scouted at the beginning her career "You don't fit the stereotype of what a black female comedian should be."
Masiello said, "It seems like it definitely is harder for women of color in comedy, and they shouldn't have to fit a certain stereotype in order to do what they love doing." 
The solution? The elimination of stereotypes such as these that only serve to hinder progress and opportunity. 
Comedy is extremely subjective so what one person deems as funny, another may not. However, if not even given an equal opportunity and platform to disprove stereotypes, who will be there to "stand-up" and prove women can be equally as funny as men?