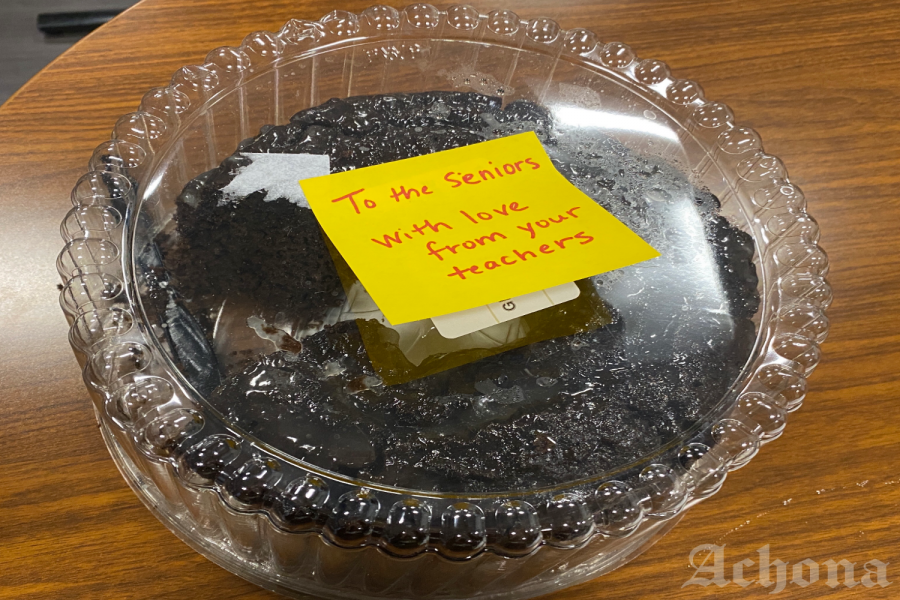 (Photo Credit: Adriana James-Rodil/Achona Online)
In the early weeks of January, upon arriving from Christmas break, tension between the senior class and faculty began to form as students became frustrated because of teachers entering the lounge to grab "senior snacks."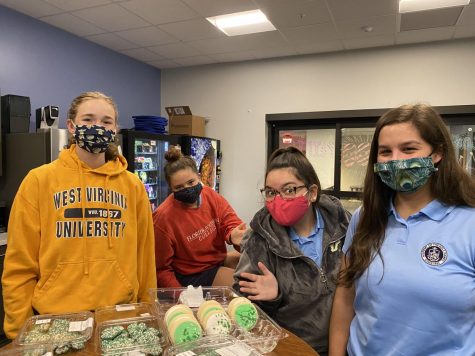 Subsequently, a few students brought this to the attention of administrators, who then sent an email to the entire faculty and staff stating that the food brought into the lounge by students is reserved for the seniors only. Following this chain of events, one early morning, a cake with a note reading "To the Seniors With love from your teachers" was left in the lounge (shown in the cover photo), which some considered to be an apology. 
Alissa Pradera ('21) said, "The incident that happened this school year did stir up quite a lot of drama and tension between the senior grade and teachers, but I don't think it was intentional. I think the cake that was left in the senior lounge was purposefully given as an apologetic response. I thought it was really sweet that they gave us a 'sorry gift' because they truthfully didn't mean to upset anyone."
Yet, students were even more surprised when another mysterious treat — munchkins from Dunkin' Donuts — was left in the lounge early in the morning with a note, this time anonymous, but many speculate it is from the same teachers.
"I do think that the donuts were left by someone in the math department because there was a lot of anger towards them," said Pradera.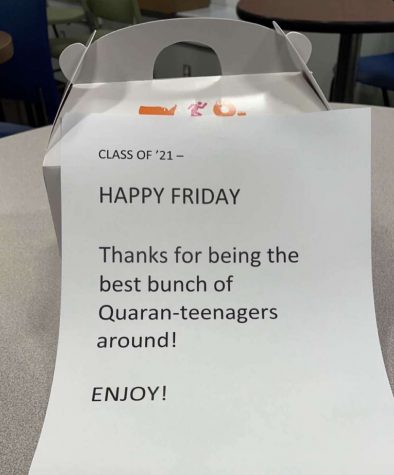 The controversies surrounding the lounge in early second semester, however, did not come as a surprise to seniors due to the build-up of tension that has occurred between the class and faculty since the lounge's opening in August. This relationship between the almost-graduates and teachers brings into question teacher versus student power dynamics in a school setting because although many students were upset about what occurred in January, some didn't feel they had the power to voice their concerns to administration.
Pradera said, "I personally wasn't super upset about it. I wasn't there when it happened. I only heard about it through friends. However, I did find it somewhat weird or upsetting. I know all of the girls in my senior class love buying food for one another to share and enjoy, so I understand why it was upsetting. Seniors use the lounge as a spot to socialize with friends and relax in an environment that is less in a classroom or educational setting, so it tends to be awkward when teachers come in to use our special privileges. Since I wasn't there, I personally didn't feel like I had the power to talk to administration about it."
This stems from the psychological implications of power dynamics that "are present in nearly every human social interaction," which breeds people who are "powerful" and those who are "powerless" — according to the American Psychological Association. And this difference in disposition also causes people to have different perspectives about the world and "affects the way we think and behave." 
Social Psychologist Adam Galinsky, PhD, "who studies power at Columbia Business School," defines power as "asymmetric control over valued resources in a social relationship," which can range anywhere from wealth to influence to knowledge. 
A paper published by University of California, Berkeley, professor of psychology Dacher Keltner, PhD, and his colleagues found that the powerless "are more likely to experience negative emotions, pay more attention to threats than to rewards, and behave in more inhibited ways," whereas "people in positions of greater power . . . are more likely to experience positive moods, pay attention to social rewards, make quick decisions and act in uninhibited ways."
However, being in a position of power also has its drawbacks because although it may be easier to take risks, a "false sense of their capabilities" could be their achilles heel as recent news surrounding Representative Matt Gaetz from Florida (R) and the investigation into his actions by the Justice Department has served to further demonstrate. 
Galinsky adds that practicing accountability within society is important in combating the effects of being in a position of power. On the other hand, in order to improve the mentalities of the powerless, empowering them is key. 
Now that power and its implications on human behavior have been explained, one can understand that teacher versus student power dynamics are not the cause, but a byproduct of the hierarchy found in both personal and professional relationships in all aspects of life. However, teacher-student relationships have shown to have unique effects on student's performance in the classroom.
For example, teachers exert power over students in "the class materials they select, the learning activities they design, and the ways in which they include students in classroom discussions," and more. Despite these necessary exertions of power to conduct effective lessons, however, some students believe the events surrounding the senior lounge demonstrate teachers abusing their power, and Keltner states that abusing power perpetuates feelings of powerlessness. 
Grace Cronen ('21) said, "I believe that the teacher in this incident abused [their] power. Over my years at the Academy, I believe that because I did not understand a teacher was abusing their power, I just let it slide. However, last year and this year, I have truly started noticing when teachers abuse their power, for example, by forcing their opinions on us and not allowing us to speak up for what we believe in; but I think this is a problem at every school not just here because if teachers didn't abuse their powers, we would be much happier at school."
Although abusing power in any capacity is not beneficial to either party, in a school setting, it has harmful effects on student's performance. A dissertation in education by Michael David Camp, who presented it to the University of Missouri-Kansas City, titled "The Power of Teacher-Student Relationships in Determining Student Success" found that "students who do not feel they enjoy positive and supportive relationships with their teachers tend to perform lower then students who do enjoy positive and supportive relationships and they tend to encounter more obstacles to appropriate behavior."
As a result, when there is an absence of abuse of power or feelings of extreme powerlessness in teacher-student relationships, it is beneficial to students' academic success. Nevertheless, it is important to distinguish between unhealthful power dynamics and necessary ones between teachers and students. 
For example, a study published in the National Library of Medicine analyzed "Power dynamics in the student-teacher relationship in clinical settings," and it concluded that the imbalance of power was "accepted and necessary" in order to ensure the safety of patients. 
Similarly, in the classroom setting, this same power dynamic is essential to creating a learning environment where students respect teachers, yet it is still possible to maintain this dynamic while also encouraging students to voice their opinions and/or concerns about teachers' actions. 
Exactly. I find a lot of teachers have this power trip over their students. It's important to have a comfortable and communicative relationship.

— sierra (@siepalladini) April 15, 2021
Religion and Math Teacher Megan Dubee actively states in her classes that she welcomes students to approach her if they feel something she said or did was out of line, which is in tune with the Harvard Educational Review that analyzed three novels that advocated for power not to be "something teachers have over their students," but for it to be "mutually constructed and negotiated between teacher and student."
Power dynamics, like those in school settings, are often necessary, yet it is important to maintain a balance with accountability in order to deviate from people feeling too powerless to speak up in situations where it is warranted, which could effect future employment relationships. 
Dubee said, "As both the content expert and legally responsible person, teachers are morally obligated to lead their classrooms with authority. Without such guidance, learning may be compromised and students' safety put at risk. Being the 'head' of my classroom, however, does not connotate a power structure. As demonstrated by the Socratic method, we often learn best through questioning. As such, I attempt to cultivate an environment where questions are invited and encouraged. I have found that those questions more often arise in private moments like a one-on-one conversation or in a written reflection. We live in a world where discussions escalate from 'I disagree with you' to 'You're wrong and I hate you' to 'Your life is a disgrace, and you never should have been born' in under a minute. Such a mentality neither respects the dignity of the person nor promotes a productive dialogue. While I will never promise to agree with you, I have experienced a lot of growth in my own understanding from listening to the thoughts of others. Understanding where someone is coming from goes a long way in seeing the bigger picture behind an issue."