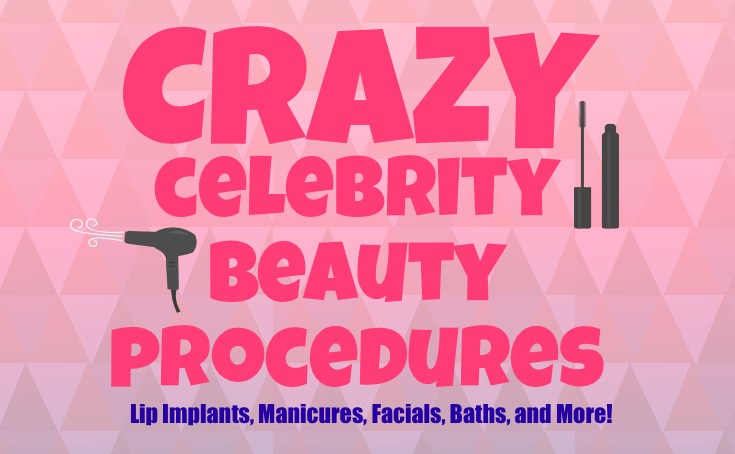 (Credit: Olivia Porcaro/ Acohna Online)
Celebrities have always been known to do crazy things and spend an excessive amount of money; however, when it comes to their beauty procedures it is truly insane. From lip fillers to spray on abs to an over 1,000 dollar mani-pedi, these beauty procedures are truly unbelievable.
1. Mila Kunis' ruby and diamond facial.
Actress, Mila Kunis, spent 7,000 dollars on a procedure called HD Diamond and Ruby Peel. Created by Scott-Vincent Borba, the treatment uses valuable stones, including rubies and diamonds, to work as antioxidants for her skin. Kunis got this procedure in order to have glowing skin at the Golden Globes.
The secret to Mila Kunis' radiant skin? A $7,000 ruby and diamond facial. http://t.co/UeoSqu7mxy

— V Spa (@VSpaDallas) February 24, 2014
2. Kylie Jenner's lip injections.
Reality TV star, Kylie Jenner admits that she visits a Beverly Hills doctor every couple of months to get 1,000 dollar lip injections in order achieve her signature selfie pout.
Freshman, Ellie Boos, questions, "I wonder if Kylie's lip kits are so popular because she has such famous lips."
3. Katy Perry's manicure.
Pop star, Katy Perry, has always been known for funky nails, but have you ever imagined how much it costs? Well, Perry's nails, which were dark blue with diamonds on them, for the 2012 American Music Awards, for example, cost $1,000!
4. Rihanna's spray tan abs.
Singer, Rihanna, has a personal spray tanner who contours her legs and abs everyday.  The specialist specifically targets her abs by highlighting specific spots using an airbrush to make her appear to have rock hard abs.  
Rihanna superfan and Academy senior, Riley Rubio, states, "Although it is weird to get your body contoured, I feel like it is because Rihanna is being photographed all the time and wants to look good in every picture."
On the contrary, Junior, Amber Pedregal, criticizes Rihanna by exclaiming, "If Rihanna has all that money, why can't she hire a trainer and get abs on her own?"
5. Kim Kardashian's vampire facial.
Last year on Keeping Up With the Kardashians, Kim Kardashian walked into a spa and got a specialized facial using blood, costing $700.  For this particular procedure, Kardashian had her face stabbed with needles, containing her own blood.  The facial causes bleeding and crying, but it does reduce wrinkles and improve the skin's tone and texture.
6. Madonna's $75K anti-cellulite machine.
Madonna purchased a machine that allegedly removes cellulite.  The gadget uses shock waves to break down fibers that cause cellulite.  Also, it claims to increase the flow of blood to the area being treated, producing smoother skin.
7. Serena Williams' Evian Bath.
Tennis player, Serena Williams, spent $11,000 on The Hotel Victor's Evian Bath Experience.  The bath includes a 350 gallon infinity tub filled with 1000 liters of Evian Natural Spring Water, which promises to enhance the skin's natural glow and cleanse the senses.  Champagne and delicacies from the hotel's chef are served during the two hour experience.
Serena Williams enjoys a bath… in @evian_uk mineral water – as you do! … with Amore x http://t.co/k6IcOyMq pic.twitter.com/RCyzWx1a

— Aqua Amore (@AquaAmore) October 5, 2012
8. Snooki's pet store exfoliant.
Jersey Shore star, Nicole "Snooki" Polizzi, uses cat litter to exfoliate her skin.  She explains, "Some exfoliants have rocks in them, and it makes your skin really smooth.  Cat litter is like a substitute for that."  Polizzi claims that the litter works just as well, but is much cheaper!
Sophomore, Blakely Byrd, claims, "It grosses me out that Snooki rubs cat litter on her face because I feel like it would smell weird.  Also, I would worry that I was over-exfoliating."