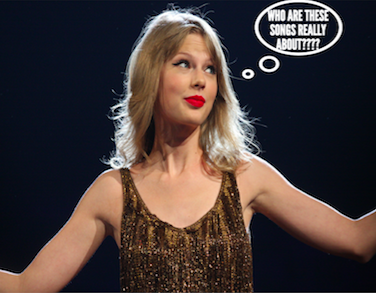 Many of today's modern musical icons write songs about their past lovers or experiences, which many people can relate to. In some cases, songs can obviously be directed to someone specific. Many artists write these type of songs to let out their emotions or allow a certain someone know how they feel. Even sometimes just so others know how the artist feel inside and to make a personal connection to themselves. The following songs are written about certain people in the artist's past.
"Obsessed" by Mariah Carey is about Eminem
Mariah Carey wrote "Obsessed" to prove to everyone that Eminem was making up the fact they used to date, when in reality that never happened. By stating the lines, "telling the world how much you miss me but we never were so," she confirms the fact that they were never a couple and he spreads lies.
Kayla Eckermann '18 states, "I thought the song was about Nick Cannon because they were married, but I guess I was wrong."
2. "The Heart Wants What It Wants" by Selena Gomez is about Justin Bieber
Selena Gomez wrote "The Heart Wants What It Wants" about Justin Bieber in the album titled For You. The song is about their on and off  relationship, which lasted about seven years. She claims she has "a million reasons to give you up," but her heart always feels something for him that she cannot escape.
3. "Back To December" by Taylor Swift is about Taylor Lautner
Taylor Swift always writes songs about her exes, but "Back To December", on her third album, is her first apology song. She wrote this one about Taylor Lautner, apologizing for leaving him while realizing she is missing both him and the memories shared. By "swallowing my pride," she wishes she could go back and redo it all.
4. "Sorry" by Justin Bieber is about Selena Gomez
Justin Bieber wrote "Sorry" to Selena Gomez, apologizing for all of the pain he had caused her, pleading for forgiveness. He misses her and wants to know "is it too late to say I'm sorry now?"
5. "Don't" by Ed Sheeran is about Ellie Goulding
Ed Sheeran wrote "Don't" about his and Ellie Goulding's short term relationship, which ended by her cheating on him with one of his good friends, Niall Horan. Although Sheeran considered them to be dating in 2013, Goulding rejects the fact they were ever official.
6. "Love The Way You Lie" by Rihanna and Eminem is about Chris Brown
Rihanna wrote "Love The Way You Lie" about Chris Brown after he beat her in 2009, leaving bruises all over her body. The song is about an abusive relationship, but Rihanna claims she "loves the way it hurts". Thereby saying, though Brown hurt her, she will always love him.
7. "7 Things" by Miley Cyrus is about Nick Jonas
When Miley Cyrus wrote "7 Things" it was inspired by her heartbreaking relationship with Nick Jonas. At first, many people were not certain who the song was about, but when the music video was released she was seen wearing the necklace Jonas gave her. Overall, the song is about all the things she hates/loves about him.
Saragail Flynn '18 claims,"Growing up a Disney fan I had known from previous knowledge that Miley Cyrus' '7 Things' was about Nick Jonas. I remember them dating when I was younger and they seemed to have a good relationship."
8. "Cry Me A River" by Justin Timberlake is about Britney Spears
Justin Timberlake wrote "Cry Me A River" about his 2-year relationship with Britney Spears in 2002. Spears cheated on him and the song is about him wanting her to "cry me a river" because she lost him and he is never coming back. By the lines, "You told me you loved me then left me," Timberlake states he has already felt pain and now it is her turn.
These hot tracks are inspired by past relationships that artists have written to share their feelings. Many of the time first time listeners are not sure who the song is about, but as time goes on we can crack the code.