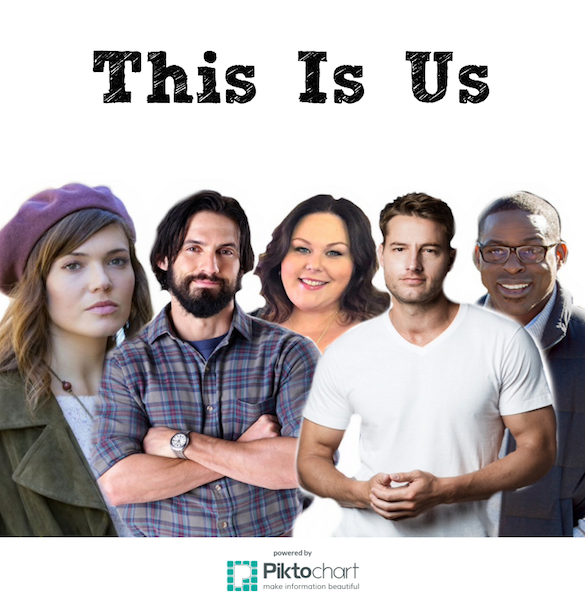 Photo Credit: Anna Padron/Achona Online
On September 20, NBC's newest show This Is Us premiered. The new show is a nice break from the action-packed drama and outlandish reality tv shows that are typically enjoyed by viewers. The show is created by Dan Fogelman, the same person behind acclaimed movie Crazy Stupid Love. The show follows the lives of three people who are all the same age and share much more than just a birthday.
Simply put, This Is Us is a show about people; it focuses on the ups and downs of everyday life. Each character has a different obstacle to overcome. The drama smoothly transitions to past and present providing added background and insight into the characters. Jack and Rebecca are the first two characters that the audience is introduced to, they also end up being the link that connects the other three characters. They are a young happy couple pregnant with triplets. When Rebecca's health is jeopardized, the pregnancy becomes complicated and the happy couple is forced to fill the void of losing a child.
Senior Jenna Wiley gushes, "I love the show because there's a new aspect in each episode and the characters are great. I really love the dad of the triplets (Jack). I think he's a likable guy and I love his character."
Along with Jack and Rebecca, the show revolves around three main characters: Kate, Kevin, and Randall. Throughout the show, Kate faces an obstacle that she has dealt with her since she was a young girl, her weight. She takes a step back and looks at her hopes and dreams, which allows her to recognize her weight has prohibited her from accomplishing her goals.
Kevin is in a different situation than most of the others. He has made it big in Hollywood with his hit comedy, but has yet to find happiness amidst all the fame. He realizes that he is much more than the sexualized "Manny" that his network portrays him as. Realizing his worth, he questions where he is in his life.
Randall is the last major character to be faced with a life-altering issue. Randall was left at the doorstep of a fire station hours after his birth. 36 years later, he is married with two kids and excelling in his job. He finally decides to look for his father. Randall confronts his past and builds a relationship with his father after years of feeling unworthy.
Junior Isabel Toranzo really relates to the family aspect of the show. She shares, "Growing up with siblings I really empathize with the 'Big Three' because I totally relate to how they are all so supportive of each other."
Ratings: NBC's #ThisIsUs Is Officially a Smash Hit https://t.co/1sPYj4Mu22 pic.twitter.com/cDdFvzQiK1

— TVLine.com (@TVLine) October 12, 2016
Fogelman is known for creating raw and relatable characters similar to the ones found in Gilmore Girls and Parenthood. The acting allows the audience to connect to the characters on a much deeper level. Some of the actors in the show include Mandy Moore, Milo Ventimiglia, and Sterling K. Brown. As if the heartfelt characters are not enough, the show also has a twist at the end of each episode, which reveals how the characters share a relation to one another.  
This Is Us has received some of the best ratings of all the new fall shows. This success began with their trailer going viral with over 60 million views. With ratings rapidly increasing each week, This Is Us continues to captivate millions of viewers and inspires them to take control of life's many obstacles. Tune into NBC on Tuesday night to see what everyone is talking about.