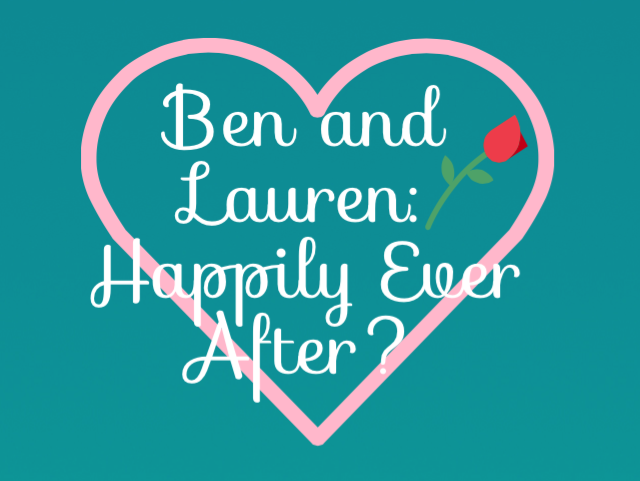 Credit: Ellie Abdoney/Achona Online
In Season 20 of The Bachelor, Ben Higgins was the first man ever on the show to say "I love you" to two women. Higgins, along with, Lauren Bushnell and Jojo Fletcher, became known as the infamous love triangle. After a long, intense struggle of figuring out which woman he loved more, Higgins finally proposed to Bushnell, leaving Fletcher heartbroken.  
Now, the famous couple is starring in their own reality tv series, called Ben and Lauren: Happily Ever After?  
Junior, Claire Obeck, admitted, "I was really excited when I heard that Ben and Lauren were going to have their own tv show because I wanted to see how they were moving on and how their life was changing after all the drama that happened during Season 20."
Although Ben and Lauren seemed like they were living the perfect fairytale life on The Bachelor, it has been six months since the two got engaged, and their life has been anything but perfect.
Junior, Sophia Tremonti, states ,"Now I understand why they put a question mark after 'Happily Ever After.'"
The first episode of Ben and Lauren: Happily Ever After?, which aired on October 11, 2016, depicted the couple traveling back to Los Angeles to attend Jojo Fletcher's "After the Final Rose" special. Being back on set of The Bachelor with Jojo brought back memories for Ben and Lauren. It forced them to revisit the emotional fallout that took place in end of Season 20. When Lauren heard that she and Ben were invited to Jojo's finale special, she immediately felt uncomfortable, but Ben, however, accepted the invite without consulting her.
Throughout this first episode, Lauren is constantly dealing with her own insecurities and questioning whether Ben still has feelings for Jojo. Although it is evident that Ben is eager to show America that he and Lauren have moved on, he is still pent up with guilt for being careless and breaking Jojo's heart.
To make matters worse, the episode ends with Jojo inviting Ben and Lauren to go on a double date with Jordan Rogers, Jojo's fiancé, and herself. The following episode, however, will show what happens on this awkward date.
After watching the first episode, many people had different opinions about the show.
"I don't understand why Ben and Lauren have their own show", stated sophomore, Emily Abdoney. "They kind of seem like a boring couple."
Are Ben and Lauren's "happily ever after" a complete fake or are they just terrible actors? A day in their life just doesn't seem believable

— Alysa Butler (@Lys_bee) October 12, 2016
On the other hand, Freshman, Ellie Boos, admitted, "I was pleasantly surprised with the premiere. I thought it was actually really entertaining and I loved how it showed that they are going through problems like any normal couple."
RT if you LOVED last night's series premiere of #BenandLauren! ? pic.twitter.com/4Cf09lC1Mt

— Freeform (@FreeformTV) October 12, 2016
To see how this famous duo navigates through issues as a newly engaged couple, tune in to Freeform at 8pm on Tuesdays!