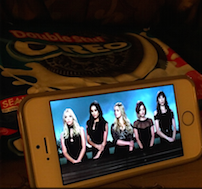 After seven years of black hoodies, mysterious notes, and various stalkers, Pretty Little Liars has officially wrapped shooting on their series finale as of last Wednesday, October 26. The iconic show, based off of the series of the same name by Sara Shepard, has been Freeform's highest rating show for most of its run. The four main characters, Troian Bellisario, Lucy Hale, Shay Mitchell, and Ashley Benson, were all understandably emotional, and expressed their sadness and gratitude in different ways.
The head producer of PLL, I. Marlene King, presented Bellisario, Hale, Mitchell, Benson, as well as supporting main characters Janel Parrish and Sasha Pieterse, with matching Cartier rings to thank them for all of their hard work. Each actress took to social media to voice their appreciation for King.
The Liars actresses also decided to get something a little more permanent and meaningful to remember the show. Each girl had their characters' first initial tattooed on their infamous "shh" finger.
Senior and avid fan of PLL, Teresa Toranzo, gushes, "I LOVE the tattoos they got! The "shh" is the most iconic part of the show so I thought it was perfect."
Shay Mitchell, who played Emily Fields, decided to give back to the fans by creating a video of her Farewell Video Letter to PLL. In the emotional video, she thanks the cast, crew, and fans for all of their work, remembers fond memories, and discusses her mantra for moving forward after the show.
Freshman Emma Crall shares, "Although this video was very sad, I felt inspired by it. This video shows that with hard work, you can achieve your dreams."
After weeks of goodbyes on Snapchat, reflections on Instagram, and grateful tweets, the cast has said goodbye. So with that, Pretty Little Liars is officially over, despite everyone's beliefs that the mystery of "A" would never end.
one day me & my grandchildren will watch pll together, bc we all know its gonna last forever.

— kyrsten (@KyrstenJenkins) January 22, 2014