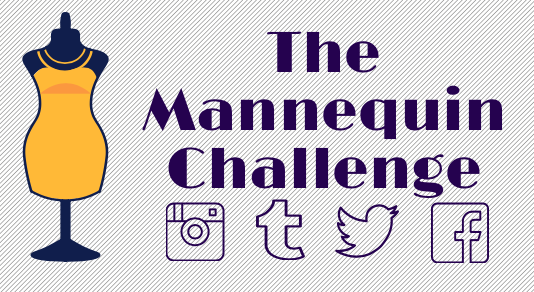 From the Ice Bucket Challenge to shamelessly planking in public areas to the Harlem Shake, online trends have dominated the internet for the past few years. The most recent craze to surface the world is the Mannequin Challenge.
But what is the mannequin challenge? The challenge features groups of people gathering and freezing themselves in place, often in elaborate poses and scenarios, as one person person walks through the scene to zoom in on the creative details. Most of these videos are set to the trendy rap song, "Black Beatles" by rap duo Rae Sremmurd.
Millions of people are making the fad their own, posting versions on Twitter, Instagram, Facebook, and Youtube. Schools, sports teams, and celebrities around the world are following in the footsteps on Twitter user @pvrity___, who is responsible for creating the challenge.
#manequinchallenge SHARE‼️ RT‼️ pic.twitter.com/k1BqR6iZ1p

— blackie (@pvrity___) October 26, 2016
Senior Katie Hale comments, "I think widespread trends like theses sometimes go too far. I saw that Blac Chyna filmed the Mannequin Challenge before she gave birth! That's a bit far if you ask me."
As masses of people begin to take part in these challenges, some implement a dangerous or shocking factor to make their adaptation of the challenge stand out. Similarly, many people were surprised by Chyna's dedication to complete the challenge hours before she gave birth.
https://www.instagram.com/p/BMpavUVgKo7/?taken-by=robkardashian
In addition to Blac Chyna and Rob Kardashian, many other celebs have gotten in on the action. Adele, Destiny's Child, Paul McCartney, Ellen Degeneres, Hillary Clinton, Michelle Obama, Kevin Hart, and many more have contributed to the challenge's popularity by broadcasting their own versions to millions of followers.
Freshman Mary Kelly Cardillo comments, "I think it's funny now, but will get old pretty fast. We have been making versions in all of our classes, and they turn out really funny when everyone cooperates."
Mr. Sloshberg's set 7 Biology Honors created their own version of the challenge, including Mr. Slosh himself. Video Credit: Saragail Flynn (used with permission)
Pop culture is constantly changing, whether it is clothing, music, media, or widespread, yet short lived, social media fads. After approximately two weeks of immense popularity, the Mannequin Challenge already seems to have died down, following the short-lived spotlight of challenges that have come before it.