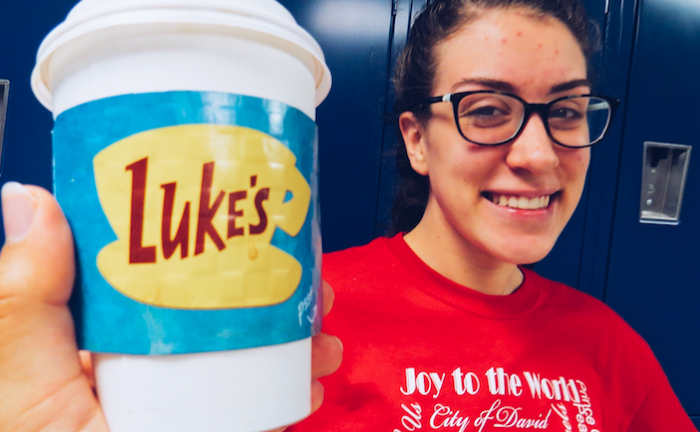 Photo Credit: Olivia Stevens (used with permission)
Gilmore Girls is a witty drama series that started in 2000 and aired  for seven seasons. The show follows a single mother, Lorelai, and her daughter Rory living in the small town of Stars Hollow, Connecticut. After nine years of viewers longing to know the fate of their favorite character from Stars Hollow, Netflix has come out with a revival. The revival contains four new episodes that showcase the current lives of the characters.
Hands in the air if you're already on round two of @GilmoreGirls: A Year in the Life.
? pic.twitter.com/90tQmblWpJ

— Netflix UK & Ireland (@NetflixUK) November 28, 2016
Senior Ashley Lambert was very excited about the revival hoping that the ending would be better than the original Gilmore Girls' ending but was left disappointed saying, "The directors ended the series with a cliffhanger. I'm convinced they are going to do a spinoff related to the cliffhanger, but it was honestly a waste of my three hours."
The four episodes to the revival, each correlate to a season. The four seasons, winter, spring, summer, and fall, cover a whole year in the life of the Gilmore Girls. Rory Gilmore is 32 in the revival and struggling to find a job along with her place in the world after having left her journalist job working for the New Yorker. Rory's mom, Lorelai, is forced to come to terms with her newly widowed and grief stricken mother, Emily Gilmore.
As many of the shows ongoing conflicts are resolved in the revival, a new can of worms is opened towards the last episode and Senior Alejandra Pazzi is not happy about it. Pazzi said "Gilmore Girls was amazing. A Year in the Life was horrible."
? Attention: The following message may cause an increased heart rate and spilled coffee. ? pic.twitter.com/XWTY2WV9qd

— Gilmore Girls (@GilmoreGirls) November 25, 2016
Although the characters mirror their past selves, the new season has many noticeable changes in terms of up to date 2016 technology.
Junior Cayla Lowry says, "It is interesting to see the technology that changed over the years because before they had pagers and flip phones and now Rory has three smart phones."
Although the four 88 to 100 minute episodes were fast paced and covered a lot of new information, some fans were disappointed in the abrupt ending.
Long time fan, Meghan Curinga reacted to the revivals ending saying,"The ending could have been better, it wasn't bad but it did not give me the closure I initially thought it would."
For the soon to be 17 years Gilmore Girls has been around, it has brought joy, laughter, and relatability to people of all ages and is now providing fans with a look into the future.