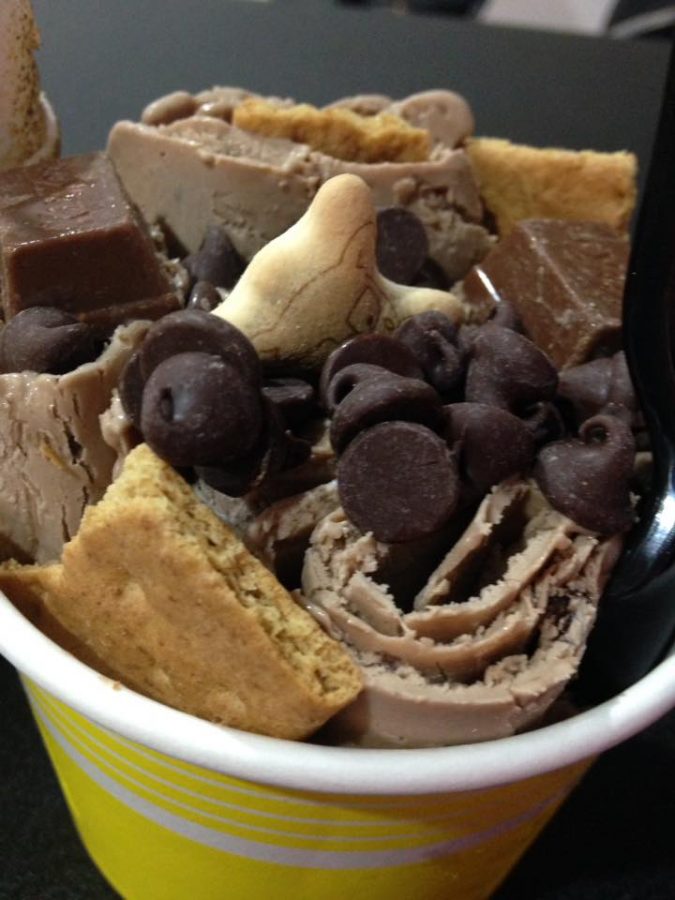 Instead of scooping or twisting the ice cream out of a machine, you can finally purchase a unique kind of ice cream that has joined the Tampa Bay Area. Icesmile is the new ice cream trend, well known for their unique Thai style ice cream rolls. With this new technique of serving ice cream, Icesmile will have all of Tampa Bay flocking to them during hot days.
The ice cream makers have a unique twist to the way they present the ice cream to their customers. When ordering, you select one out of (insert how many flavors that have) flavors and three toppings, ranging from all types of candies to various types of fruits. After, you can watch as your order is created right before your eyes. First, they pour your ice cream flavor in its liquid form onto a cold slab of metal and begin to spread it out. Over time, the liquid begins to harden and freeze into ice cream. Once it gets to the ice cream consistency, they evenly spread it out and begin to roll the ice cream.
After the ice cream is rolled into six rolls, they are placed into a cup and adorned with the three toppings of your choice. Then your order number is called and you are ready to enjoy your creamy cup of ice cream.
However, good things come at a cost. The wait seems to be an issue for many people, due to the popularity of the location the wait can be to over an hour.
Junior, Elena Schillinger says, "I waited for over an hour and my ice cream was alright but my sister said the vanilla didn't taste like there was any vanilla in it so I don't think it's worth the wait."
Icesmile has truly brought an original and fresh spin to ice cream that all AHN girls should try.
Icesmile is located at 1512 E Fowler ave Tampa FL, 33612 and you can visit between the hours of 10:30am-11pm, Sunday through Thursday, and 10:30am- 12pm, Friday and Saturday.