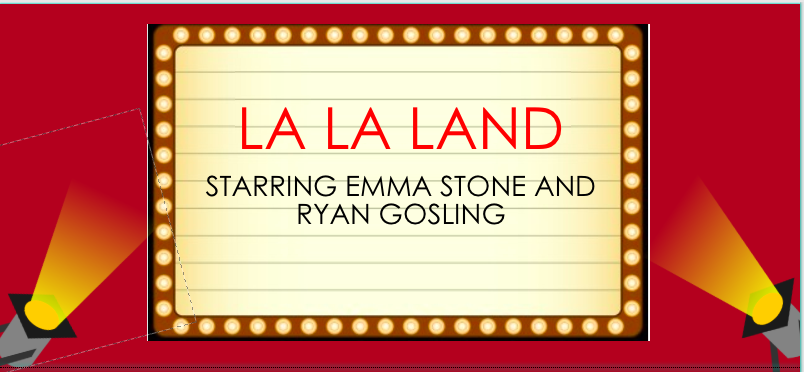 Photo Credit: Valerie White
Since this past December, everyone has been raving about the latest film, La La Land, directed by Damien Chazelle, who is also known for the critically acclaimed film, Whiplash. La La Land is a musical which follows Mia (Emma Stone), an aspiring, struggling actress, and Sebastian (Ryan Gosling), a lowly jazz pianist, and their classic Hollywood romance in the struggle to choose between individual dreams and their growing relationship. Uniquely enough, it is set in modern day Los Angeles, California.
A significant theme in the film is the integration of jazz music. Throughout the movie, Sebastian is determined for jazz music to resist obliterating in the modern era. He wishes to open his own jazz club as an opportunity to popularize jazz again. This pure love for jazz music even leads to his love interest, Mia, to find a great appreciation for the genre as well.
Emphasizing the importance of the jazz genre, Senior Julianne Nichter, also an aspiring pianist says, "I think today most movies rely on modern enhancements to create intriguing music. With musicians understanding and learning jazz, they are introduced to a whole new dynamic of music and a deeper understanding of the theory that they can use to create just as equally intriguing music as contemporary pop."
The composer behind La La Land is Justin Hurwitz, also known for his composition in Whiplash. Hurwitz and Chazelle working together resonates from an old connection dating back to their undergraduate days in Harvard. The composition of the movie took an ongoing, two-and-a-half years to complete, with almost 2,000 piano demos created.
After watching the movie, Senior Kendall Perez said, "I loved it all; the music and dancing was really cute. Afterwards, I listened to jazz music; however, I don't think the movie will cause a huge jazz revolution like it may have intended to do."
This past Sunday at the Golden Globes, La La Land won seven awards, including Best Motion Picture Musical, Best Screenplay, and Best Original Score. No other movie has broken the record of four from 1979.
Congrats to these two amazing actors on their very deserved #GoldenGlobe wins! If you haven't seen #Lalaland yet … Run! It's pure MAGIC✨ pic.twitter.com/dENdeP7VdR

— Reese Witherspoon (@RWitherspoon) January 9, 2017
Interested in this modern day jazz musical? Check out the trailer and soundtrack.